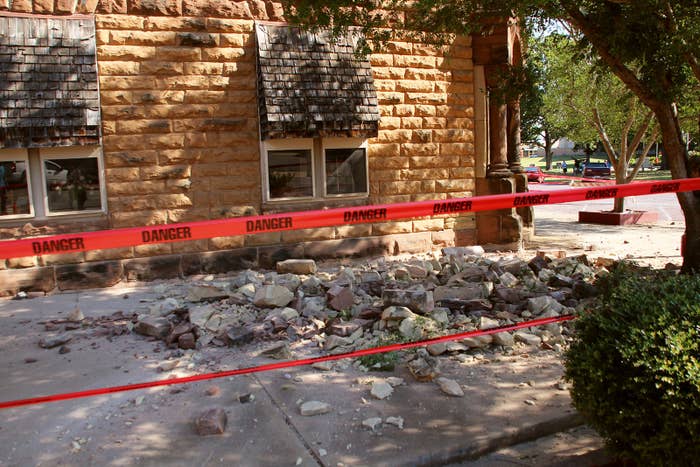 Officials in Oklahoma ordered oil and gas operators to temporarily close more than three dozen wells after a magnitude-5.6 earthquake struck the state's north on Saturday morning and shook residents in neighboring Midwestern states.
The quake hit at at 7:02 a.m. local time roughly 10 miles northwest of the town of Pawnee, according to the US Geological Survey (USGS), prompting the governor to declare a state of emergency.
Because the earthquake struck at a relatively shallow depth of around 4 miles, the tremor was also felt by people in Missouri, Arkansas, Iowa, Oklahoma, and Texas, according to the Associated Press.
Pawnee Mayor Brad Sewell told CNN he had visited the town's 911 dispatch office but that there were no reported injuries.
"I think it shook everybody up," Sewell said. "It was just about time that a lot of us were waking up, and those who were not already awake certainly were awakened by the earthquake."
"It was a sustained quaking. It lasted a long time," he said.
The quake's magnitude matched another tremor felt in Oklahoma in 2011, according to the USGS.
"We have been having a lot of earthquakes here over the last couple of years. Most of those have been just single tremors. You feel it and it's gone. This continued. And it was very, very alarming for those of us who weren't used to this sort of thing," the mayor said.
Images on social media showed damage to a stone building in the town's center, as well as items scattered off grocery store shelves.
Pawnee County Emergency Management officials said there had been "mild to moderate damage," posting photos to Facebook of damaged brickwork.
W. Bruce Pratt, president of the Pawnee Nation, said on Facebook his tribe had experienced a "significant earthquake" that caused damage to several buildings, forcing their closure until inspections can determine their safety.
"I am happy to report that we have received no reports of injuries to any of our citizens. This is a great thing and we thank Atius for his mercies," Pratt wrote, referring to the creator God in Pawnee mythology.
Oklahoma is not usually associated with earthquakes, but the US Geological Survey in March published a report that more than 7 million people in the central United States live in areas vulnerable to "induced" earthquakes.
Oklahoma naturally experiences one or two earthquakes a year, but according to the report, the state has seen hundreds of them since hydraulic fracking and horizontal drilling — techniques used by the oil and gas industry to extract natural gas and oil.
The Associated Press reported Saturday's earthquake occurred on the edge of an area where regulators have stepped in to limit wastewater disposal used in fracking.
In response to Saturday's quake, the Oklahoma Corporation Commission, which manages the state's oil and gas activity, instructed operators to shut down 37 wells over an area of 725 square miles within 7-10 days, Gov. Fallin said on Twitter.
Fallin said Department of Transportation officials had inspected bridges in the area and found "minor damage."
"I'm glad to hear no one was seriously hurt in today's earthquake and damage appears to be limited," she said in a statement.