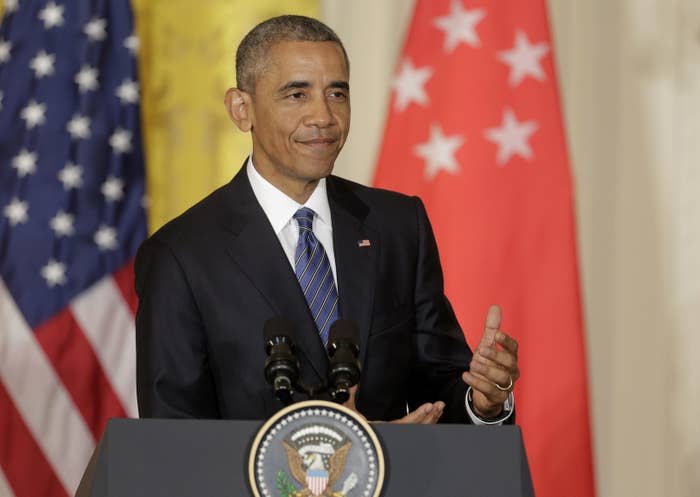 President Barack Obama on Tuesday called on prominent Republicans to withdraw their endorsements for Donald Trump in the wake of his comments attacking the family of a dead Muslim soldier, describing the GOP nominee as "unfit to serve as president."
Speaking at the White House alongside Singapore's prime minister, Obama was asked about the Republican nominee's continued comments against the parents of Capt. Humayun Khan, who was killed by a suicide bomber in Iraq in 2004. Trump implied the captain's mother did not speak at the Democratic National Convention because she is Muslim and that the dead soldier's father is "bothered" by Trump's plans to keep "radical Islamic terrorists" out of the United States.
"Yes. I think the Republican nominee is unfit to serve as president. I said so last week, and he keeps proving it," Obama said, citing the Khan comments, as well as Trump's apparent ignorance on Russia's involvement in Ukraine's civil war.
Sen. John McCain and a host of prominent Republicans have condemned or distanced themselves from Trump's comments, but so far none have withdrawn their endorsements.
"If you are repeatedly having to say in very strong terms that what he has said is unacceptable, why are you still endorsing him?" Obama asked. "What does this say about your party that this is your standard-bearer? This isn't a situation where you have an episodic gaffe. This is daily and weekly where they are distancing themselves from statements he's making.

"There has to be a point at which you say, 'This is not somebody I can support for president of the United States, even if he purports to be a member of my party.'
"The fact that that has not yet happened makes some of these denunciations ring hollow," he said.
The president contrasted Trump with the two men he beat in presidential elections, McCain and Mitt Romney, by saying he did not doubt they could "function as president."
"I never thought that they couldn't do the job, and had they won, I would have been disappointed, but I would have said to all Americans, 'This is our president, and I know they'll abide by certain norms and rules and common sense, will observe basic decency, will have enough knowledge about economic policy and foreign policy and our constitutional traditions and rule of law that our government will work and then we'll compete four years from now to try to win an election.'
"That's not the situation here," he said.
"There has to come a point in which you say, enough. The alternative is the entire party and the Republican party effectively endorses and validates the positions being articulated by Mr. Trump," he said.
Sen. Lindsey Graham, who has previously called on his fellow Republicans to withdraw their endorsements of Trump, has said the nominee's attacks on the Khan family are outside the bounds of acceptable political discourse.
"If you're going to be the leader of the free world, you have to be able to accept criticism. Mr. Trump can't," he said in a statement on Sunday. "The problem is, 'unacceptable' doesn't even begin to describe it."
On Tuesday, Rep. Richard Hanna, a three-term Republican from New York, became the first GOP member of Congress to publicly endorse Hillary Clinton for president.