On Wednesday, President Donald Trump welcomed the New England Patriots to the White House for the traditional Super Bowl victors celebration.
Dozens of players showed up for the event, but at least six others opted to skip it because of their opposition to Trump.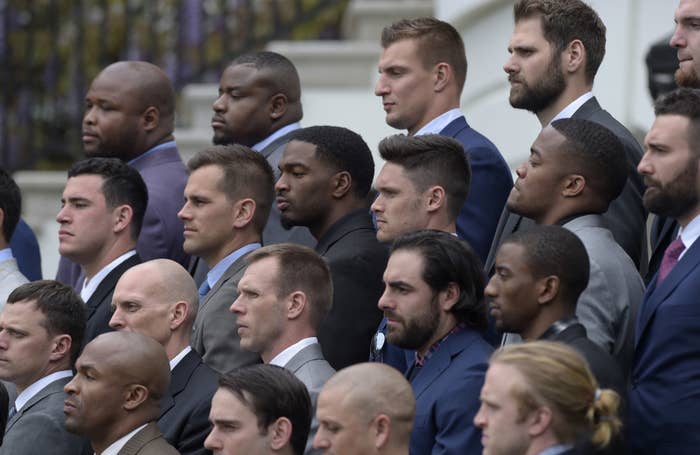 Perhaps knowing the president can be a little sensitive about crowd sizes (*cough* INAUGURATION *cough cough*), the New York Times on Thursday shared this comparison of the last time the Pats visited the White House following their 2015 win.

But then...the Patriots pooped on the Times' parade, noting that the comparison photos lacked context because, unlike the 2015 picture, Wednesday's photo did not feature the football team's full staff.
The team also shared another photo showing the staff standing around the players on Wednesday.
The Times then replied to their own tweet with this update:

The newspaper also added this correction to their article on the Patriots' White House trip, noting the photo comparison had been removed from the story:
Correction: April 19, 2017
An earlier version of this article included photos comparing the size of the Patriots' gathering at the White House in 2015 and the gathering on Wednesday. The photo from Wednesday only showed players and coaches; the 2015 photo showed players, coaches and support staff and has been removed.
However, the original controversial tweet has not been deleted.
Late Wednesday, right-wing conspiracy blogger Mike Cernovich began promoting what he called #PhotoGate to his 250,000 Twitter followers.
The whole Twitter controversy eventually caught the attention of the nation's tweeter-in-chief, who railed against the "failing" New York Times for their "big lie" on Thursday morning.
Asked for comment, a New York Times spokesperson provided BuzzFeed News with a quote from sports editor Jason Stallman:
Bad Tweet by me. Terrible Tweet. I wish I could say it's complicated, but no, this one is pretty straightforward: I'm an idiot. It was my idea, it was my execution, it was my blunder. I made a decision in about four minutes that clearly warranted much more time. Once we learned more we tried to fix everything as much as possible as swiftly as possible and as transparently as possible. Of course, at that point the damage was done. I just needed to own it.
What a time to be alive.