Cops Turn Their Backs On De Blasio At Funeral For NYPD Officer Rafael Ramos
Vice President Joe Biden, New York Governor Andrew Cuomo, and New York City Mayor Bill de Blasio were among those attending the funeral.
The mayor's office released a statement on Saturday afternoon responding to the police officers turning their backs.
"The Ramos and Liu families, our police department and our city are dealing with an unconscionable tragedy," said de Blasio spokesman Wiley Norvell.
"Our sole focus is unifying this city and honoring the lives of our two police officers," he said.
Mourners gathered at a church in New York City on Saturday to pay their respects to Officer Rafael Ramos, one of two NYPD officers shot dead in their squad car in Brooklyn on Dec. 20.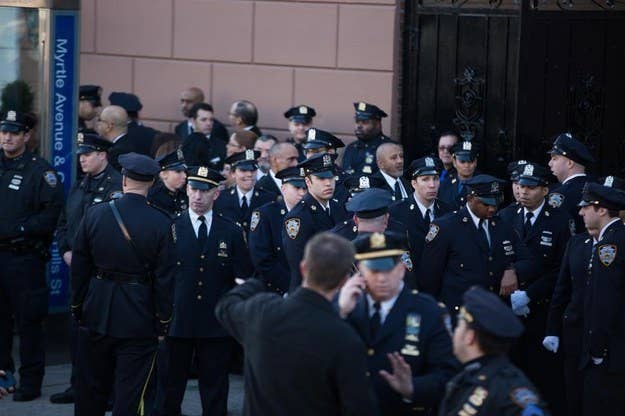 Thousands of officers lined the streets outside the Christ Tabernacle Church in Queens, with many coming from other states, and even Canada, to pay their respects.
Among those at the funeral were Vice President Joe Biden, New York Governor Andrew Cuomo and New York City Mayor Bill de Blasio, whose relationship with the NYPD has come under scrutiny in the wake of the shootings.
During DeBlasio's speech, many watching the service on screens outside the church turned their backs on the mayor as he spoke.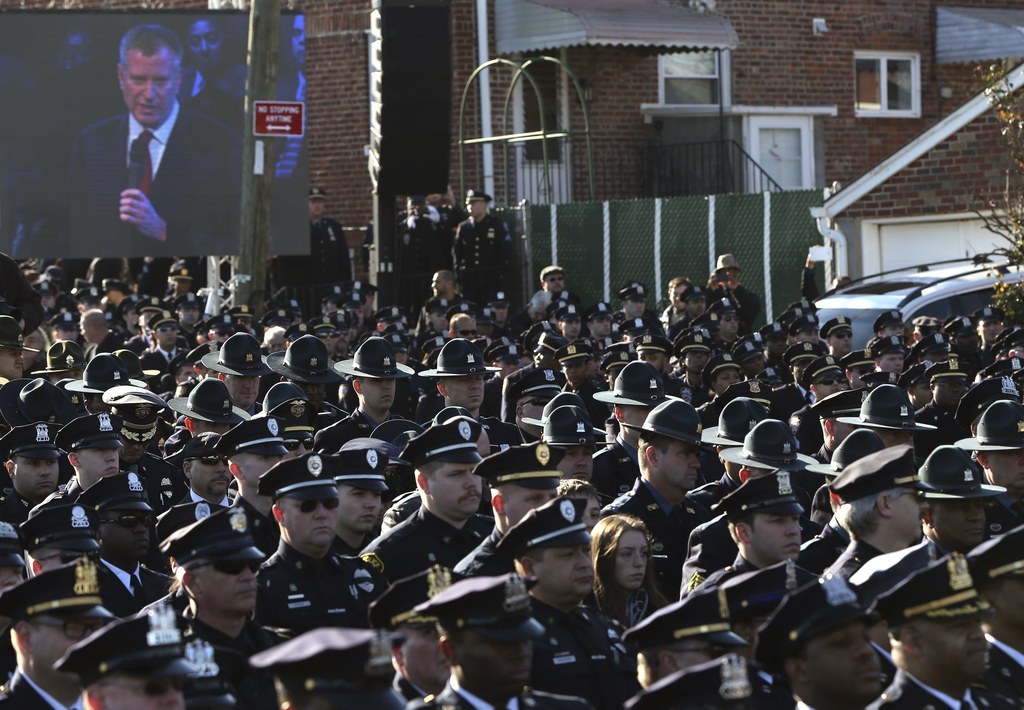 "All of this city is grieving, and grieving for so many reasons, but the most personal is that we've lost such a good man and a family is in such pain," Mayor de Blasio told the mourners.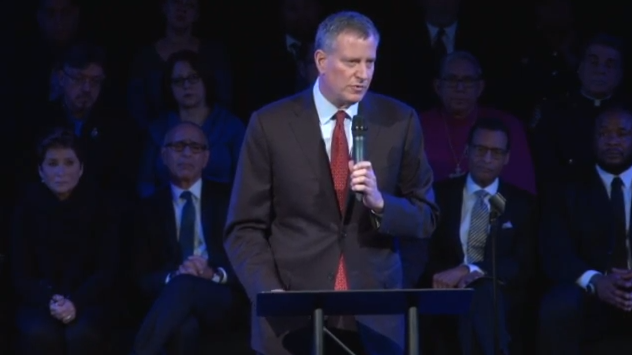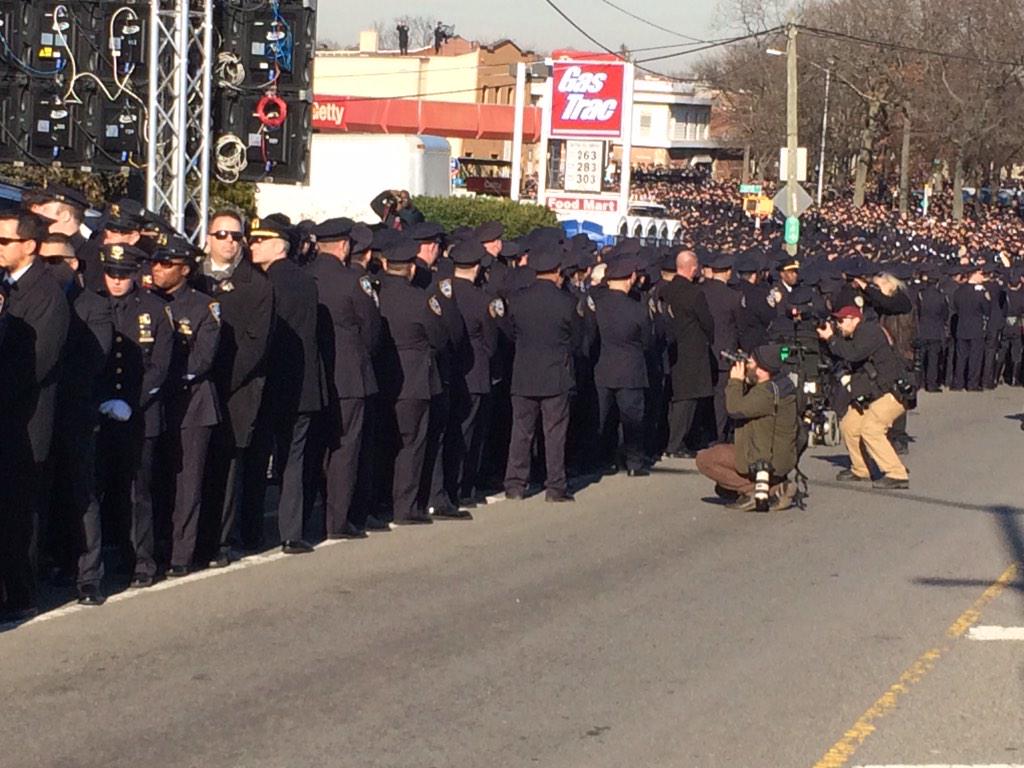 "New York City has a lost a hero, a remarkable man, because of the depth of his commitment to all around him," de Blasio said.
Vice President Biden offered words of comfort to the Ramos family: "I'm sure I speak for the whole nation when I say our hearts ache for you," Biden said.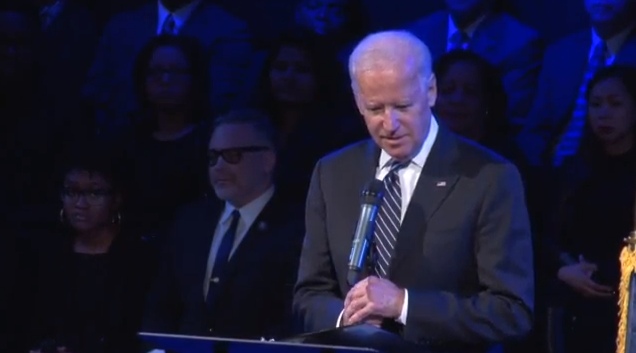 "The time will come when Rafael's memory brings a smile to your lips before it brings a tear to your eyes," he told Ramos' grieving mother.
Biden said that although he didn't know the two officers personally, he did know "why they were there," in the Brooklyn neighborhood: "They were there to protect and defend as they always are," he said.
"This is probably the finest police department in the world," Biden said of the NYPD, to wide applause in the church.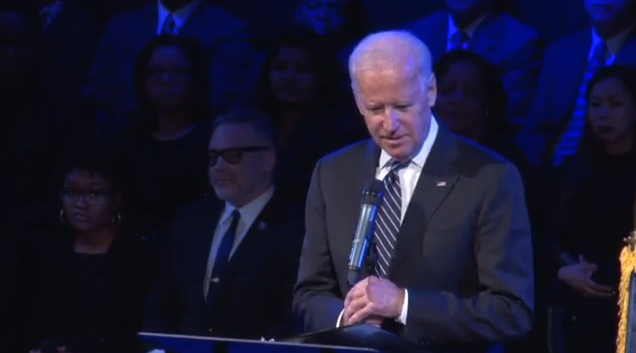 "You can tell a lot about a man from the children he raises," Gov. Cuomo said, paying tribute to the two sons Ramos has left behind.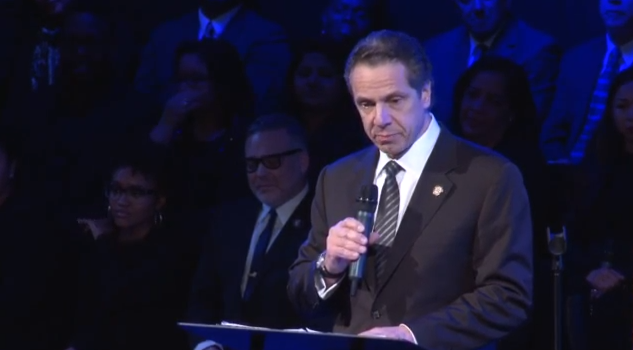 Cuomo praised the NYPD for protecting free speech amid recent protests, even though, he said, they themselves were the targets of "false and abusive chants" by some demonstrators. His comments were met with a standing ovation in the church.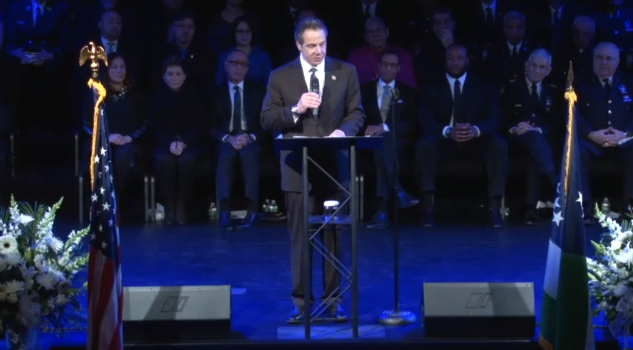 New York City Police Commissioner Bill Bratton said Officer Ramos wasn't simply murdered, but "assassinated," a word that Bratton said "speaks of the prominence of the person killed."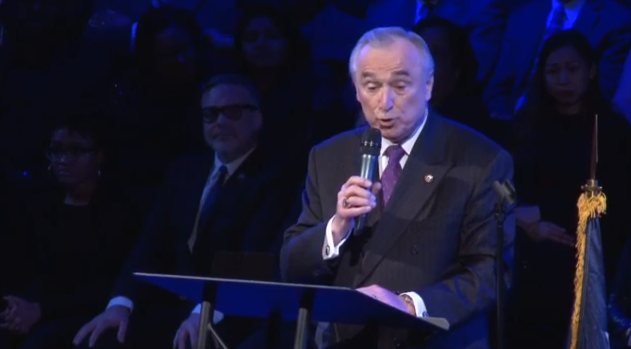 "He represented the best of our values," Bratton said, announcing he had designated Ramos, who had been studying to become a chaplain, an honorary department chaplain for the 84th precinct.
Bratton also posthumously promoted both officers to the rank of detective first grade.
Plans for Officer Wenjian Liu's funeral were still being finalized on Thursday, NPR reported, as his family waited for relatives to arrive from China.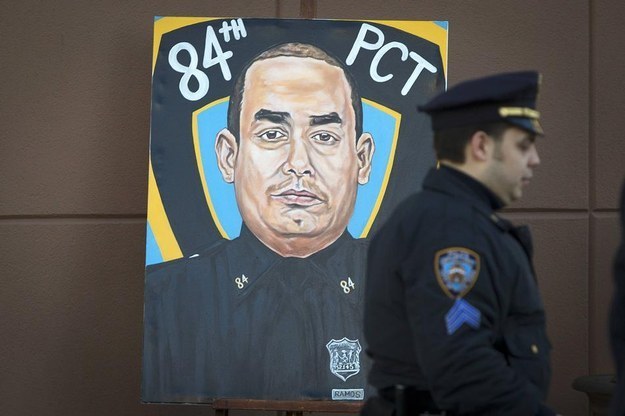 This is a developing story. Check back for updates.