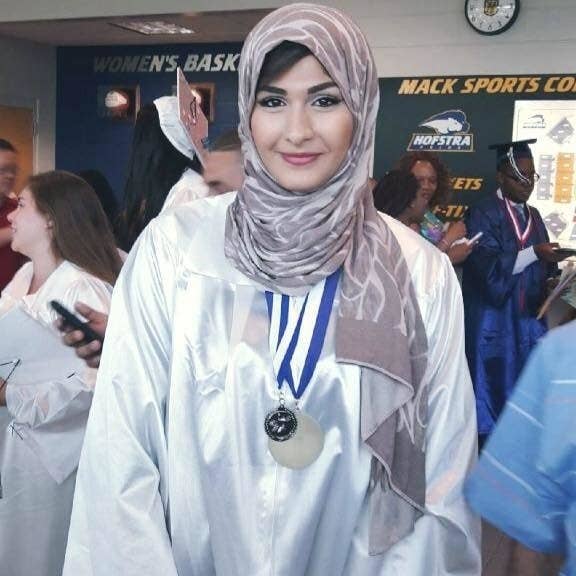 A woman who told police she was attacked by drunk Donald Trump supporters while riding the New York City subway was arrested Wednesday for allegedly fabricating the entire incident, authorities said.
Yasmin Seweid, 18, told police and the New York Daily News that she was harassed by three drunk white men who shouted the president-elect's name while attempting to remove her hijab on Dec. 1.
"Look, it's a fucking terrorist," she alleged they said in a Facebook post. "Get the hell out of the country!" (Her entire Facebook account has since been deleted.)
The Brooklyn-born woman also alleged that no other commuters came to her aid.
"Trump America is real and I witnessed it first hand last night! What a traumatizing night," she wrote.
Police had said they were investigating the incident, and on Wednesday an NYPD spokesperson told BuzzFeed News that Seweid had been arrested for obstructing government administration and reporting a false incident.
Sources told DNAinfo New York that officers had spent "significant NYPD resources" trying to verify Seweid's story but could not locate witnesses or video of the incident.
The woman reportedly recanted her story on Tuesday, DNAinfo reported, allegedly saying she made up the story because of family problems.
In a Facebook post that has since been taken down, Yasmin Seweid's sister, Sara, wrote that she is not "excusing" what her sister did and that she was "horrified" after learning about her sister's lie. But she also lashed out at the NYPD for "leaking private information." The NYPD doesn't care about us and our safety. Never did," she wrote.
"The NYPD should have never been involved in the first place even if the incident did happen," Sara Seweid wrote. "It became super clear to me these past two weeks that the police's first instinct is to doubt your story and try to disprove it," she wrote, adding that one police officer went through her, her fiance, and her family's social media presence and disapproved of "anti-Trump, anti-white and even anti-men" posts.
"How is this an appropriate comment by an officer investigating a possible hate crime? That Muslims can't seek help from the state if theyr'e critical of it in any capacity?," Sara Seweid wrote.
The woman's father told DNAinfo she was "young and maybe she was foolish here."
Hateful behavior towards Muslims and other minorities has received increased attention since Trump's win, with the Southern Poverty Law Center recording more than 800 reports of hate incidents in the 10 days following the election.
CORRECTION
The Southern Poverty Law Center documented more than 800 reports of hate incidents directed at Muslims and other minorities after Trump's election victory. An earlier version of this post incorrectly said the recorded incidents were only against Muslims.