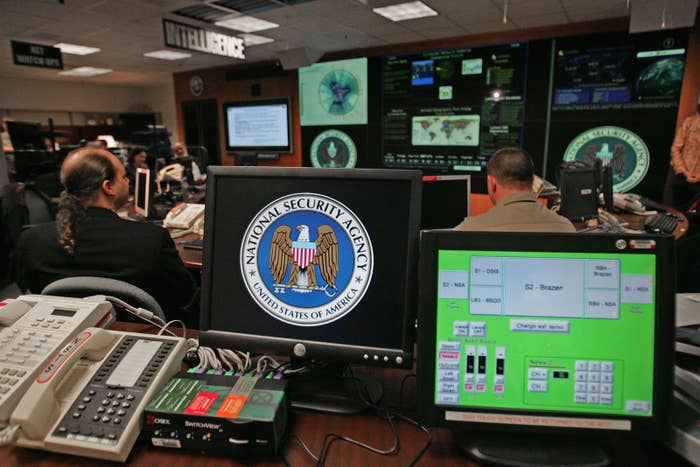 A security contractor working for the National Security Agency was arrested in August in connection with the possible theft of classified computer codes, federal officials announced Wednesday.
Harold T. Martin III, 51, of Maryland worked for the same private firm as NSA whistleblower Edward Snowden. He was arrested on Aug. 27, the Department of Justice said.
Martin has been charged with "theft of government property" and "unauthorized removal or retention of classified material or documents or material by a government employee or contractor," according to a criminal complaint filed Aug. 29.
If found guilty of both charges, he faces up to 11 years in prison.
It was unclear if the documents Martin took were related to a number of NSA exploits and hacking tools put up for auction in August by a group calling itself The Shadow Brokers. The group said it would sell the NSA secrets to the highest bidder in an online auction, and they expected to receive hundreds of millions of dollars in bids.
Martin was an employee of Booz Allen Hamilton, the consulting firm where Snowden was employed before he shared classified material regarding top secret government surveillance programs with the media.
"When Booz Allen learned of the arrest of one of its employees by the FBI, we immediately reached out to the authorities to offer our total cooperation with the investigation, and we fired the employee," the company said in a statement. "We continue to cooperate fully with the government on its investigation into this serious matter."
The FBI alleged Martin stole classified information and kept it without authorization at his residence.
"As part of duties while working at the United States government office, Martin had a top secret national security clearance and the ability to access United States government property that was not permitted to be removed from authorized locations without authorization," read the criminal complaint prepared by FBI Special Agent Jeremy Bucalo. "That property included classified information of the United States."
According to the complaint, investigators conducted a search of Martin's Glen Burnie, Maryland, residence on Aug. 27 and found "hard copy documents and digital information stored on various devices and removable digital media."
"A large percentage of the materials recovered from Martin's residence and vehicle bore markings indicating that they were property of the United States and contained highly classified information," the complaint read.
Six of the classified documents "appear to have been obtained from sensitive intelligence," according to the complaint.
The FBI alleged the documents were classified as top secret and if disclosed "reasonably could be expected to cause exceptionally grave damage to the national security of the United States."
According to the complaint, Martin at first denied taking the documents and files, but then admitted to bringing them to his residence in his car without authorization.

Speaking at a CNBC summit in Cambridge, Massachusetts, on Wednesday, John Carlin, Assistant Attorney General for National Security, confirmed authorities had "made arrest of an individual who was involved in taking classified information."
Carlin declined to discuss charges or further specifics, but did say the arrest highlighted the "problem of insider threats."
"We talk a lot about how someone can gain...access remotely, but as you're designing internal security programs...we also need to take into account, whether it's economic espionage or traditional espionage, the focus on those who are trusted within our companies, within our government, who can exploit that trust to cause enormous harm," he said.
Writing on Twitter, Snowden called the arrest "huge," but criticized those focusing on the Booz Allen Hamilton connection between him and Martin.

One former employee of Booz Allen Hamilton told BuzzFeed News that Martin's actions were not "malicious in nature."
"From what I've heard, what I've understood, this is a guy who took home material, classified material, and stored it improperly. I haven't seen anything to suggest his actions were malicious in nature," said the employee, who spoke to BuzzFeed News on condition of anonymity.
"People want to call him another whistleblower or Snowden. Maybe because that movie is out, but that's not what I see happening here," the employee said.
According to a LinkedIn page that appeared to belong to Martin, he worked as a technical advisor and investigator on offensive cyber issues. He also wrote that he served eight years in the navy from 1988-96 and was completing a PhD in computing at University of Maryland, Baltimore County.
BuzzFeed News obtained divorce documents for Martin and his ex-wife which showed the couple owned a Lexus vehicle with the license plate "POLYGRAPH."
A message left on a number listed to Martin's residence was not immediately returned.
However, his neighbor, Murray Bennett, recounted to BuzzFeed News how he watched on a Saturday afternoon in August as armed men in camouflage uniforms stormed across his lawn towards Martin's home.
"They come running across my yard with their camouflage uniforms and their helmets and their rifles drawn towards the house next door to me. Well, that will draw your attention," Bennett said of the day Martin was arrested. "I thought the third world war was starting."
Bennett, who says he has lived next to Martin for 10 to 15 years, and knew him as Hal, said the two used to pass out Halloween candy together. Bennett also called Martin a "good neighbor."
"It's just tragic, you know, that he would put her [Martin's wife] through this. He was a college man, he wasn't dumb. My god, I don't know, it's unreal," Bennett said.