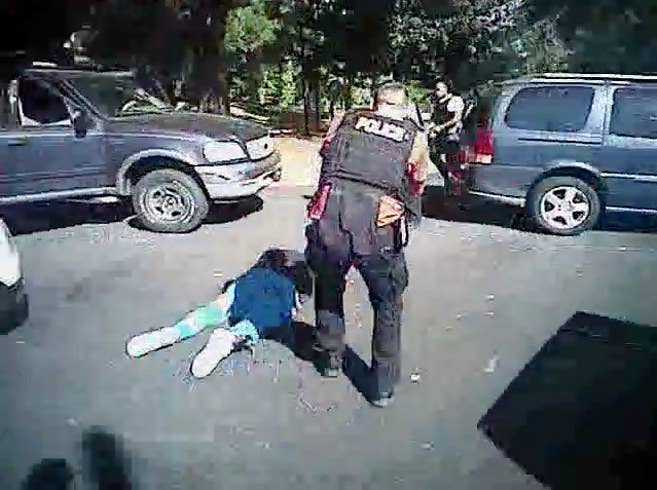 Officials in North Carolina on Wednesday declined to press charges against the police officer who fatally shot Keith Lamont Scott, whose death prompted widespread protests in Charlotte.
Scott was fatally shot by Officer Brentley Vinson on Sept. 20 while he was exiting his vehicle outside of an apartment complex. Police said the 43-year-old was holding a handgun, and that he ignored commands to drop it. His family had said that he was holding a book, but officers said they only recovered a handgun at the scene.
In a lengthy press conference on Wednesday in which he meticulously laid out the details of the investigation, Andrew Murray, the Mecklenburg County district attorney, said Vinson's use of deadly force was lawful because he feared for his life.
"After a thorough review and given the totality of the circumstances and credible evidence in this case, it is my opinion that Officer Vinson acted lawfully when he shot Mr. Scott," Murray told reporters.
Vinson and his partner had been participating in a surveillance operation for an unrelated case in the parking lot of a Charlotte apartment complex when Scott parked his vehicle close to the police van. The officers observed him roll marijuana, but only became concerned when they saw him holding a gun, Murray said. Although North Carolina is an open-carry state, the pair sought back-up from other officers before trying to arrest Scott.
Murray said officers who approached Scott later described him as having "a blank stare as if he was in a trance-like state" — behavior he said was consistent with a medication prescribed to Scott.
Video from a police dash cam showed Scott getting out of his SUV as police had their guns drawn. The video does not show what Scott was holding in his hands, as he slowly moved backward and was shot four times. He was struck in the wrist, abdomen, and rear shoulder.
Murray said Scott's DNA and fingerprints were found on the slide and grip of a gun recovered at the scene. The Colt .380 semi-automatic handgun was loaded with a bullet in the chamber.
"We cannot know what Mr. Scott's intentions or reasoning were that day," Murray said. "Officer Vinson could not know that at the time. What he saw was a man who had drawn a gun when confronted by police, exited a vehicle with a gun in hand, and failed to comply with officers who commanded him at least 10 times to put the gun down."
The district attorney said FBI investigators had determined that three witnesses who claimed to have witnessed the incident had not in fact seen the shooting.
"When they were interviewed by FBI later, they said they did not actually see the shooting despite their claims on social media or with the media," he said.
Murray said a group of 15 "career prosecutors" were brought in to review the district attorney's review of the case, and they reached the same unanimous recommendation.
"Essentially the law says we have to determine whether it was reasonable for the officer to believe he needed to use deadly force," Murray said, concluding that Vinson held legitimate fears for his safety.
Murray said he met on Wednesday morning with Scott's widow to extend his condolences and "to go over in detail all the evidence in this case."
"As you can imagine, it was a difficult discussion. However, the family was extremely gracious," he said.
After Murray's announcement, Charles Monnett, an attorney for the Scott family, said they still questioned whether officers used effective de-escalation tactics.
"We still have concerns, and it's important for the family — the public to understand that this doesn't end our inquiry," Monnett said.
In a statement to the press, Scott's family said they were "profoundly disappointed" but urged any protesters to remain peaceful:
We wish to express our thanks and gratitude to Mecklenburg County District Attorney Andrew Murray, his office and the SBI for the respect they have shown the Scott family and for their willingness to explain how they conducted their investigation and the conclusions they reached.

We are profoundly disappointed in their decision not to criminally charge Officer Brantley Vinson for his actions in taking the life of Keith Lamont Scott.

While we understand that many in the Charlotte area share our frustration and pain, we ask that everyone work together to fix the system that allowed this tragedy to happen in the first place.

All our family wanted was justice and for these members of law enforcement to understand that what they did was wrong.

We respectfully ask that you please keep any protests that may occur peaceful. Responding to violence with violence is never an appropriate response. This is just one more step in our quest for justice.
District Attorney Murray urged the community to "take a collective pause" and "read" and "digest" the report on the shooting before passing judgment.
"But the fact that criminal charges are not appropriate under the law in this particular case does not mean we can dismiss the concerns expressed by those who raised their voices to raise the consciousness of this community," Murray said of the September protests that followed Scott's death. "I think it's high time that all of us recognize that this is Charlotte and not everyone experiences the same Charlotte."