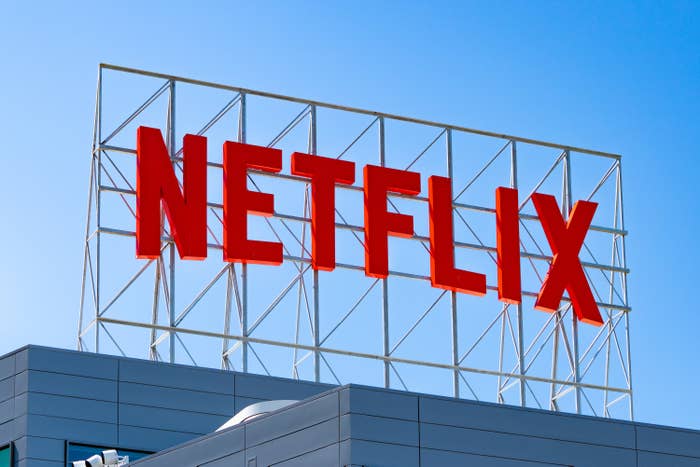 "You're going to see a bunch of tweets from people laid off at Netflix/Tudum today," writer Nichole Perkins tweeted on Thursday, "so please hire us all."
Perkins was referring to the sudden decision by Netflix to restructure its marketing team and end the current version of Tudum, the fan-service website it had set up just months prior and for which it had contracted a dozen or so staff. Around 25 staff and contractors in total were laid off on Thursday.
Even though the streaming giant has a "notoriously fickle anyone-can-get-fired-at-any-time credo," as the Hollywood Reporter has described it, the speed and ruthlessness with which the Tudum staff, many of whom were women of color, were chewed up and spat out has left both them and outside observers shocked. The ambitious project had been frustratingly set up to fail from the start, with little inside support or marketing from Netflix despite big promises, former Tudum employees said.
"I'm extremely resentful and very angry. I think what they've done is evil," one former Tudum staffer, who asked not to be identified for privacy reasons, told BuzzFeed News. "They've no regard for the livelihoods of these people they recruited to be a part of this team. Some people have left union jobs to be on this team."
On Twitter, writer Sara David shared her shock and sadness at being let go with an offer of two weeks' severance pay after only a few months of employment. She had previously left a union job at Vice that she said had 18 weeks of severance pay. "I'm devastated," David wrote.
A second Tudum staffer who spoke with BuzzFeed News, and also wanted to remain anonymous publicly, said they felt caught unaware and deceived about the extent to which Netflix was supporting the project. "'We were told, 'Tudum is fine. It's so new. They know you need time to figure it out and make it a success,'" this second staffer said. "So for them to turn around a month later and get rid of us, that's misleading."
But behind the story of Tudum's sudden collapse are bigger issues both within Netflix and the streaming industry more broadly.
The company's cost-cutting comes after an earnings call earlier this month revealed alarming figures, with Netflix losing 200,000 subscribers in the year's first quarter — the first quarterly subscriber loss in over a decade and a stark contrast to the 2.5 million new subscribers it was hoping to add. With revenue growth also falling, Netflix said it was considering changes to its model, potentially even adding an ad-supported subscription for a lower price.
(We should note some dark irony here: BuzzFeed News is also reducing staff following a disappointing earnings report from our newly public parent company.)
A Netflix spokesperson said that Tudum would continue to exist in some capacity. "Our fan website Tudum is an important priority for the company," the spokesperson said in a statement to BuzzFeed News.
Tudum had only launched in December last year, with most hires joining the team in January and February. The project fell under the company's marketing division, and it was the darling of former chief marketing officer Bozoma Saint John, who left Netflix last month after less than two years in the role.
Tudum, named for the sound the Netflix logo makes when it appears onscreen, had originally been a fan convention held in September, and the goal was to keep the content flowing after the event. The premise was that the site would produce BuzzFeed-style content (e.g., lists, interviews, recaps, behind-the-scenes videos) but be wholly controlled by Netflix. Using SEO, or search engine optimization, it would be a landing pad for readers who were wondering in which shows they'd previously seen an actor or how they might purchase one of the green tracksuits from Squid Game.
From the start, though, Tudum was doomed by a lack of clarity from leadership around its objectives and purpose.
It launched as what's known as an "MVP," or minimum viable product, meaning essentially a barebones experiment the company was running and the plane would be built while flying. But things kept shifting and getting scaled back, according to the two former staffers.
An ambitious goal for Tudum to one day rival the features of Amazon Prime Video, where Netflix users could pause a show and interact with related Tudum content that would pop up on screen, was downgraded to a link that might appear during the credits. The long-term plan for Tudum was to fully integrate it into the Netflix app, but in the short term, it existed as a page on Netflix's website that was difficult to locate. This lack of clarity surrounding how readers were supposed to find Tudum content left staff confused. "It really doesn't make much sense. I'm still struggling to make much sense of it," the first Tudum staffer said. "I was struggling to make sense of it while I was working there."
The site was not designed to have traditional sections or "verticals." Instead, its content would instead be dictated by shifting consumer insights that would reveal what was resonating with readers. But while optimizing SEO was the central strategy to reach an audience, there were never any metrics made clear to staff by which to assess whether a post had been a success.
Writers had originally been drawn to Tudum by the promise of high salaries — the first staffer said they were earning three times as much as in their previous job — and strong creative freedom. But soon, both staffers said, the editorial independence had diminished.
Executives increasingly bristled at Tudum content that might touch on racial or cultural flashpoints. Soon, stories had to be flagged well in advance to avoid being killed at the last minute. "We were mostly left to read between the lines," the first staffer said. "They'd be like, 'That's a touchy subject. We don't really want to go there.'"
"I think Tudum launched at a really difficult time for Netflix in general, with all the Dave Chappelle stuff," the second staffer said, referring to the walkout protests and backlash to the comedian's Netflix special, in which he made anti-trans jokes. "The culture changed a lot. There was a more critical eye, in terms of what we were able to say and not say, because Netflix as a company was not in a good place. I could feel something was off."
There were also technical problems that were exacerbated, according to both staffers, by poor communication between the editorial and product teams. It took months, for example, for the website to support embeds from social media. Netflix was also reticent about hosting YouTube content, even videos posted there from its own accounts, and instead preferred to embed its own video playing system. There was also no way to click on an author's name and see their archive of stories.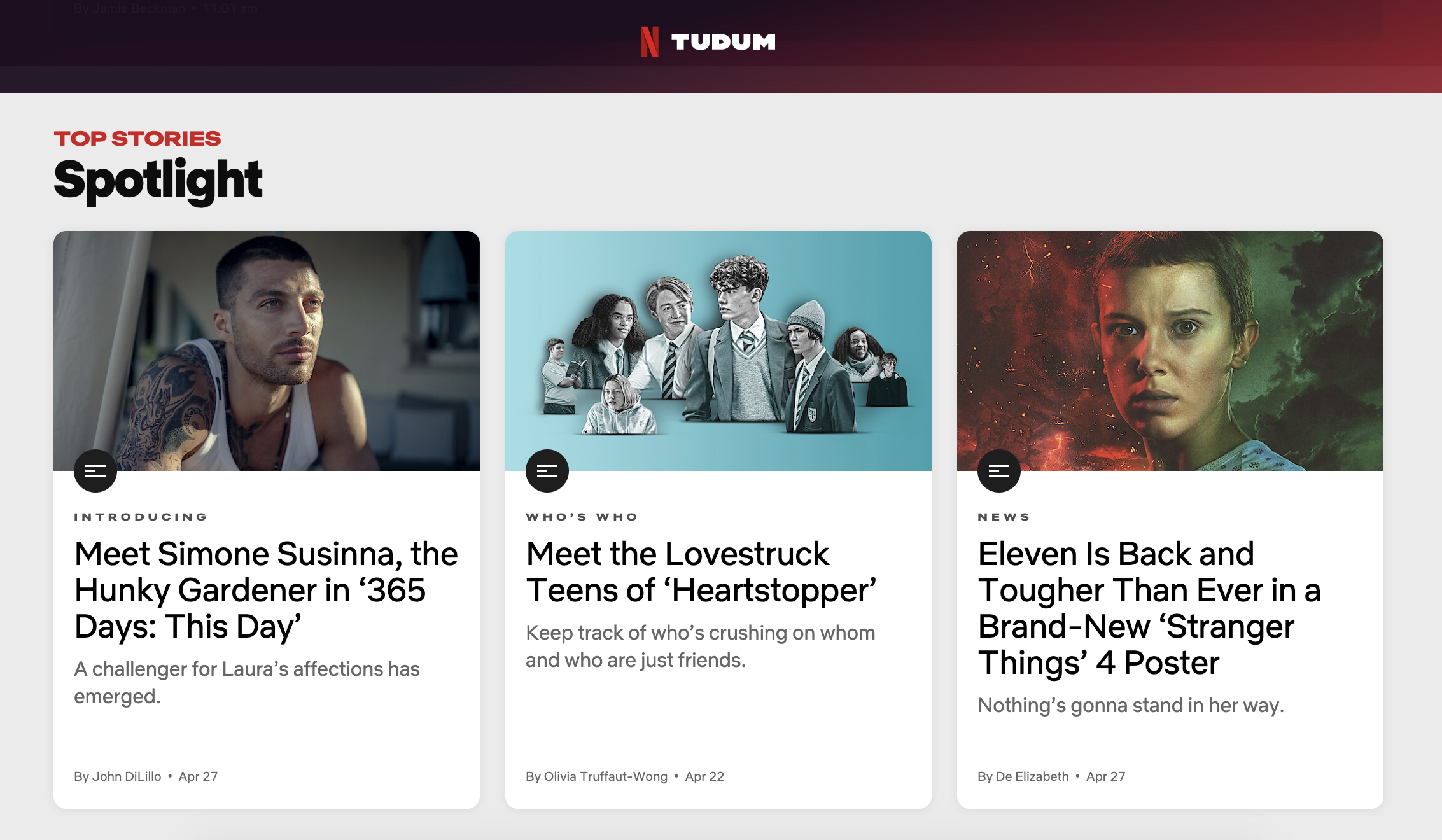 Staff also increasingly became perturbed that there were no dedicated Tudum social media channels, feeling as if their work was being published and then disappearing into the ether. "It was definitely a frustration among the staff, the writers in particular, because there was no way for them to really promote their work," the second Tudum staffer said.
Netflix's thinking was, according to both former staffers, that Tudum would be a failure if it had to create new branded social media channels, given the vast range of accounts Netflix already owned. But Tudum staff said it was difficult for them to have their content promoted on these existing accounts. A Twitter search reveals only three pieces of Tudum content shared from the official Netflix account to its more than 17.7 million followers, one of which was the video announcing the launch of Tudum. "To get them to share anything we were doing was very ad hoc," the second staffer said. "We had to do kind of backdoor dealing, leaning on them and asking them for a one-off share."
But a Netflix source told BuzzFeed News the consensus among employees was that they never understood why Saint John, the former CMO, had created Tudum to begin with. The reason for its existence was poorly marketed inside the company, the source said, and when she departed, nobody knew what to do with it.
The second staffer also pointed to Saint John's departure, in addition to this month's earnings call, as the beginning of the end. "Those two things," the staffer said, "changed the mood entirely."
Brandon Hardin contributed reporting.