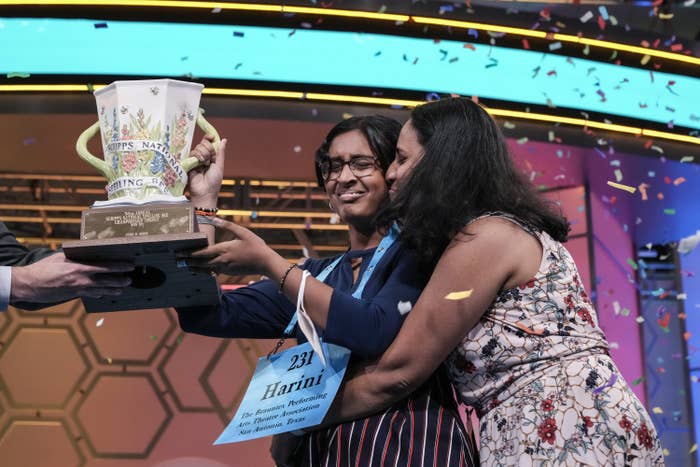 Do you know the meaning of the word "pullulation"?

Harini Logan does — and she'll probably never forget it for the rest of her life.
The 14-year-old from San Antonio, Texas, won the Scripps National Spelling Bee in Maryland on Thursday night — a victory made possible by a correct definition she gave for pullulation.
This year's competition had brought back a round in which contestants had to provide the meanings of some obscure words — a section that proved so tough it eliminated a big chunk of players.
Harini would have been given the boot, too, had judges on Wednesday not reconsidered the definition she gave for pullulation — the nesting of mating birds (her response) versus the swarming of bees (the judges' definition) — as acceptable, thus reinstating her to the competition.
At Thursday night's final, the field was gradually reduced down until just Harini and 12-year-old Vikram Raju from Denver were left.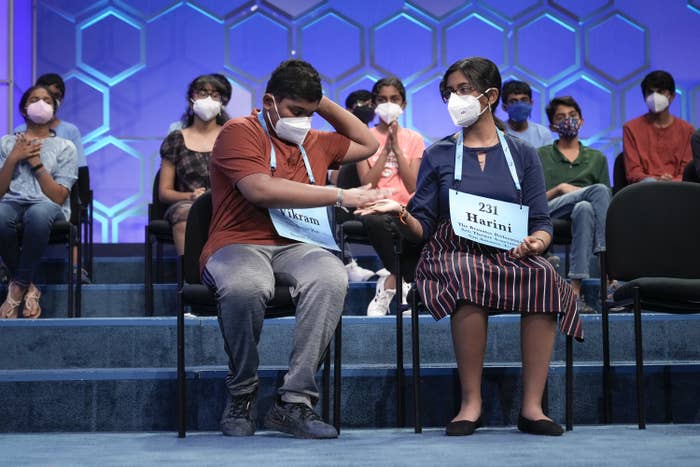 When those two both stumbled on some of the toughest words of the night — including "drimys," "pyrrolidone," and "myricetin" — the two went to the competition's first-ever lightning round spell-off to settle things once and for all.
"We activated the spell-off because it was the best chance to show the extent of these spellers' preparation," Spelling Bee executive director J. Michael Durnil said in a statement. "Clearly, they demonstrated their deep capacity for the competition."
Each had 90 seconds to spell as many words as possible, with the young spellers responding so quickly judges were forced to use playback video to determine whether each response was correct.
Although she later admitted to being nervous, Harini appeared to barely sweat as she gave rapid-fire answers to 26 words — correctly spelling 22 of them.
Vikram was able to give 19 responses, correctly spelling 15 of them.
This was Harini's first win in her four times competing at the Spelling Bee, having previously placed as high as 31st last year.
In addition to bragging rights, she took home $52,500 in prize money, while Vikram walked away with $30,000.
"This is just such a dream," she said onstage as she held her trophy aloft.