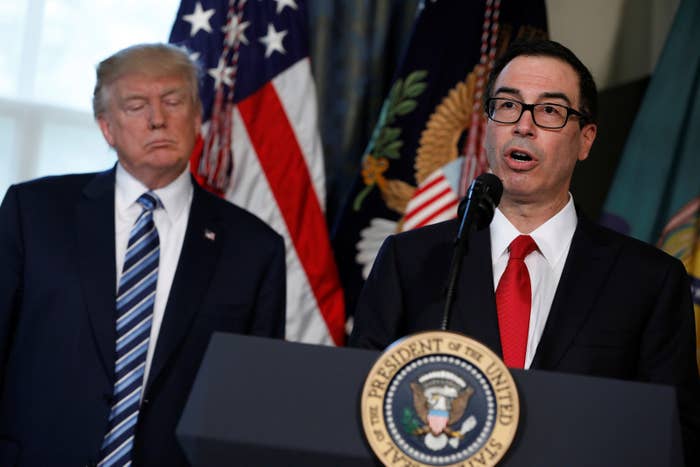 Treasury Secretary Steve Mnuchin said Wednesday that President Donald Trump has "no intention" of releasing his tax returns, falsely claiming the president had been more financially transparent than any other politician.
"The president has no intention [to release his taxes]," Mnuchin told reporters at a White House briefing outlining the administration's plans for tax overhaul. "The president has released plenty of information. I think he's given more financial disclosure than anybody else. I think the American population has plenty of information on his taxes."
When the reporter who asked the question tried to follow up, Mnuchin spoke over him and insisted other journalists be allowed to speak.
Throughout the election campaign and his young presidency, Trump has broken with decades of tradition by declining to release his tax returns, citing the fact that he is being audited. (The IRS has insisted that an individual would be free to release their tax returns despite being under audit).
Every major presidential candidate since Richard Nixon except Trump has voluntarily released their tax returns, with Trump's Democratic rival, Hillary Clinton, publishing three decades worth of returns when she ran in 2016. (Trump did comply with the Federal Election Commission requirement to file a financial disclosure form, but this was a much less detailed document than a tax return).
Trump has said he believes only reporters, and not the general public, want to see his taxes. However, poll after poll has found a majority of Americans want to see the information.
In January, two days after Trump was sworn in as president, senior adviser Kellyanne Conway said the administration would not release Trump's taxes because "no one cares."
"The White House response is that he's not going to release his tax returns," Conway said on ABC's This Week. "We litigated this all through the election. People didn't care. They voted for him, and let me make this very clear: most Americans … are very focused on what their tax returns will look like while President Trump is in office, not what his look like."
The next day, Conway sought to walk back her comments, writing on Twitter that "POTUS is under audit and will not release until that is completed. #nonews"
Asked for comment on Mnuchin's comments on Wednesday, a White House spokesperson denied the Treasury secretary was saying Trump has no intention to ever release his taxes:
think it's pretty clear from the way the Secretary stopped in the middle of that sentence – and later clarified "I can't comment on the President's tax situation since I don't have access to that" that he was not trying to say that the President has no intention to ever release his taxes. If you have further questions on his comments I would direct them to Treasury.