President Trump announced late Friday that the US, UK, and France had bombed regime targets in Syria in response to last week's apparent chemical weapons attack outside Damascus.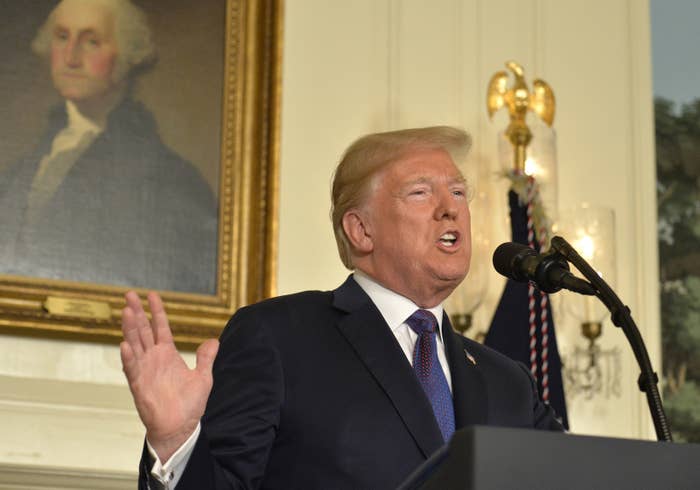 The Pentagon said the missile strikes against three facilities will "set the Syrian chemical weapons program back for years," but acknowledged there was a "residual element" that remained.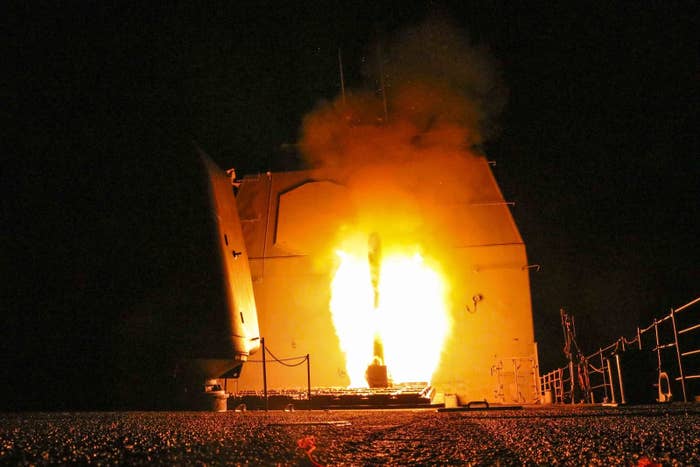 Reacting on Saturday morning, Trump tweeted that the strikes had been "perfectly executed" and thanked his Western allies. "Mission Accomplished!" he wrote.
Those two words soon caught a lot of people's attention.
It was a phrase that sounded very familiar...
Ah, yes. That's it. In May 2003, former President George W. Bush famously stood on the USS Abraham Lincoln and delivered a speech on Iraq in front of a banner that read "MISSION ACCOMPLISHED."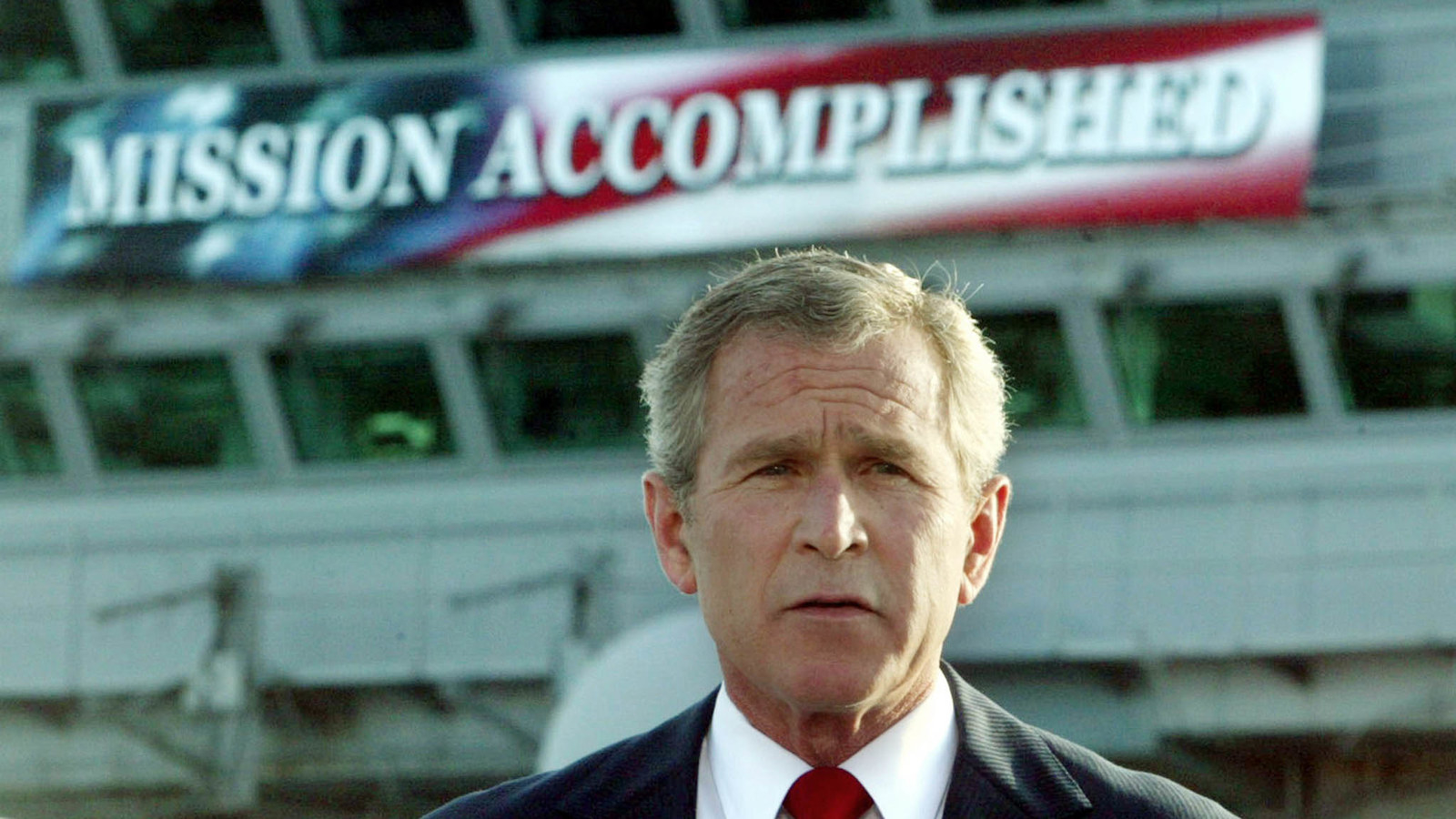 "Major combat operations in Iraq have ended," said Bush. "In the battle of Iraq, the United States and her allies have prevailed."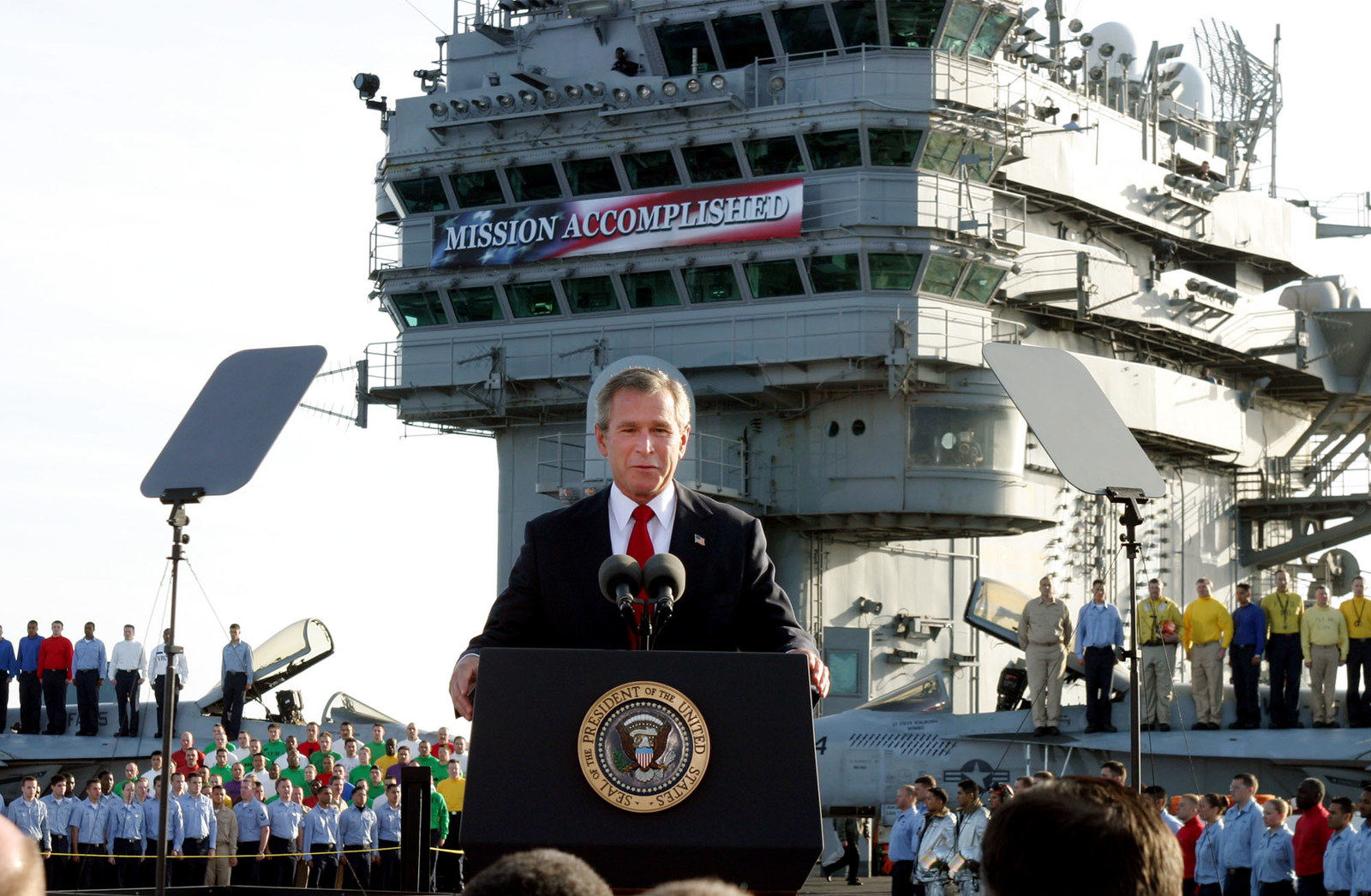 Of course, that's not at all what happened. Within months, a powerful and violent insurgency emerged, and the Iraq War turned into a years-long nightmare.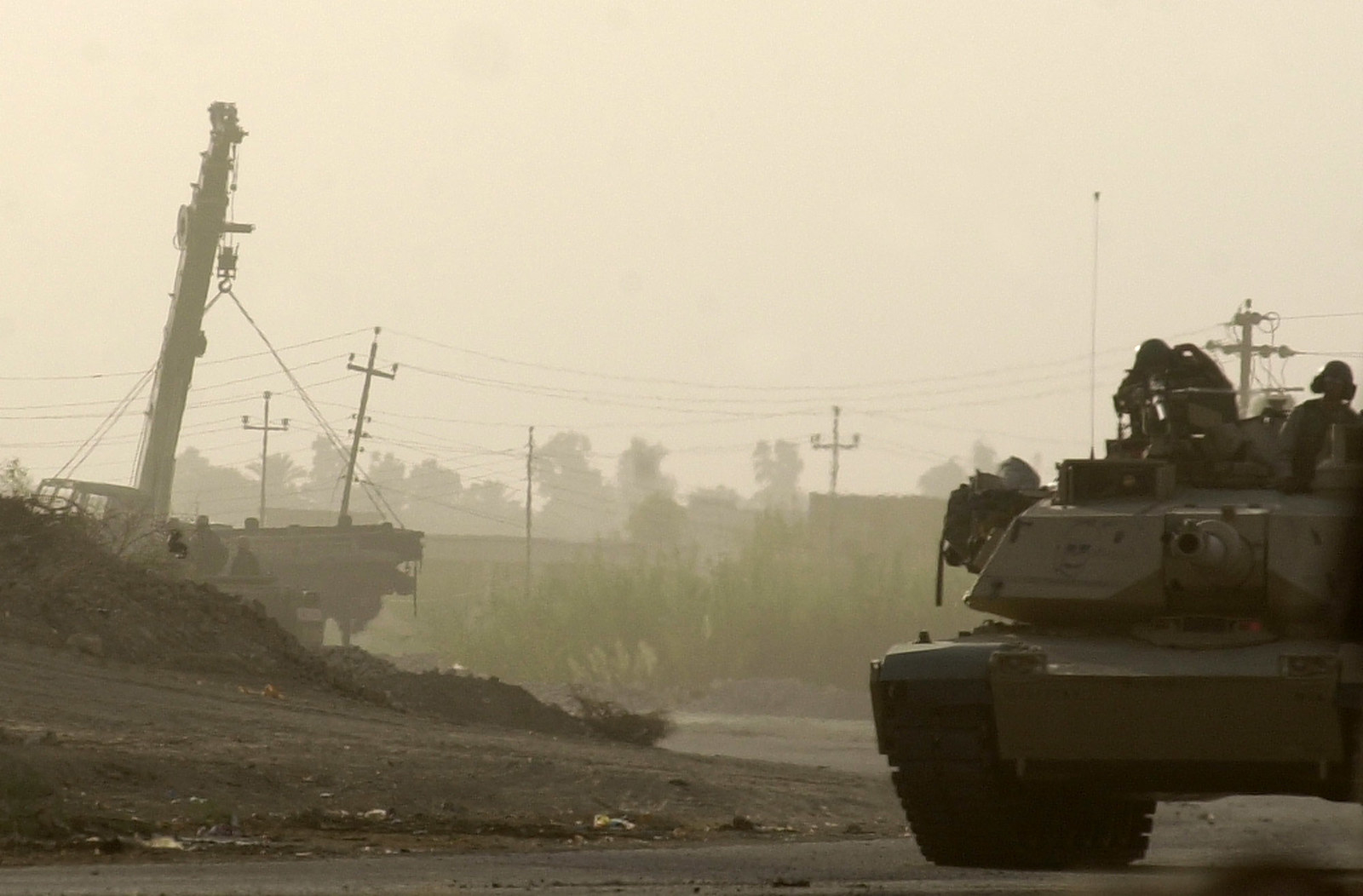 So it's perhaps not surprising, then, that Bush's former press secretary at the time of the infamous photo op, Ari Fleischer, on Saturday wrote a shady tweet about Trump's use of the loaded term "Mission Accomplished!"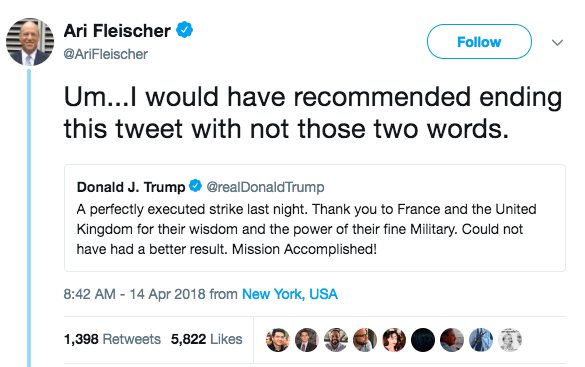 Writing on Twitter, Fleischer insisted it had been the idea of the crew on the Lincoln to put up the banner to celebrate ending their longest-ever deployment at sea.
"The crew asked the WH staff if it would be ok to hang a banner saying 'Mission Accomplished,'" Fleischer wrote. "We readily agreed. We hung it in an obviously prominent place that also sent a message as Bush spoke to the nation."
"It was the crew's message from start to finish," he wrote.
However, as the Bush White House acknowledged six months after the speech in 2003, the administration were the ones who manufactured the sign.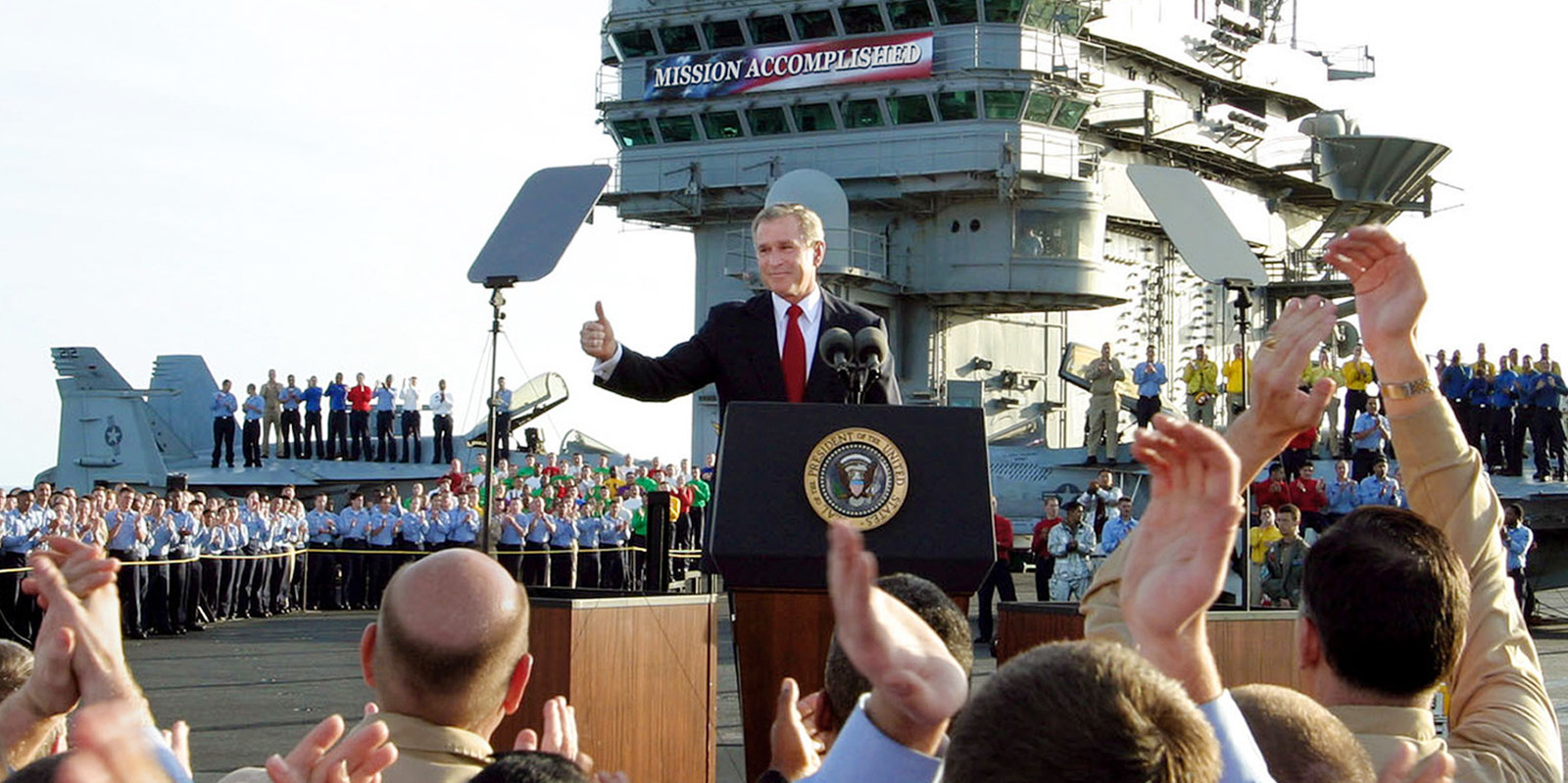 In his final press conference as president, Bush described the banner as one of the mistakes of his presidency.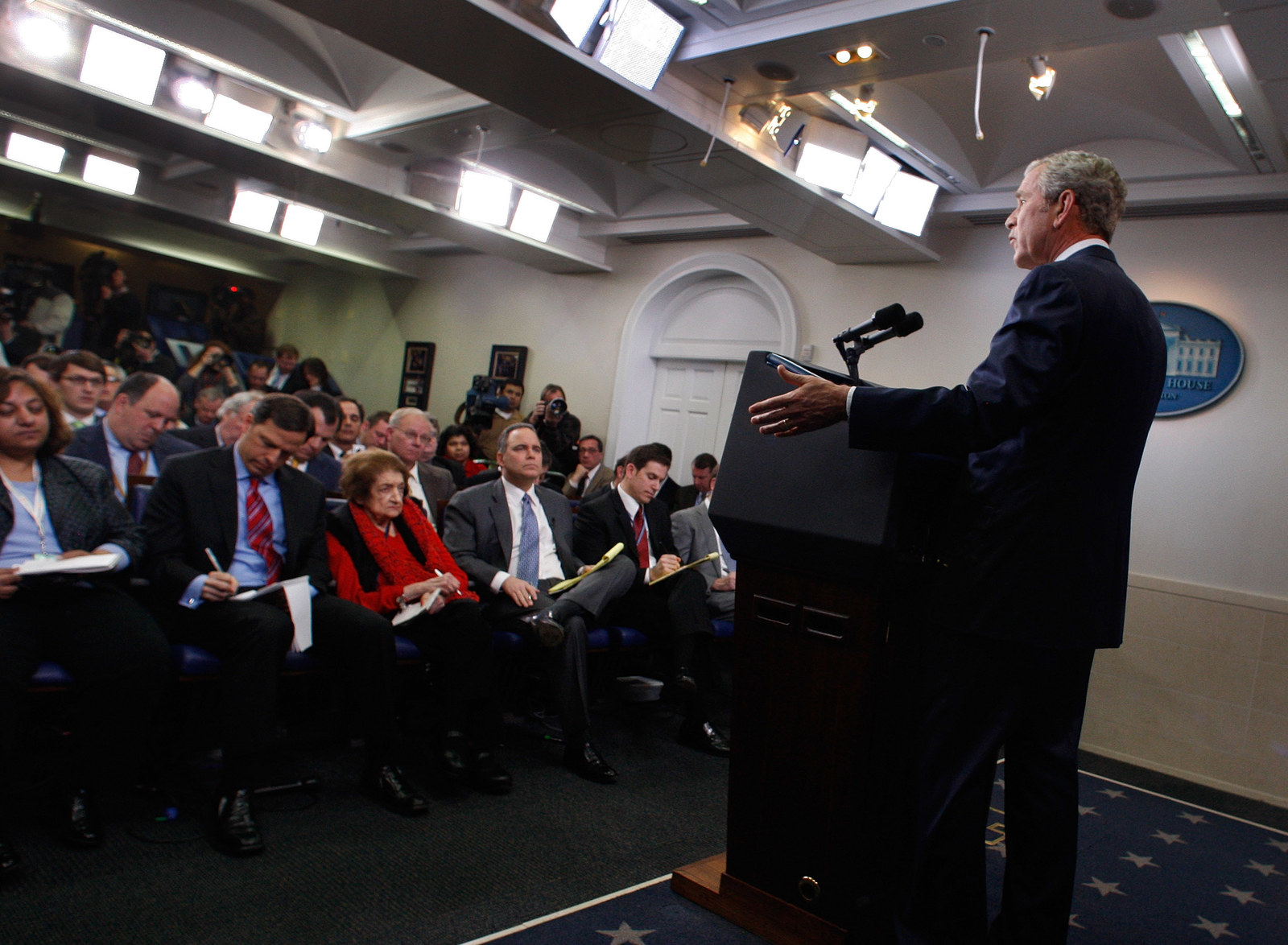 It wasn't just Fleischer who questioned the use of Trump's words on Saturday. The president's favorite news channel also brought up Bush's 2003 banner: "Do you think using those words — 'Mission Accomplished' — gives Americans a false sense of security, 'this is done'?" asked Neil Cavuto.
FWIW, this is the second time Trump has bombed Syria in retaliation against the use of chemical weapons during his presidency.