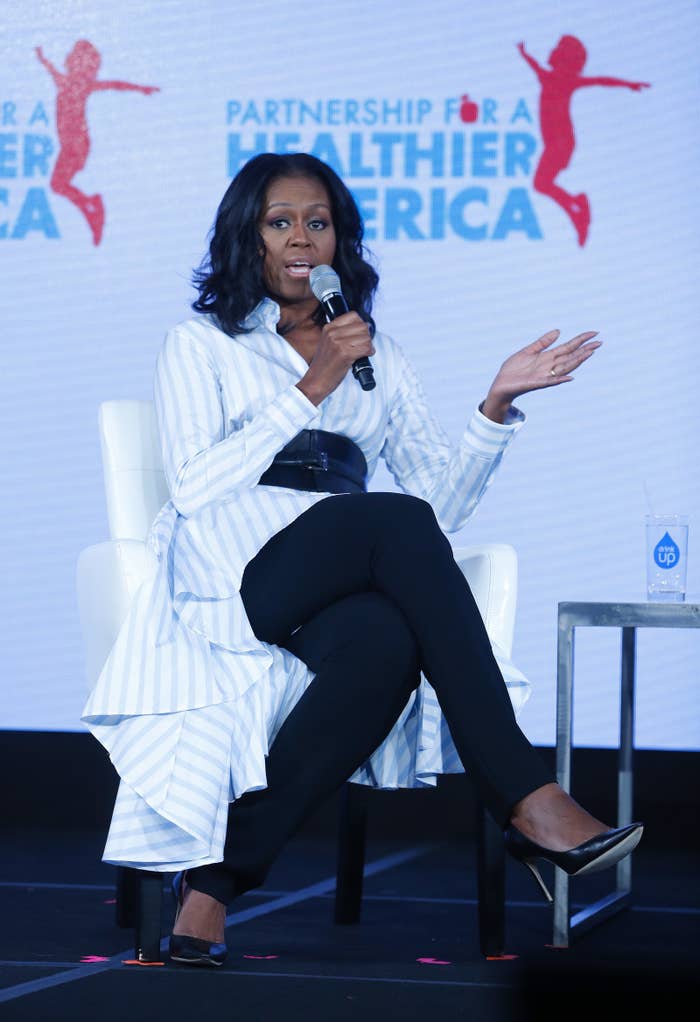 Michelle Obama on Friday launched a passionate defense of one of her main legacies as US first lady after the Trump administration moved to make school lunches less healthy.
Speaking at a health summit in Washington, DC, Obama questioned the motives of officials and companies seeking to overhaul the school nutrition standards she helped implement.
"We have to make sure we don't let anybody take us back, because the question is where we going back to?" she said to applause. "This is where you really have to look at motives. You have to stop and think, 'Why don't you want our kids to have good food at school? What is wrong with you?'
"And why is that a partisan issue? Why would that be political?"
Although she did not mention President Trump by name, his agriculture secretary, Sonny Perdue, signed a proclamation earlier this month relaxing nutrition standards for whole grains, sodium, and milk in schools.
Obama said meals in school were particularly important because many children eat breakfast and lunch on campus.
"We already know that there are millions of kids who get most of their calories at school," she said.
She also said she wasn't bothered by students who blamed her for taking away fast-food options and making their school lunches boring or unappetizing.
"Well, you know what? Kids don't like math either. What are we going to do? Stop teaching math?" she quipped.
Interviewed by former White House chef Sam Kass, Obama was asked why she chose to spend much of her time as first lady combatting childhood obesity.
"First of all, the numbers were real. This wasn't 'fake news,'" she said. "Obesity rates are rising and continue to rise among our youngest. We are seeing our kids have higher rates of stroke, heart disease, diabetes, and these are real numbers."
"It's our kids," she added. "This isn't political. Everybody's got them — Republicans, Democrats, independents. Every religion has kids. We all have kids."
Obama also said her family was getting accustomed to life after the White House.
"We are not gone, we are just breathing. We're just breathing, y'all. Let us breathe," she said.

When a member of the audience yelled out, "First lady for life!" the crowd cheered.
"I paid him," Obama joked. "You will get your check after this, young man."