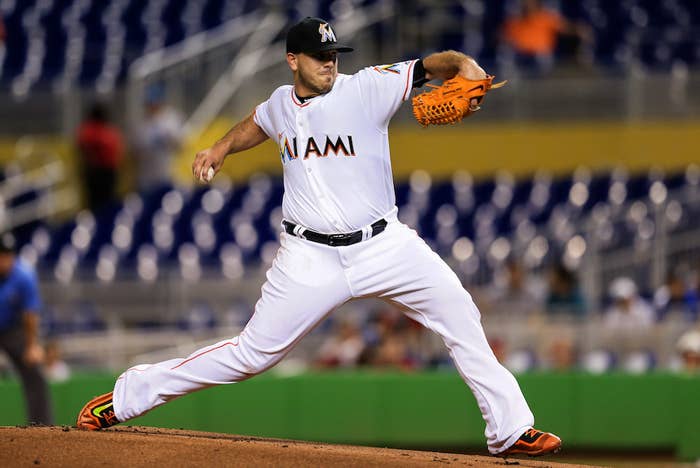 Miami Marlins pitcher José Fernández was found dead Sunday in a boating accident, the US Coast Guard announced. He was 24 years old.
"The Miami Marlins organization is devastated by the tragic loss of José Fernández," the team said in a statement. "Our thoughts and prayers are with his family at this very difficult time."
US Coast Guard workers in Miami found the pitcher's body and those of two others in overturned boat early Sunday morning, according to a statement.
"A boat crew from Coast Guard Station Miami was heading out on a law enforcement patrol at approximately 3:30 a.m. Sunday when they passed a jetty along Government Cut and discovered an overturned 32-foot center console boat on the jetty with three deceased aboard," officials said in a statement.
Miami-Dade Fire Rescue Chief Todd Garofalo told local station WSVN the boat was found up against jetties.

"They did do an initial search and they found three victims — two on top of the water, one underneath the boat and they had unfortunately passed away," he said.
It was later determined the boat was traveling at full speed when it encountered the jetty. None of the individuals on the boat were wearing life vests. Fernández' friends Eduardo Rivero, 26, and Emilio Jesus Macias, 27, both from Miami-Dade County, were also killed in the crash.
Miami-Dade police officers responded to the scene, as did personnel with the Florida Fish and Wildlife Conservation Commission, which is investigating the cause of the accident.
Born July 31, 1992, in Santa Clara, Cuba, Fernández moved to the US in 2008, attending high school in Tampa, Florida.

He made his Major League Baseball debut in 2013, winning the National League Rookie of the Year award.
A two-time All-Star, he lead baseball with a 12.49 strike out per 9 ratio, with a total of 253 strike outs this year. He also lead the National League with a 2.29 in Fielding Independent Pitching.
The Marlins team held an emotional press conference after learning of the loss.
Marlins president David Samson said Fernández "got caught three times trying to come to this country to play baseball" but never gave up because of his passion and love for the game.
Fellow Marlins player Mike Dunn held up his late teammate's jersey as Marlins manager Don Mattingly choked up describing Fernández and his love for the game.
"I see such a little boy in him...there was just joy with him in the way he played," Mattingly said. "When he pitched...when you watched kids play little league that is the joy that Jose played with and the passion he felt about playing. That is what I think about. "
Marlins infielder Martin Prado said the last game Fernández pitched against the Nationals was his best game ever and "now he's gone and it's hard."
Fernández became a US citizen last year and was presented with a US flag that had flown over Marlins Stadium by his team. "This is a dream that I've had since I was little, and actually achieving it is really amazing," he said at the time. "Having my family here and so much support from this amazing country, it's really fantastic."

Just this week, he posted an Instagram photo celebrating that he was going to become a father with a woman whom he did not name.
"Im so glad you came into my life," he wrote. "I'm ready for where this journey is gonna take us together. #familyfirst"
"We are stunned and devastated," Major League Baseball officials wrote on Twitter of the player's death.
Commissioner Robert D. Manfred, Jr. said all of baseball was shocked and saddened by the passing of Fernández.
"He was one of our game's great young stars who made a dramatic impact on and off the field since his debut in 2013," he said in a statement. "Our thoughts and prayers are with his family, the Miami Marlins organization, and all of the people he touched in his life."
Both current and retired MLB players paid tribute to Fernández social media:
Sunday's game against the Atlanta Braves at Marlins Stadium has been canceled, the Marlins said in their statement.
Ben King and Claudia Rosenbaum contributed to this report.
CORRECTION
In his Instagram post, Fernandez did not name the woman who he said was carrying his child. An earlier version of this post included a woman's name that has not yet been verified.