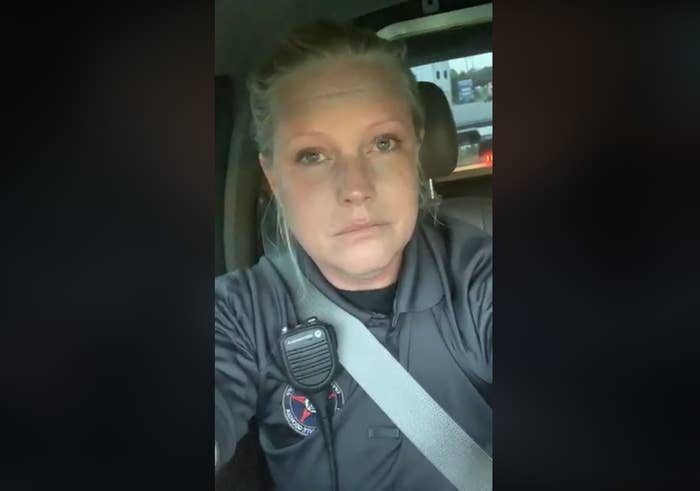 Stacy Talbert has seen your jokes online calling her "McMuffin Cop."

In the days since Talbert went viral for a video of herself crying after a messed-up McDonald's order prompted her to fear her food was being tampered with, the Georgia sheriff's deputy has enjoyed reading the memes and jokes criticizing her.
"I'm not bitching. I think that shit's funny," Talbert told BuzzFeed News in a phone interview Thursday. "'Cop Karen' — whoever did that, that's funny. 'Molly McMuffin,' someone called me. That's funny! I'd make money if I was that funny."
But Talbert — who said she has worked in law enforcement for 15 years, but as a deputy in McIntosh County near Savannah for just four months — said she felt that as her video went viral it also lost the real message she was trying to convey: the fear she felt in that moment.
"It really had nothing to do with McDonald's and the food. That was just what triggered it," she said. "This feeling we feel in law enforcement constantly. You're always looking, we're arching our necks, to make sure everything is safe not just for you, but for everyone else. There are times I wish I could just be normal and not have to feel like that.
"Everyone completely lost the point except for law enforcement. We all feel that way except I voiced it."
Talbert had been finishing her overnight shift when she pulled into a local McDonald's on Monday morning after placing her order online. When she was told by employees that she needed to pull her car aside and wait for her order, she said she became increasingly suspicious.
"I'm not going to accuse anyone, but it was sketchy," she said.
When one employee brought her the coffee she had ordered, but not the food, Talbert said she told the worker not to bother because she had become too nervous to eat it.
But Talbert told BuzzFeed News she couldn't say definitively whether the staff were actually tampering with her food — what mattered to her was the fear she felt.
"I don't believe that they were or were not," she said. "I am telling you I have no idea of that and I didn't take it to find out."
Talbert first spoke to NBC News on Wednesday about her video.
Talbert's video went viral a day after two New York police unions falsely accused staff at a Shake Shack restaurant of poisoning officers, but detectives later found there was no criminal behavior in that incident.
The McDonald's restaurant's franchisee owners, Gary and Jill Stanberry, told BuzzFeed News on Wednesday that they had spoken with Talbert to apologize for her bad experience, but they also defended their staff.
"We are happy to report that the officer was never denied service and also shared positive feedback on the employee with whom she interacted," said restaurant owners Gary and Jill Stanberry in a statement. "As a locally owned and operated business, we work hard every day to treat all of our employees and customers with dignity and respect."
Talbert told BuzzFeed News when she spoke with Jill Stanberry, the owner asked her to take down her video, but she declined "because it's done so much good." (McDonald's did not immediately respond to a request for comment on whether they had asked Talbert to remove the video.)

Amid a national debate about police behavior and practices, Talbert's video was seen more than 10 million times on Facebook and millions more times when it was reposted on Twitter.
While she said she was overwhelmed with messages of support, including one tweet from Donald Trump Jr., she had many detractors, too.
Many criticized the apparent irony of Talbert feeling afraid over her food amid national protests by the Black community who fear for their lives at the hands of law enforcement.
Talbert said she wholeheartedly supported Black Lives Matter protesters and acknowledged the fears they may feel while dealing with authorities were valid. But she said she could only speak to her own fears.
"How fair of me is it to honestly talk about other people's pain when I have no idea about it. I'm white. How am I going to talk about any one else's pain? How would I even know? They're truly not the same fears and I would never say that because it's not fair of me to say. It's a different thing, it's a different feeling."
Some critics also said she was too unstable to be trusted with a handgun to police her community. But Talbert hit back at that contention.
"I was hired by my sheriff's office to do a job, and they knew when they hired me that I was stable enough to do the job without an issue and I've been doing the job for 15 years," she said.
Others said she was too emotional, but Talbert insisted her emotions benefit her on the beat.
"It was exactly how every single officer feels," she said, "and if they don't feel compassion or emotion, if they don't cry over anything, I promise you that is not the officer that you want on the street."
UPDATE
This story has been updated with comments from Talbert on the Black Lives Matter movement.
CORRECTION
Talbert is a deputy in McIntosh County, Georgia. A previous version of this story misstated the state where she works.