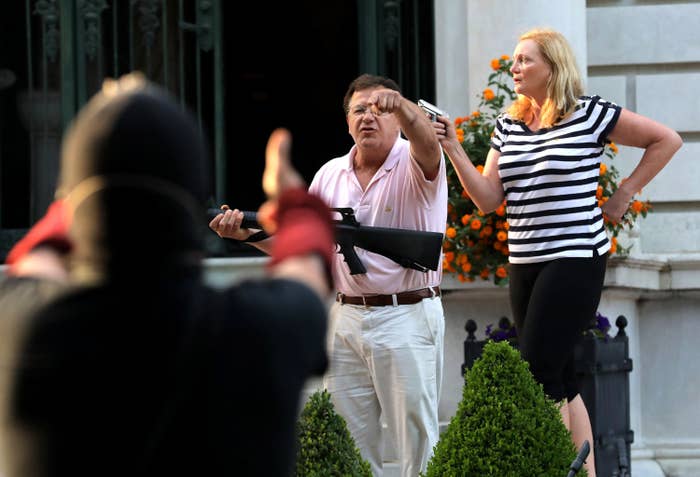 Mark McCloskey, the St. Louis attorney who made worldwide news last year when he and his wife pointed guns at Black Lives Matter protesters marching through their wealthy neighborhood, announced Tuesday that he is running for the US Senate.
During an interview with Fox News' Tucker Carlson, McCloskey officially declared he was throwing his hat into the crowded Republican primary to fill the Missouri seat of Sen. Roy Blunt, who is retiring.
"I've always been a Republican, but I've never been a politician," he said. "But God came knocking on my door last summer disguised as an angry mob."
Earlier in the day, he had teased on Twitter that he would be making a "huge announcement" on Carlson's show. Politico reported last month that he was considering running and had spoken at a local GOP dinner.

Photographs of McCloskey and his wife, Patricia McCloskey, went viral in June last year when they waved weapons and yelled at demonstrators marching through their private community toward the home of the St. Louis mayor.
They said they felt threatened by the demonstrators and were protecting themselves and their gilded mansion, originally built in 1912.
They were subsequently indicted on charges of evidence tampering and unlawful use of a weapon. A trial has been set for November.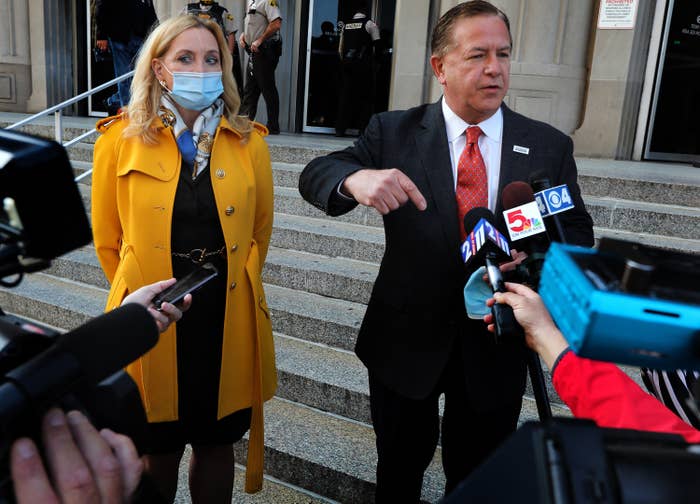 Former president Donald Trump embraced the couple during his unsuccessful reelection campaign, during which he sought to exploit the racial tensions in the US after the murder of George Floyd.
Trump called the charges against the couple "a disgrace," suggesting without evidence that they were defending themselves against a violent mob of extremists who were planning on beating the couple, ransacking their mansion, and burning the home to the ground.
He invited the pair to speak at the 2020 Republican National Convention, and the couple used their prerecorded four-minute video to deliver a fearmongering and racist message that the US's predominately white suburbs were at risk of violence from outsiders.
"What you saw happen to us could just as easily happen to any of you who are watching from quiet neighborhoods around our country," Patricia said.
She added, "No matter where you live, your family will not be safe in the radical Democrats' America."
Speaking on Fox News, Mark said that since making news last summer he's learned that people "are just sick and tired of cancel culture" and what he described as "the big lie of systemic racism."
"It just seemed to me that people have to stand up," he told Carlson. "Each and every one of us needs to stand up."

The Republican race to replace Blunt already includes former Libertarian Party nominee Rik Combs and Missouri Attorney General Eric Schmitt.

Also running is former Missouri governor Eric Greitens, who resigned in 2018 after a series of scandals involving allegations of sexual misconduct and campaign ethics violations.
Democrats believe they may have a chance at winning the seat if Greitens is the nominee.

Greitens is aligning himself with Trump, claiming he too has been the victim of a "witch hunt." Kimberly Guilfoyle, Donald Trump Jr.'s girlfriend, joined his campaign last month.