A Texan man was convicted Wednesday in connection with the death of his teen girlfriend who died on prom night two years ago.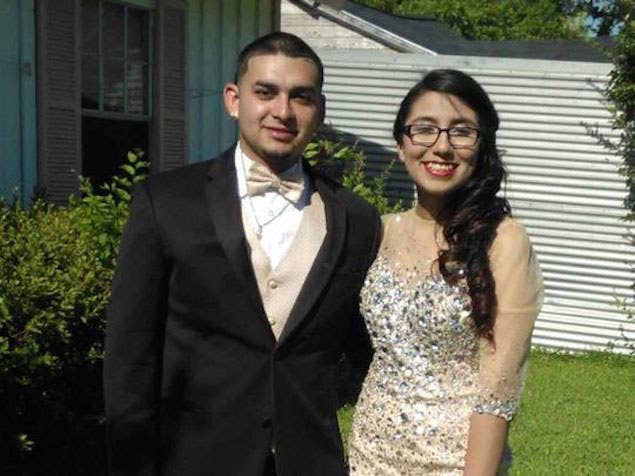 Eddie Herrera, now 20, was convicted in the Harris County District Court in Houston of aggravated assault over the 2014 death of 17-year-old Jacqueline Gomez.
Jurors deliberated for just two hours before finding Herrera guilty of choking Gomez, who was found dead in a hotel suite the two shared the night of the May 16 prom.
Herrera had admitted to choking his girlfriend, but said it occurred during consensual rough sex, the Houston Chronicle reported.
"She had hemorrhaging through every layer of her neck," Assistant Harris County District Attorney Justin Wood said in his closing arguments. "Anybody who is able to inflict that kind of injury is doing it with intent."

An autopsy found large amounts of alcohol and prescription painkillers in Jacqueline's system, which were allegedly provided to the pair by Herrera's mother, Melissa Martinez.
The cause of the teen's death was not clear, with Herrera's defense lawyers arguing she died from an overdose.
As such, Herrera was charged only with aggravated assault of someone with whom he had a dating relationship, a first-degree felony.
He told police his memory of the incident was obscured by the drugs and alcohol, but said the pair fell asleep after sex and he then awoke to find her unresponsive.
"With a combination of the alcohol and the Hydrocodone [painkillers], the body was already so depressed that it could not recover from those choking injuries," Wood said Tuesday, according to local station KHOU. "This is just extremely sad because it could've all been prevented."

Herrera's mother, Melissa Martinez, was charged last year with providing the teens with Hydrocodone, court documents show.
According to KHOU, Martinez also booked the teens' hotel room and lied to Jacqueline's mother about their whereabouts so they could "have a good time."

Herrera now faces up to five years in prison when he is sentenced.