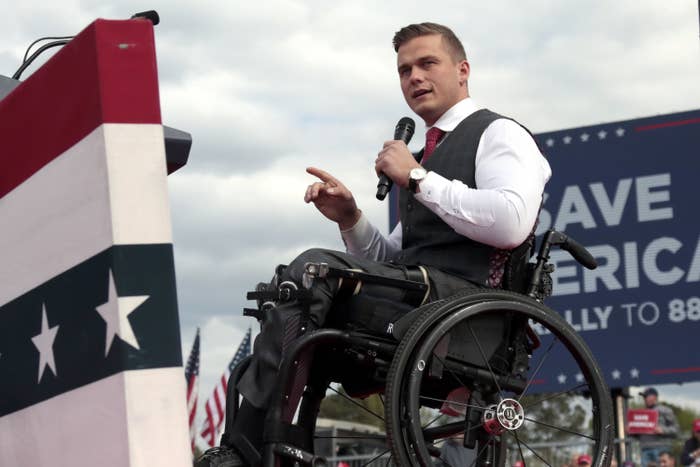 Clay Aiken is pissed off.
The former American Idol star and Democrat, who is hoping to prevail in next week's North Carolina primaries to represent Durham and become the first openly LGBTQ member of Congress from the South, is no fan of Rep. Madison Cawthorn. Neither are many Republicans in the state, including Sen. Thom Tillis.
But Aiken has been chafed by what he says is a disgusting anti-gay undercurrent to the recent onslaught of sexualized material released against the 26-year-old Republican.
"I am loath to defend him in any way but I will say that that last video with him on the bed pissed me off," Aiken told BuzzFeed News, referring to a leaked video that showed Cawthorn in a bed, his naked buttocks visible, simulating sex with a male friend.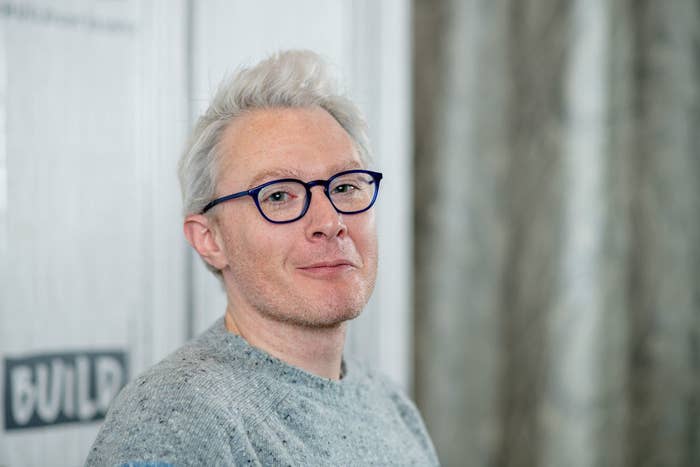 "The idea that anybody would gay-shame someone in order to try to embarrass him in that district and then call themselves a Democrat, I think is ridiculous," Aiken said. "And if Democrats are the ones who are attacking him and using his sexual orientation — or worse, jokes about what might be a perceived sexual orientation — I don't really want them in my party, to be honest."
Since Cawthorn outraged his fellow lawmakers in DC in March by asserting that he had been invited to cocaine-fueled orgies (a claim he later said, after being privately admonished by Minority Leader Kevin McCarthy, was exaggerated), there have been a series of humiliating leaks and allegations made against him.
But Democrats are divided on both the strategy and the ultimate impact of the attacks. Even within the local LGBTQ community, some believe the salacious material is beneath them and plays into anti-gay stereotypes, while others feel that it rightly highlights the hypocrisy of politicians who fail to meet their own moral standards of decency.
David Wheeler, a Democrat who ran unsuccessfully for the North Carolina State Senate in 2020 and is now leading the PAC focused on ousting Cawthorn that published the video, says they're merely fighting fire with fire.
"We have not been afraid to take the fight to Madison Cawthorn, who deserves it, for goodness' sake," Wheeler said. "The Democrats, for all their good intentions, aren't fighting."
There's also speculation from Cawthorn's camp that most of the attacks are actually coming from other Republicans seeking to destroy him.
"I don't think that the left is necessarily involved, because why would they have to get involved when he's coming under attack from his own?" said a source familiar with the operations of Cawthorn's office, who is also a friend of the Congress member.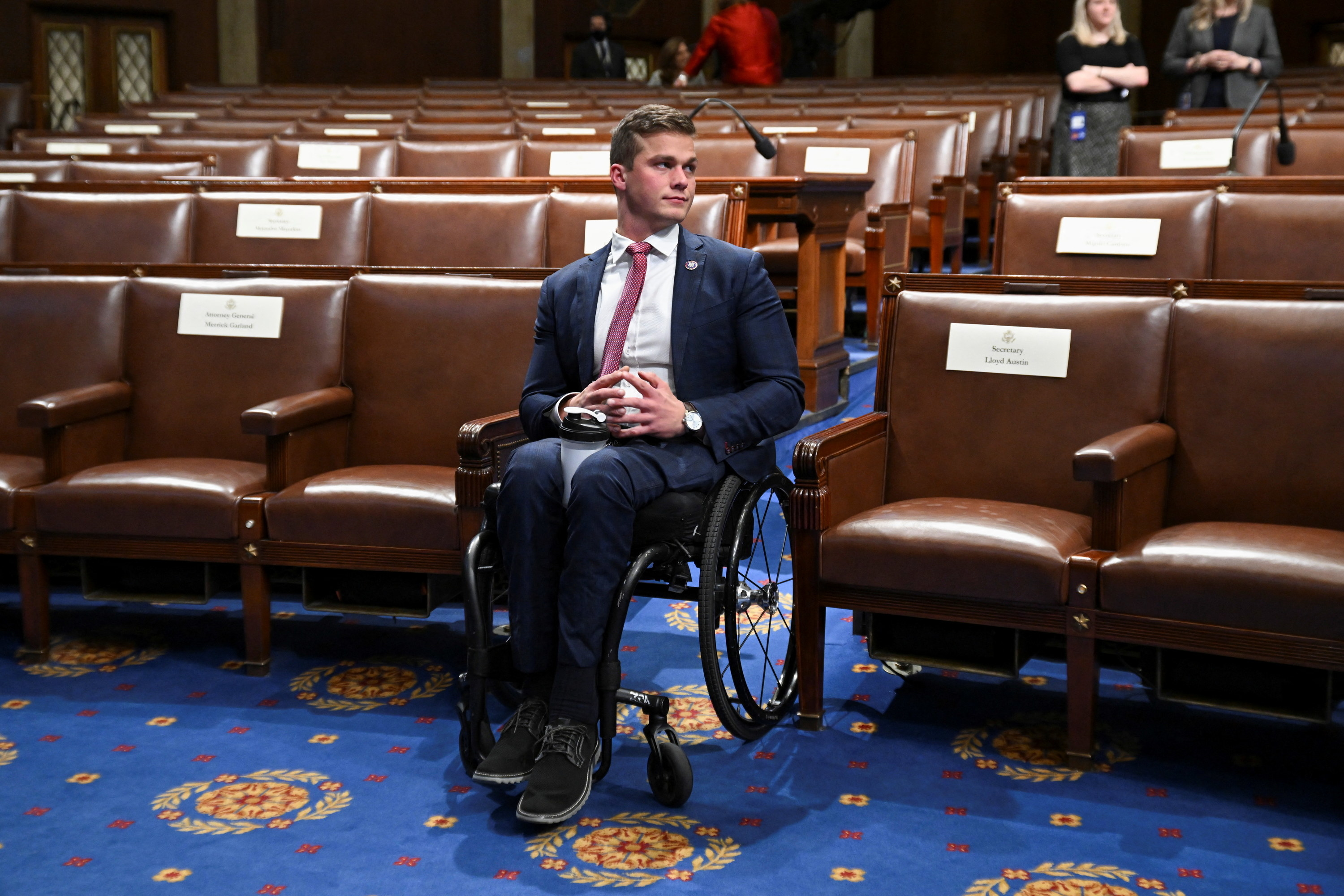 Cawthorn's recent scandals intensified last month when Politico published photos showing him in a bar wearing women's lingerie. Then American Muckrakers, Wheeler's PAC, which runs the anti-Cawthorn website Fire Madison, filed an ethics complaint against him, alleging he provided free housing to a staffer, with whom the group also suggested Cawthorn was in "a personal relationship…separate and apart from the professional relationship of employer and employee." The PAC's evidence for that suggestion included an old photo of them reclining on each other while shirtless in a pool; purported Venmo payments between them from 2018 in which they wrote things like, "Nudes," "For loving me daily and nightly," and "Getting naked for me in Sweden"; and a video in which the other man grabbed Cawthorn's crouch as they laughed together in a car.
Finally last week, the same group published the video to Fire Madison showing a naked Cawthorn dry humping a friend in bed and grunting. "Madison," the man says amid laughter. "Your ass is on my face!"
Cawthorn immediately hit back at what he said was a hit job from his political enemies designed to blackmail him. "Years ago, in this video, I was being crass with a friend, trying to be funny. We were acting foolish, and joking. That's it," he tweeted after the video was released. "I'm NOT backing down. I told you there would be a drip drip campaign."
In a statement to BuzzFeed News for this story, Cawthorn said:
The establishment 'right' and the radical left have teamed up to defeat me and my campaign for the people of western North Carolina. I call the swamp out on their bullcrap, and I've shone a light on the corruption in Washington. They despise me for it. Their blackmail and intimidation tactics will fail. I'm ready to move past this primary and unite the NC-11 GOP in defeating the Democrats' nominee in November.
But the attacks are piling up and the first-term Congress member's image has taken a dent among his own party. According to Rolling Stone, even Cawthorn's political hero, Donald Trump, is said to be "completely weirded out" by the scandals.
"What we're seeing about Cawthorn is as close to unprecedented as we can get in these unprecedented times," said Christopher Cooper, a professor of political science at Western Carolina University.
Cooper noted that Cawthorn finds himself in the highly unusual position of being under attack from three fronts: the Democrats and their supporters working on the Fire Madison campaign; the Republican PAC aligned with Sen. Tillis, Results for NC, which is spending six figures to try to oust Cawthorn in a primary; and his own disgruntled ex-staffers and friends.
Indeed, the source close to Cawthorn, who asked not to be identified in order to speak freely, told BuzzFeed News they believed most of the recent "onslaught of negative press" against him was being orchestrated not by Democrats but by "establishment" Republicans, including Tillis. They pointed to a recent string of critical stories in the conservative Washington Examiner and said they believed these Republicans were "shopping around" leaks about Cawthorn, then giving it to groups like American Muckrakers if the news media declined to publish them.
"It's almost as if it appears there's going to be a baton that's passed off," this source said. "The Republicans can try and do their damage now, and then the Democrats can take it from here and push forward."
Representatives for Tillis and Results for NC didn't respond to requests for comment.
Whoever may be behind the leak campaign, Cooper at the Western Carolina University says the motivation is the same: sully Cawthorn's image and portray him as reckless and immature. "No one is going to see the video of him on that bed and think that looks like a person acting maturely," Cooper said.
But in the more rural and conservative parts of the district, Cooper believes the "salacious videos" may take on a different meaning. "Those videos — the release of them is a dog whistle for 'gay,'" Cooper said. "I don't know any other way to say it."
The source close to Cawthorn said they believed this was evidence "social conservatives" were behind the campaign. "They're trying to paint that image, and it's a false image. Madison is not — you know, he is straight — but if they're able to paint that perception and embarrass and try to chip away at the base, that's their goal." the source said. "And some folks are turned off by that."
Some of Cawthorn's avowed enemies on the left can also see anti-gay undercurrents to the attacks. Patrick Brothwell, a marketing professional in Asheville (a liberal bastion in Cawthorn's otherwise conservative district) who has written op-eds against the Republican in the local newspaper, said that as a gay man he's felt uncomfortable with what he sees as homophobia.
"I guess I am conflicted over it," Brothwell said. "It is nice. Obviously, I want him to get his comeuppance. I don't want him to be our representative. I think he's very dangerous. [But] we put them in these trappings of, like, 'Yeah, he's wearing a dress or he's naked humping somebody.' That's the least of his problems, but that's what people do grab onto.
"This is kind of essentially counting on District 11's homophobia or the nation's homophobia," Brothwell said.
Instead of what he believes were Cawthorn's "embarrassing frat guy antics," Brothwell said he would prefer that the attacks on the Congress member focused on his other controversies — of which there are many.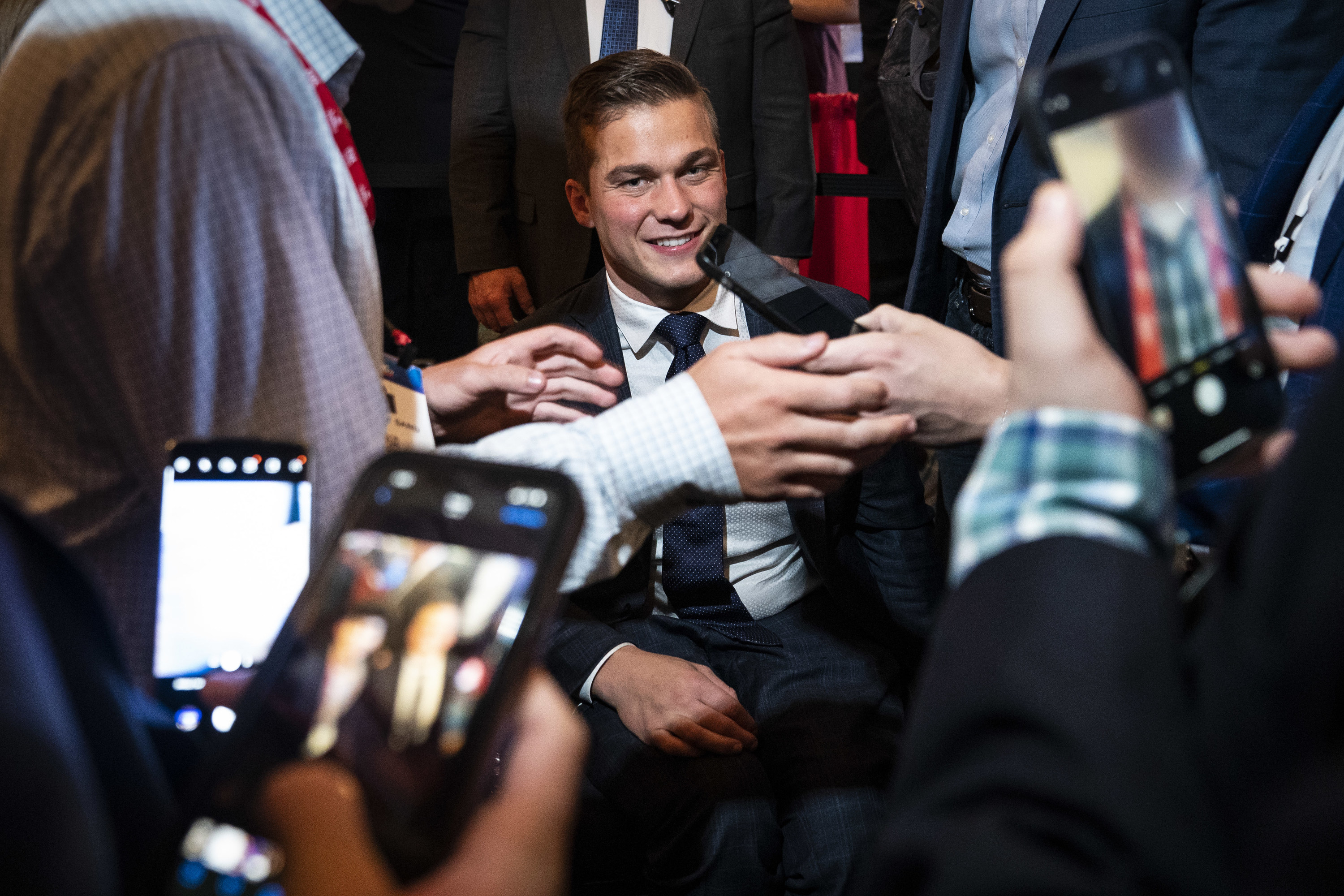 Long before his election, Cawthorn has been the subject of scandal. He lied about his plans to attend the US Naval Academy having been "derailed" by the car accident that partially paralyzed him, when in reality his application had already been rejected by the time of the crash. His former classmates at a Christian university in Virginia also told BuzzFeed News he had been aggressive, misogynistic, or predatory toward them while at school, sometimes entrapping and harassing them as he drove recklessly in his car.
During his campaign, Cawthorn briefly hid a picture from his Instagram that showed him vacationing at Adolf Hitler's Eagle's Nest villa in Germany. Cawthorn, who once registered an LLC with a name featuring a Latin acronym that is popular with white nationalists, also came under fire when his campaign website criticized someone for working "for non-white males, like Cory Booker, who aims to ruin white males running for office."
In addition to the controversy around his cocaine/orgy comments, in recent months, he has been charged with driving without a license, cited twice for speeding, stopped by TSA agents for trying to bring a gun on an airplane for a second time, and been the subject of calls (by Tillis) for an investigation into possible insider trading. His reelection is also facing a longshot challenge from opponents who argue he violated the Constitution through his ties to the Jan. 6 insurrection (Cawthorn was one of two sitting federal lawmakers to speak to the crowd before they stormed the Capitol).
Kendra Johnson, executive director of the LGBTQ rights group Equality North Carolina, said these are the issues that she and her fellow Cawthorn opponents must focus on, not things that she said were rooted in anti-gay and anti-trains prejudice.
"The reality is there's enough about his record and his conduct beyond him wearing lingerie or beyond him being in a same-sex relationship that is deeply problematic and that is what we should be focused on," Johnson said. "Dirty politics should not be the name of the game."
Wheeler said his PAC had played a key role in highlighting or pushing many of Cawthorn's other scandals to the public, and the recent salacious material was in line with their objectives. "We're willing to put out information as long as it's factual, even if it's embarrassing or nasty or otherwise," Wheeler said. "I haven't met a Democratic Party member out here in leadership that shares that view."
But Wheeler maintained there was no anti-gay sentiment behind the recent attacks, although he conceded it was fair for people to interpret them that way. His PAC, he insisted, had only sought to portray Cawthorn as a hypocrite who is willing to attack the lifestyles of his enemies.
Some in the local LGBTQ community agree with him. Tina White, executive director of the Blue Ridge Pride Center, does not see any disguised anti-gay sentiment. "I think it's just calling out the hypocrisy of a political leadership who claim that they represent a certain form of moral purity and decency," White said. "In fact, they're rich bullies who meet none of their own moral standards that they claim to represent and they thrive on terrorizing our children with a lot of the bills they're trying to pass right now."
Still, Wheeler's group has faced backlash. FireMadison.com went offline late last week after the website's host received a complaint about the nude Cawthorn video being posted. A person who said they were a Democrat living in North Carolina told Gawker they reported the page for posting what they believed amounted to "revenge pornography." They also said they reported the American Muckrakers PAC to ActBlue, the nonprofit tech company that facilitates fundraising for left-wing groups and candidates. ActBlue confirmed to BuzzFeed News that the PAC's account was no longer active on its website.
"I think Madison Cawthorn is a shameful person and a bad politician," the person who complained told Gawker. "But I don't think a homophobia-driven campaign to kick him out of office is consistent with our values."
Wheeler confirmed that the website's host had threatened to shut them down if they did not remove the video, but he said it was due to nudity. "I think it was the bare hairy ass of Madison Cawthorn that offended them because the revenge porn statute does not apply in this case whatsoever," Wheeler said.
Aiken says Wheeler and other Democrats need to make a choice. They can follow Michelle Obama's oft-repeated mantra of sticking to the high road and stand up for the LGBTQ community or they can be hypocrites whose snickering will confuse gay boys and men in western North Carolina and across the country about whether the party will truly protect them.
"There's plenty of shit to attack Madison Cawthorn about, to be upset at Madison Cawthorn over, without having to stoop to these homophobic stereotypes or tropes," Aiken said.
The ultimate judgment on the videos rests with voters, Wheeler said, but Cawthorn's sexuality is not at issue.
"Hell, I'd vote for the guy if he admitted—" Wheeler said, catching himself. "No, wait, let's back off on that."