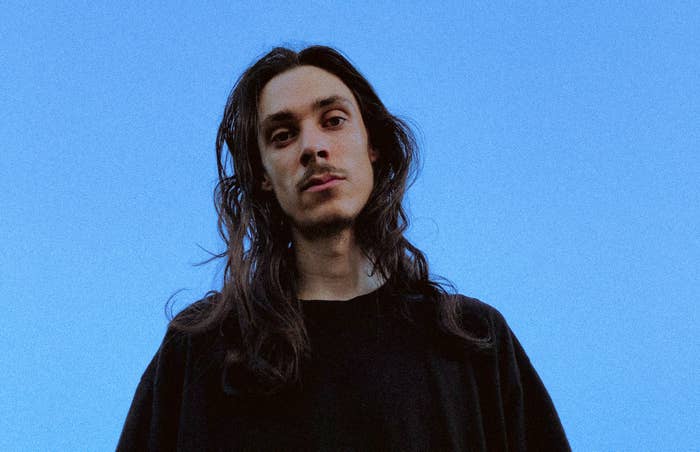 Lubalin is a 30-year-old Canadian musician in Montreal who has exploded in popularity on TikTok in the last week or so. In mid-December he had about 5,000 followers on the app, but now that figure stands at more than 1.3 million.
He released an experimental EP in September, but that's not what has won him so many new fans.
Instead, he's rocketed to viral fame thanks to two TikToks he made in which he turned Facebook exchanges involving baby boomers into catchy tunes.
"It caught me a little off guard," he told BuzzFeed News of his sudden success.
The artist, who goes by the stage name Lubalin, has been a TikTok user for a while now, but in the last month really began studying what makes things go viral on the platform: "You need a hook, then you need to deliver," he said.
"I began wondering how can I take my skill set and apply it to that? I was kind of in a haze of taking in all this information then I thought maybe it would be fun if I took a screenshot of something and turned it into a song."
In the first video in his "Internet Drama" series, uploaded to TikTok on Dec. 22, he took an old screenshot shared to the OldPeopleFacebook subreddit and morphed it into a moody (and suddenly very dramatic) two-person ballad.
In the screenshot turned song, an inquiry for a home rental quickly spirals into confusion and threats to contact the attorney general.
"I don't know what genre it would be," said Lubalin of the tune he came up with. "I was just trying to find dramatic chords and playing the piano. It's definitely channeling some drama."
"I thought it would be really cool if I could get 100,000 views," he added. "That was my little goal."
But within a few hours of sharing the TikTok, millions of views began pouring in. It's now been seen more than 17 million times.
In comments, people couldn't get over the hilarious exchange — and how much the song slapped.
"That whole week was kind of, Can you do it again or was this a fluke?" said Lubalin. "And then I did it again."
In his second TikTok in the series, which Lubalin said was inspired by the 1980s sound of the Weeknd, he made an electronica dance track featuring a woman complaining that her broccoli casserole recipe had been stolen by another and passed off as her own.
With his girlfriend helping to film the video, he wore hair curlers and a shower cap to play the characters — at one point even standing in front of their bedroom fan to achieve some dramatic hair movement.
That song has now been seen even more times than the first, drawing in more than 18 million views.
Commenters once again cannot believe Lubalin is giving out these bops for free.
Maybe it's because many of us haven't been out dancing in clubs in a while, but the beat is proving irresistible to many.
Some fans have even begun recording harmony versions of their own.
Others have been choreographing dances.
"I thought the pressure would be off if I did it again," said Lubalin, "but I honestly feel more pressure now for the next one."

As for the woman angry over the broccoli casserole recipe, it doesn't appear she is actually a real person. A 37-year-old elementary school teacher in Texas, who asked not to be named to protect her privacy, told BuzzFeed News she was role-playing as "Helen Hywater" back in March 2020 when she posted the broccoli status and began interacting with "Doris," who she said was another role-player.
The teacher said that after going viral their accounts were subsequently suspended for pretending to be other people.
She now runs a fan page belonging to Helen, with a cover photo of a broccoli casserole, and is part of a 7,000-member group called "Prayers for Helen Hywater" where people share memes and videos that make them laugh — including Lubalin's video.
"People were posting it over and over again," said the teacher in a phone call with BuzzFeed News. "I was like, Oh my god, Wow. I thought people had forgotten already about Helen. So I think it's pretty cool and pretty neat."

Meanwhile, Lublin isn't sure how long he'll continue the series, but he knows his fans want more.
"I want to ride this wave as far as it'll go, but I also feel like I'll get bored of these soon. And I also feel like I want to see if I can come up with other concepts," he said. "And I also have my actual — not to say this isn't music — but my actual songs that are going to get released among that."
Luckily, that new music he's working on sounds rather similar to the content that helped him go viral.
"I don't know how it's going to be received. I don't know if people will want something from me that's not funny," he said, "but regardless it's going to be a lot easier to release now than it was a year ago when I had 400 Instagram followers and we had to beg for spots in random little things."