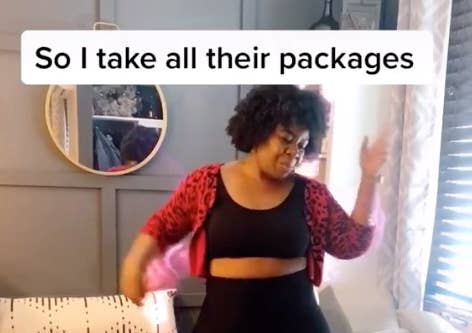 BuzzFeed News has reporters across five continents bringing you trustworthy stories about the impact of the coronavirus. To help keep this news free, become a member and sign up for our newsletter, Outbreak Today.
With everyone stuck at home making content about their experiences amid the coronavirus pandemic, one New York City landlord has gone viral with a TikTok clip that intersects with one of the tensest debates right now: what to do about rent payments.
Abbe Awosanya said she was only joking when she claimed to be withholding her tenant's packages because they were behind on their rent. But she believes that landlords deserve sympathy as they too are struggling economically as the coronavirus wreaks havoc.
"Compassion should be for everyone because we are all going through the pandemic together," she said.
Awosanya, who has more than 6,000 followers TikTok and 32,000 on Instagram, posted the clip on Friday of her dancing to the song "Skechers" by DripReport as she tossed aside a package that she claimed belonged to a tenant.
"My tenant is late on rent and is avoiding me but has money to order," read the captions. "So I take all their packages until they pay up."
"I'm so petty," it read.
The TikTok has since garnered more than 200,000 views on the platform, and hundreds of thousands more when it was posted by others to Twitter.
On TikTok, the video was flooded with more than 1,000 comments in less than a day.
Many asked her to have sympathy with her tenants during the pandemic.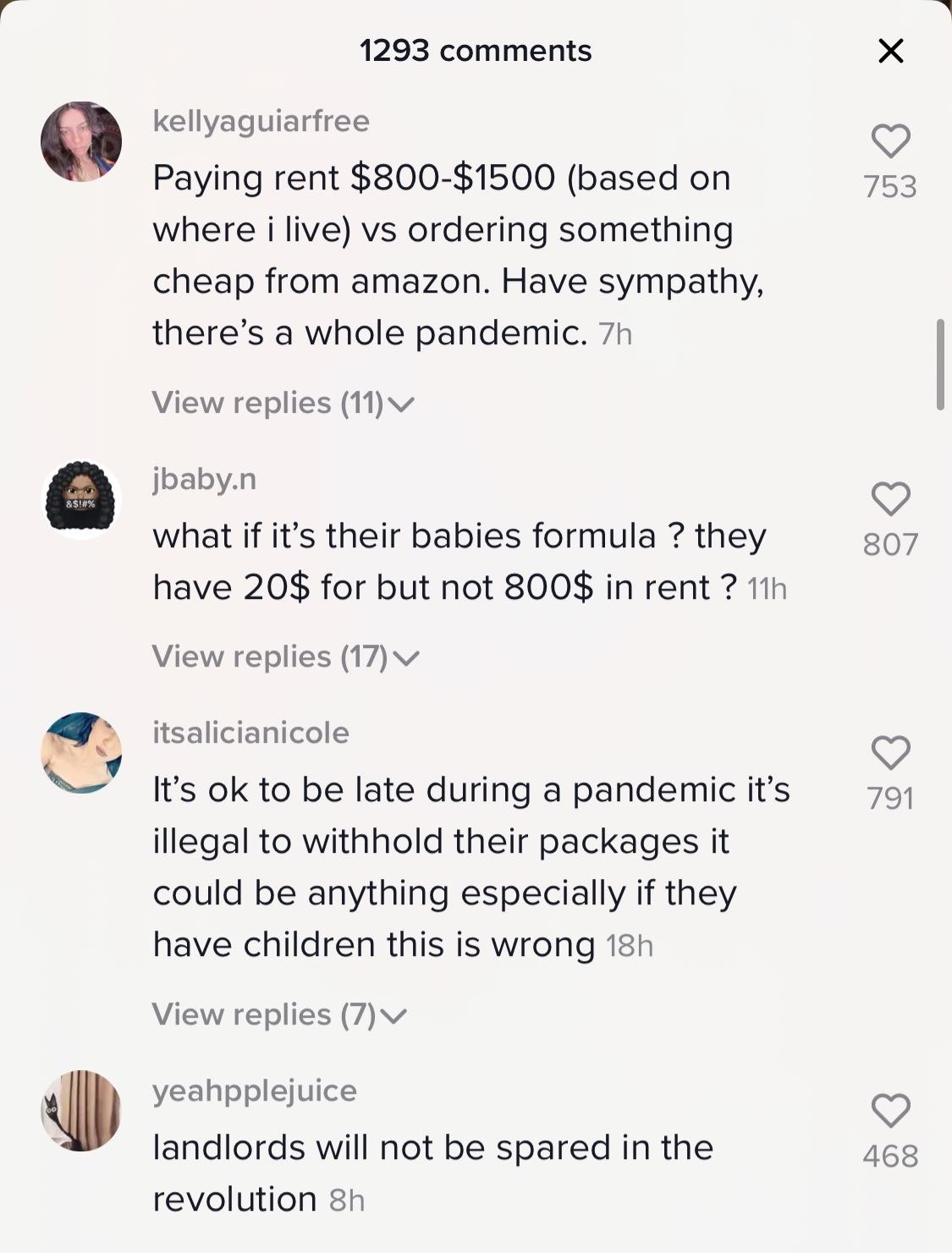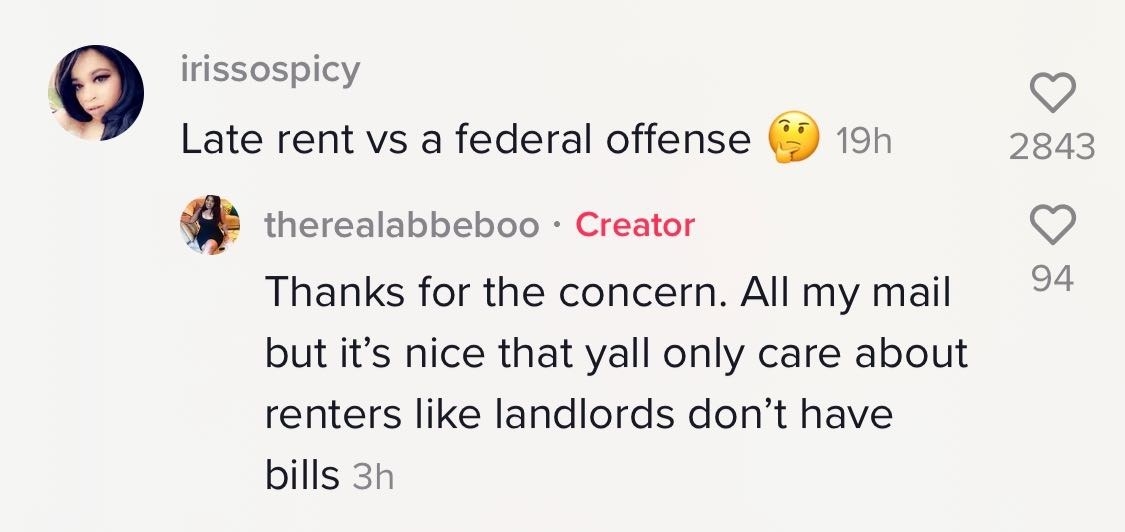 Reached by BuzzFeed News, Awosanya declined to speak via phone but said in text messages that the entire TikTok was a skit and that her current tenants are "all paid up."
"Honestly, in the past, I had this issue with other tenants and I wished I could do this to them because they were blatantly ignoring me," she wrote. "Nothing to do with current tenants."
"If my tenants told me they couldn't pay, I would understand," she said. "My tenants have been late before."

The viral controversy comes amid a rental crisis in the US due to the impact of the coronavirus on the economy.
With unemployment soaring in the US to unprecedented levels, some 1 in 4 Americans were unable to pay their April rent in full or on time, according to a survey from Apartment List.
In Awosanya's home state of New York, officials have suspended evictions until at least June, but protesters on Friday called on Gov. Andrew Cuomo to implement a rent freeze.
Rep. Ilhan Omar has proposed a nationwide cancellation of rents by establishing a relief fund for landlords who agree to terms, such as rent freezes, for a period of five years.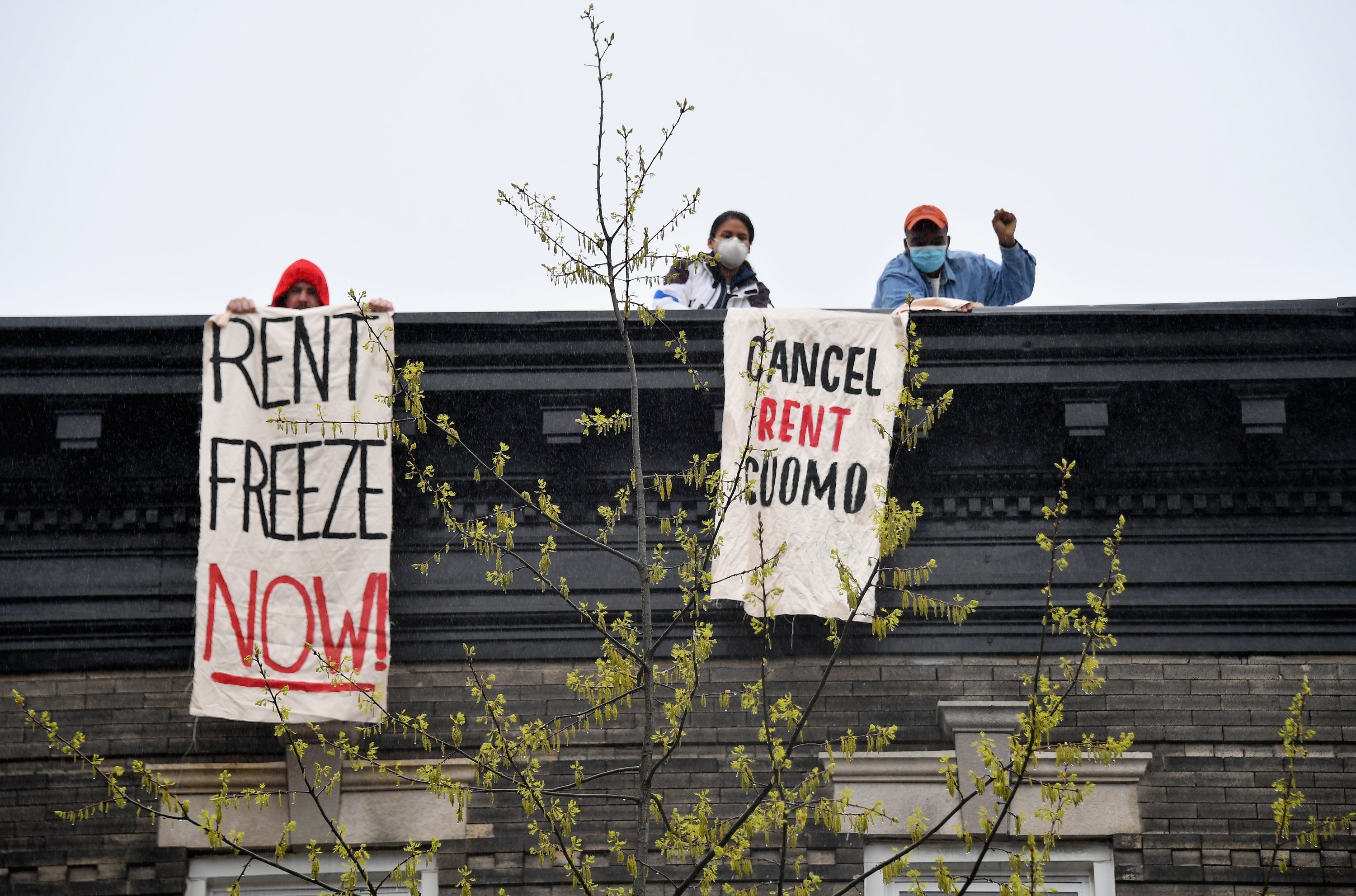 Awosanya said she knew her TikTok would be controversial, but she was surprised at the backlash she received.

"Cause I know there are people on both sides," she said.
"I have a few jobs that sustain me. I don't rely on anyone's rent money," she said. "But if I'm paying for the roof over your head, it's my business."

She urged tenants to let their landlords know if they can't pay their rent.
Despite the anger from viewers, she said she wouldn't be deleting the TikTok. "It's already out there 🤷🏾‍♀️," she wrote. "There's no hiding."