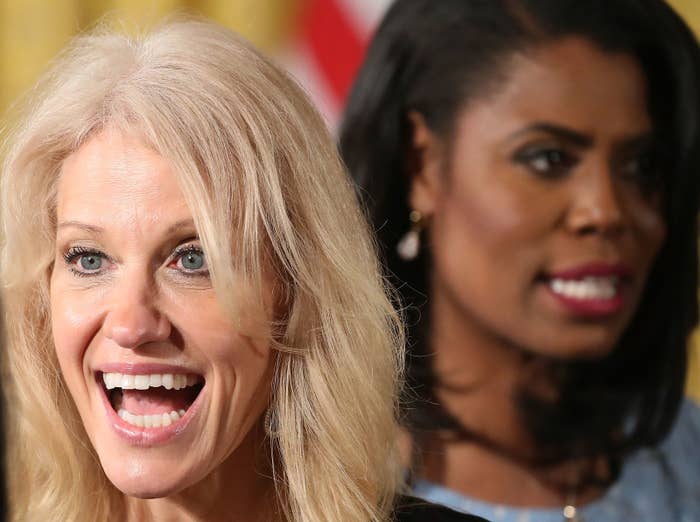 Kellyanne Conway appeared to be taken by surprise on Sunday when she was asked to name the most senior black aide to President Donald Trump following the dramatic ousting of Omarosa Manigault Newman.
"Omarosa was the most prominent, high-level African American serving in the West Wing on the President Trump's staff," said host Jonathan Karl on ABC's This Week. "Who now is that person? Who is the most prominent, high-level adviser to the president on the West Wing staff right now?"
"African American?" asked Conway.
"Yes," replied Karl.
Conway then brought up Housing and Urban Development Secretary Ben Carson, the sole black member of Trump's cabinet.
"Who is there in the White House staff right now?" interjected Karl.
"And we have Ja'Ron, who's done a fabulous job," said Conway, referring to Ja'Ron Smith, a mid-level aide who was previously an adviser on urban affairs and revitalization policy, and in February was appointed to the position of special assistant to the president on domestic policy.
"Does he have an office in the West Wing?" asked Karl, to which Conway said he had an office in the Executive Office of the President — but not the West Wing.
"What does that say to have not a single senior adviser in the West Wing who's African American?" asked Karl.
"I didn't say that there wasn't, but hold on, there are plenty of people — if you're going by that and not by the actions of the president, which you probably should, then you should look at the fact that we have a number of different minorities," said Conway. "And the fact is that this president is doing well for all Americans."
She also credited Trump for achieving the lowest unemployment level for black Americans — a rate that remains still roughly twice that of whites.
President Trump's views on race have received renewed attention in recent days after Manigault Newman, the former Apprentice villain turned White House adviser, accused Trump of being a racist who used the n-word when he hosted the reality show.
In her upcoming book, she wrote she had personally never heard Trump use the word, but told NBC News on Saturday that she has since heard a recording of him making the racist slur. She declined to say who had the recording.
The White House has called Manigault Newman's book "riddled with lies and false accusations." Trump himself called her a "lowlife" on Saturday.
"He never said that to us in the White House," Conway said Sunday, "and I certainly have never heard it."
Speaking with NBC News, Manigault Newman decried that Trump hadn't appointed any senior black aides since her departure.
"I was the only African American at the table. If I left, which I did, when I left, there has been no new appointment of an African American assistant to the president, which means that people are making decisions about us without us," she told Chuck Todd.
"And as I worked to try to find that replacement, I realized that they could care less about having an African American voice at the table. And to this day, there is no one serving in that administration in the role that I was in and that's a great void."