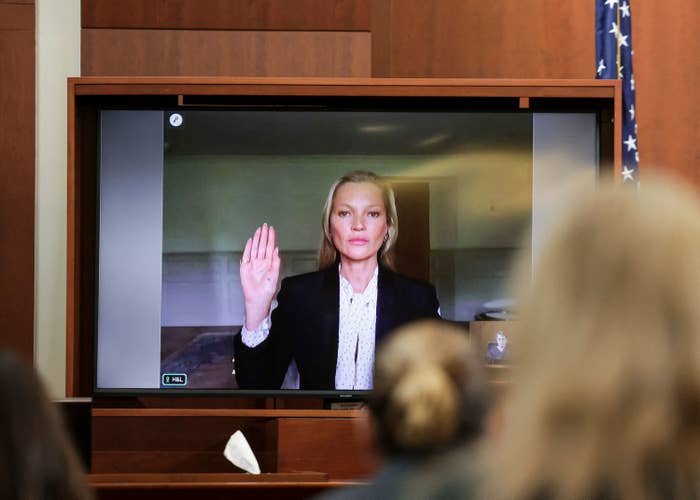 British supermodel Kate Moss testified in the defamation trial between Johnny Depp and Amber Heard on Wednesday, telling the court that her ex-boyfriend never pushed her down any stairs.
Moss was called as a witness by Depp's legal team after Heard's testimony that she had feared during one of their arguments that her then-husband would push her sister, Whitney Henriquez, down a set of stairs. She testified that the moment made her think of a rumor she had heard that Depp had done that to Moss when they dated between 1994 and 1998.
"[Whitney's] back was to the staircase, and Johnny swings at her," Heard previously told the court. "I don't hesitate, I don't wait. I just, in my head, instantly think of Kate Moss and stairs."
Heard's mention of Moss opened up an avenue for Depp to call the model as a witness to counter that allegation.
Appearing via video link from Gloucestershire, England, Moss recalled an incident during a vacation with Depp in Jamaica when she slid down a set of stairs after a rainstorm.
She said Depp was not in the room at the time and came to her assistance when he heard her cries.
"I screamed because I didn't know what had happened to me, and he came running back to help me and carried me to my room and got me medical attention," Moss said.
"Did Mr. Depp push you in any way down the stairs?" Depp lawyer Benjamin Chew asked.
"No," Moss responded.
"During the course of your relationship, did he ever push you down any stairs?" Chew asked.
"No," Moss replied. "He never pushed me, kicked me, or threw me down any stairs."
When Chew asked why Moss had chosen to appear as a witness for the first time in any court case, Heard's lawyers objected to the question as being beyond the scope of inquiry — an objection sustained by the judge.
Heard's lawyers did not cross-examine Moss.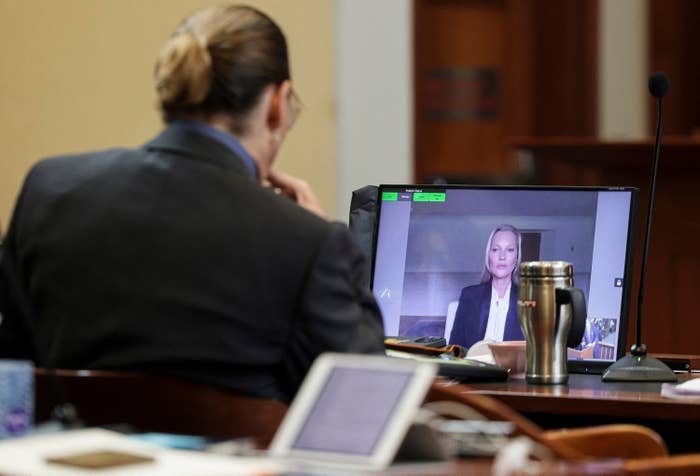 In a 1998 Rolling Stone article, Depp described a conversation he had with author Hunter S. Thompson in which Depp said he had beaten Moss.
"I remember laughing constantly," Depp was quoted as saying, recalling the conversation with Thompson. "He zeroes in on faults and good points immediately. I was with Kate, and I think he went straight for the romance jugular, shit like whether I beat her enough. I probably told him, 'Yeah, she gets a severe beating.'"

Last week, actor Ellen Barkin testified that Depp had been a jealous, controlling man who was fueled by drugs and alcohol when they dated in the 1990s.
Depp is suing his ex-wife for $50 million for writing in an op-ed that she was a victim of domestic violence. Heard has countersued for $100 million, claiming that his descriptions of her allegations as a "hoax" are defamatory.
The weekslong trial has led to sordid accusations from both actors against one another.
Correction: Depp is suing for $50 million and Heard has countersued for $100 million. A previous version of this story incorrectly stated the amounts.