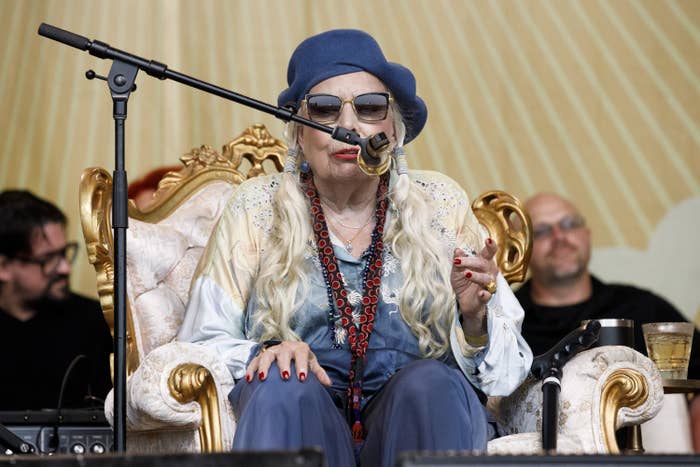 It's been nine years since Joni Mitchell last sang in public — and 20 years since she last did a full concert set.
Mitchell almost died from a brain aneurysm in 2015, but the Canadian folk icon surprised and stunned fans on Sunday when she showed up at Rhode Island's Newport Folk Festival to perform a bunch of her classic songs with the help of some very famous friends.
The closing set had been billed as a performance of "Brandi Carlile and friends," but Carlile had other plans.
She turned the center stage over to the 78-year-old singer who performed 13 songs as part of a "Joni Jam" — a public rendition of the private concerts Mitchell has been hosting at her Los Angeles home in recent years with guests that have included Elton John, Dolly Parton, Harry Styles, and Chaka Khan.
"Holy Ish dude I opened for @JoniMitchell today yo! KING #JONIMITCHELL!!!!! YO!!!!!!!!," wrote Questlove, who performed with his band, the Roots, before Mitchell appeared onstage, in an Instagram showing Carlile announcing to the crowd that Mitchell would be appearing.
"It is without question the greatest honor of my career, and maybe even my life," Carlile said.
Carlile told CBS Mornings she came up with the plan for the surprise concert after attending a Joni Jam herself and being awed by the singer.
"I knew she'd do it at Newport," Carlile said. "I can't really say how I knew it. I just pictured her up there. I pictured the water and the fort and the boats."
With the help of stars like Marcus Mumford, Wynonna Judd, and Allison Russell, Mitchell crooned through songs like "A Case of You" and "Big Yellow Taxi."
She also performed a gut-wrenching rendition of "Both Sides Now," the classic song of love and loss that has broken hearts around the world.
During the performance, Wynonna Judd could be seen weeping openly behind Mitchell, just months after her mother Naomi Judd died.
In order to be able to perform after her aneurysm, Mitchell explained to CBS Mornings that she had to relearn how to play the guitar from scratch by watching videos online.

"You have to learn all these things by rote again," Mitchell said. "You're going back to infancy almost. You've got to relearn everything."
Mitchell first appeared at the Newport Folk Festival in 1967 and then again in 1969, but this was her first time back in over 50 years and she looked at ease onstage.
"I just realized, Joni's the least nervous person up here," Carlile told festivalgoers.
Mitchell was recently celebrated at the Kennedy Center Honors gala in December and made an appearance in April at the Grammys, where she won Best Historical Album.
"I've never been nervous about singing in front of an audience," Mitchell told CBS about her Newport Folk Festival performance, "but I wanted it to be good and I wasn't sure that I could be — but I didn't sound too bad tonight!"