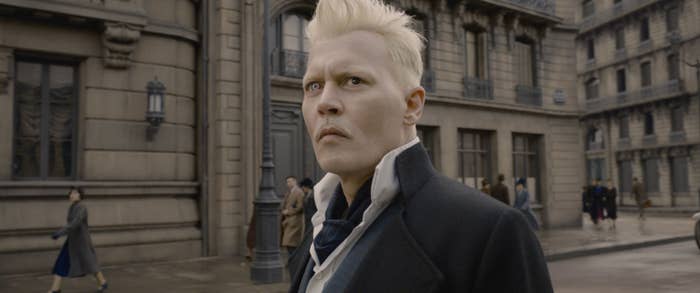 Johnny Depp said he "felt bad" that Harry Potter author J.K. Rowling had to defend him after some fans objected to his casting in the Fantastic Beasts franchise due to previous domestic violence allegations.
"I'll be honest with you," Depp told Entertainment Weekly in an interview published Thursday. "I felt bad for J.K. having to field all these various feelings from people out there. I felt bad that she had to take that."
Depp's ex-wife Amber Heard took out a restraining order against him in May 2016 and sought domestic violence charges after claiming he was "verbally and physically abusive." She alleged Depp threw a cellphone at her, hit her in a drunken rage, pulled her hair, and made her fear for her life. Pictures she had taken of herself with a black eye and injured lip were released, while photographers snapped images of her leaving court with a bruised face.

Heard later dropped the case the following August as part of a $7 million divorce settlement in which she donated an unspecified amount of financial proceeds to charity. The former couple then released a statement saying their relationship was "intensely passionate and at times volatile, but was always bound by love." The statement did not confirm or deny whether physical abuse took place, but did say "there was never any intent of physical or emotional harm."
In December, Rowling released a statement in support of Depp, who is playing villain Gellert Grindelwald. The author said she and director David Yates had considered recasting the role, but opted to stick by him due to "the agreements that have been put in place to protect the privacy of two people, both of whom have expressed a desire to get on with their lives."
"Based on our understanding of the circumstances, the filmmakers and I are not only comfortable sticking with our original casting, but genuinely happy to have Johnny playing a major character in the movies," Rowling said.
Depp told Entertainment Weekly he was falsely accused and said he was suing Britain's Sun newspaper for defamation for repeating what he said were false allegations.
"J.K. has seen the evidence and therefore knows I was falsely accused, and that's why she has publicly supported me," he said. "She doesn't take things lightly. She would not stand up if she didn't know the truth. So that's really it."
Depp said he first met Rowling by Skype when he was cast in the role, then in person when he arrived in London for fittings.
"From the first second it's been an absolute treat and the most positive and fun experience," he said.
UPDATE
This story has been updated with additional information on the allegations Heard made against Depp.