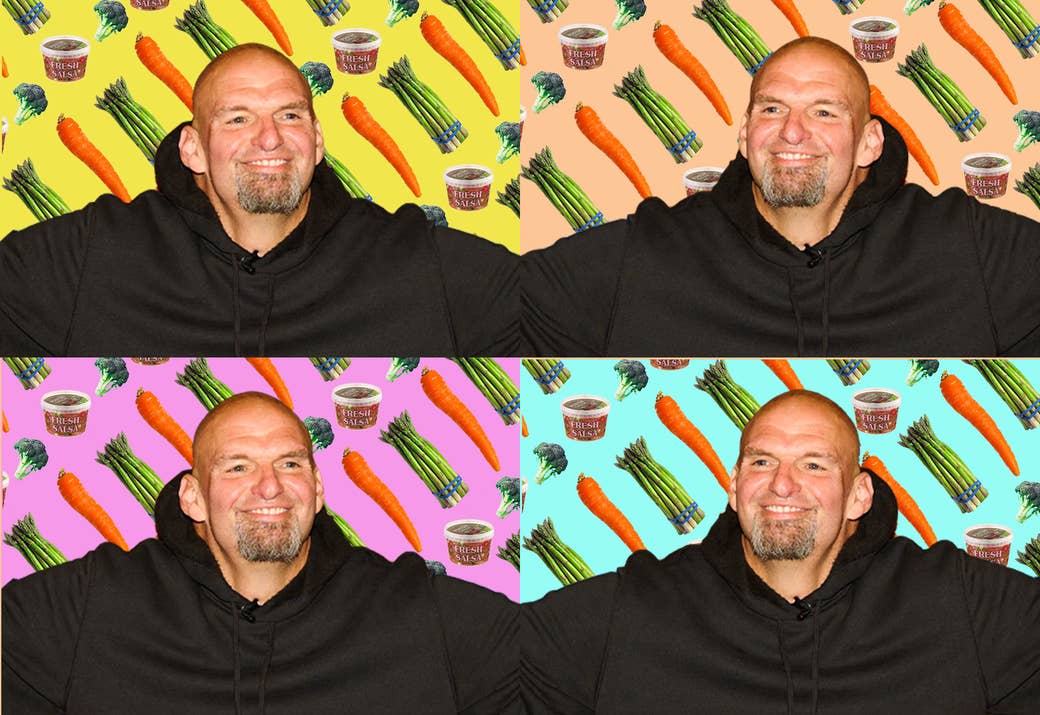 It was the "best $13" they ever spent.
The humble veggie tray, plastic wrapped and featuring a creamy ranch dip, was held aloft on Tuesday in a video by John Fetterman, Pennsylvania's hulk-sized lieutenant governor, as he once again began trolling his Republican rival in November's Senate election: celebrity TV doctor Mehmet Oz.
"In PA, we call this a veggie tray," Fetterman said, barely containing a gleeful smile. "And if this looks like anything other than a veggie tray to you, then I am NOT your candidate."
The Democrat was capitalizing on a video that had gone viral the day before showing Oz in a supermarket complaining about how inflation had caused the price of groceries to go up. It certainly didn't help Oz that he didn't seem to know the name of the store he was in, mistakenly calling it "Wegners" in an apparent amalgamation of Wegmans and Redner's. But it definitely didn't help him that Oz twice called the vegetable platter he was supposedly assembling for his wife "crudité."
With the Democrat seeking to cast Oz as an out-of-touch out-of-towner who only pretends to know the struggles of blue-collar voters, the crudité video arrived for Fetterman like a gift from the political gods — and on his birthday, no less.
"Mmmmm 😋 crudité," Fetterman tweeted alongside a photo of himself pointing to the $13 veggie tray his staff had quickly gone out and purchased as a prop to capitalize on the moment. More than 20,000 retweets later, it's safe to say the joke was a hit.
Amid an election that has Democrats fretting about most likely losing control of at least one chamber of Congress as Republicans feverishly tie them to an unpopular sitting president, no other prominent campaign appears to be having as much fun as Fetterman's. His team is quick to jump on the meme of the day to mock Oz for his wealth, but they also use classics to lampoon his campaign. They have also found a suite of creative ways to consistently draw attention to the celebrity doctor having only recently moved to the state from New Jersey, where he still owns a mansion that he appears to regularly visit.
There was the trick they pulled in buying a cameo from Jersey Shore's Snooki to wish Oz the best on moving to Pennsylvania "to look for a new job," or the stunt they organized in hiring a plane to carry a banner welcoming Oz back to Jersey. They recruited singer-actor Steven Van Zandt from Bruce Springsteen's E Street Band and The Sopranos to record a clip telling Oz to "come back to Jersey where you belong," and they launched a campaign in jest to have Oz added to New Jersey's Hall of Fame.

"I kind of feel like they're disciples of previous trolling campaigns," said one senior communications staffer on another prominent Democratic statewide campaign, who asked to remain anonymous in order not to be seen to be speaking for their candidate. "I think whoever's on that team has paid attention to what's worked online."
"I don't think there's any other campaign that has really broken through in such a big way," this Democrat said.
"He seems to really enjoy it," said Dan Mallinson, assistant professor of public policy and administration at Penn State Harrisburg. "This is not new for him. Before it was trolling Oz, it was trolling Republicans in our state.
"So it comes across as authentic, but he's also just good at it," Mallinson added.
Rebecca Katz, a senior adviser and general consultant to the Fetterman campaign, said the team is indeed having fun, which she said was a credit to the candidate. "John Fetterman is funny and he's sharp and he has built a scrappy, creative team that is always up for some ideas," she said.
"To be clear, we're not taking any victory laps. We have to win," she added. "It's good to have fun, but our eyes are on the prize for November."
In a statement to BuzzFeed News, Oz campaign senior communications adviser Rachel Tripp said her candidate had been crisscrossing the state while Fetterman, who has been recovering from a stroke, "has been hiding in his home, refusing to speak with voters, and relying on pathetic memes and internet jokes instead of bothering to hear directly about the issues affecting hard-working families."
"But television ads, memes, and internet jokes aren't enough," Tripp added. "Neither is a cardboard cutout or a digital persona created by keyboard warriors. Fetterman is trying to campaign as a hologram — a shiny distraction with no substance — and the media is falling for it."
Fetterman's team are the first to admit the crudité took off through no work of their own. The Oz video had originally been filmed in April when he was still battling it out in the closely decided GOP primary, but it was shared again on Sunday by Obama staffer–turned–Pod Save America host Tommy Vietor. Soon, other less prominent accounts racked up thousands of retweets from people who couldn't resist dunking on it (including, admittedly, yours truly — thanks, @dril). The video has since been viewed more than 11 million times, earned its own subsection on Wikipedia, and even caused Oz's fellow Republicans to facepalm.
"I think the concept of Oz's supermarket video was a good concept. I think it was very poorly executed," said a former adviser to one of Oz's primary opponents who asked not to be identified because of their new job in the private sector. "There didn't seem to be any quality control there, either, because somebody should have looked at this video that the candidate shot and said, 'Wait a second. He messed up the name of the grocery store. He's talking about "crudité," and so we should not put this out.' There's got to be some kind of quality control there."
While Fetterman didn't create the crudité opportunity, he was quick to seize on it. He began dunking on it via Twitter on Monday morning as it was still going viral, mocking Oz for the Wegners gaffe and for misspelling the name of his Pennsylvania town as "Huntington Valley" and not Huntingdon Valley. By that night, his team was selling stickers to donors that featured a fake Wegners logo and the motto "Let them eat crudité." The campaign later announced they raised more than $500,000 in the 24 hours after the video went viral, including more than $65,000 in sticker sales.
"There's just so many layups involved [in the crudité video] and they capitalized on it beautifully," the Democratic comms staffer said. "The thing with these sorts of moments is you have to be super fast, and if you're fast and smart or funny, then it travels even further."
Katz, the Fetterman campaign adviser, said the moment worked for their campaign because it played right into the image they've been trying to paint both of their candidate and their opponent.
"But it's bigger than crudité — I can't believe I'm saying those words," Katz said. "John Fetterman doesn't have to bring a camera with him when he goes to Costco or Aldis. It's just part of his everyday routine, and I think people get that.
"The kind of campaign we're running is because of the kind of candidate we have. This goes so much beyond, like, 'shitposting,'" she added.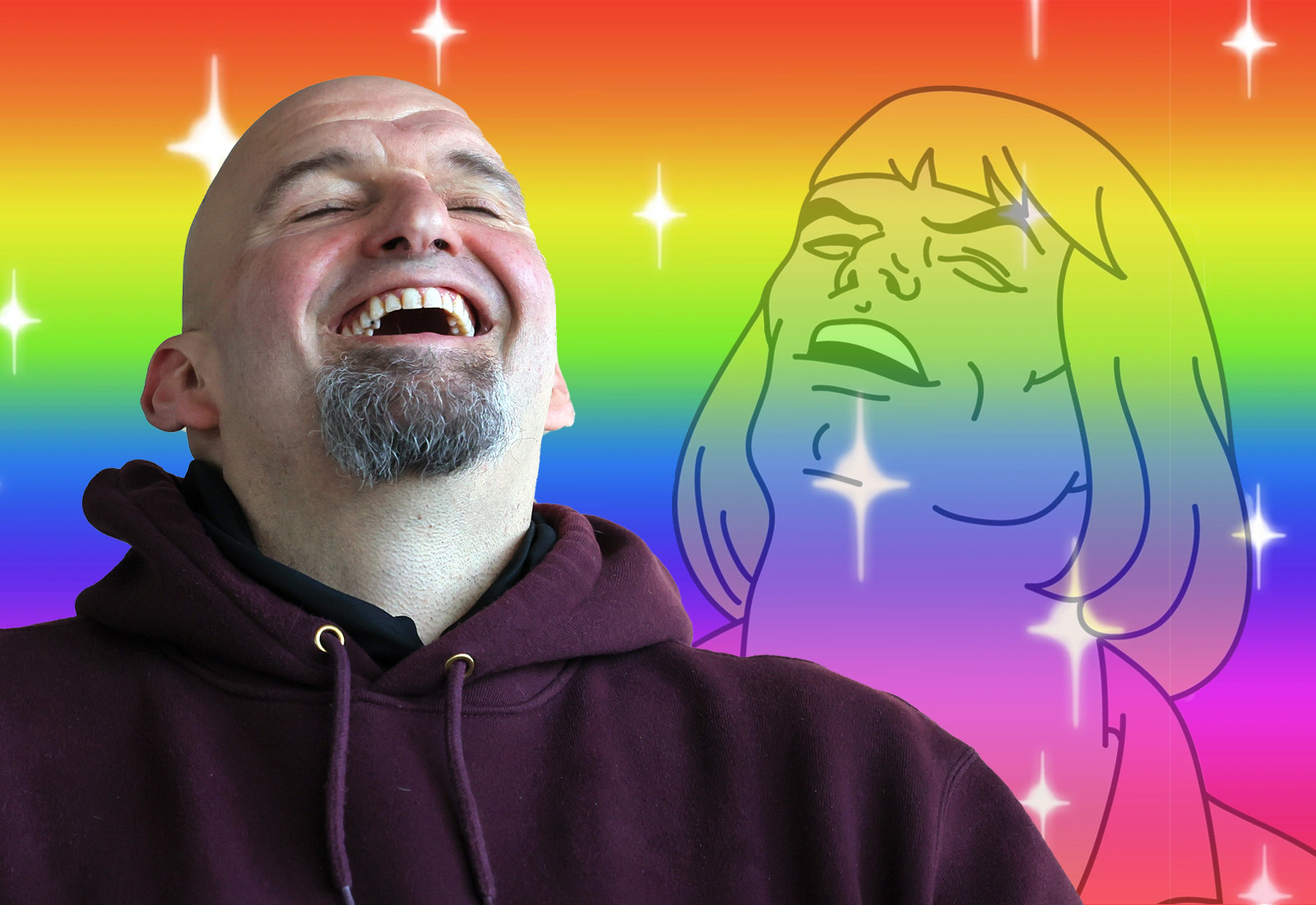 Fetterman does, indeed, find himself in a unique kind of campaign. As Democrats across the country warn that many of their Trump-loving Republican opponents represent grave threats to US democracy as we know it, Fetterman is able to mostly hit Oz on character grounds. Unlike the election-denying Republican candidate for Pennsylvania governor who has ties to the alt-right, it helps that Fetterman's running against a man who can't seem to remember how many properties he owns and who draws comparisons to Lucille Bluth from Arrested Development.
"There's something to be said about the fact that Oz is also a particularly good lightning rod for that sort of thing," the Democratic comms staffer said. "I think it's kind of a perfect storm where they have a really smart team, and they're actually allowing the team to take risks, but they also have this great foil."
There are clear comparisons between the Pennsylvania race and the one in Ohio between Trump-endorsed venture capitalist/celebrity author J.D. Vance and Democratic Rep. Tim Ryan, who has tried to make himself an avatar for his state's white working class. But while Vance's campaign has reportedly encountered struggles, he certainly hasn't given Ryan as much to work with as Oz has Fetterman. Vance also enjoys the benefit of running in a state that voted for Trump by more than 8 points compared to the 1% victory Biden eked out in Pennsylvania.
Fettterman is also unique in other ways. He suffered a nearly deadly stroke in May that sidelined him for months from the physical campaign trail — but not the digital one — until just last week. Yet despite this absence, Fetterman didn't have to introduce himself as a political animal to voters like Oz did, and he could rest to some extent on the years he spent building a burly, blue-collar profile for himself in his state, first as the longtime mayor of Braddock and then as lieutenant governor.
"He's an interesting character," said Mallinson at Penn State. "I mean, physically, he looks unusual as a politician; he's very tall, he's bald, he doesn't like wearing suits — and he's embraced all of that. He has used all of that to his advantage over time."
Mallinson noted Fetterman also has an established reputation as a combative figure with a history of trolling others online, which helps his social media attacks feel more authentic than Oz's or even the Dark Brandon meme that some White House staffers have been flirting with, but which even they would acknowledge does not actually represent the notoriously offline President Biden.
Oz has repeatedly emphasized that Fetterman received tens of thousands of dollars each year from his family when he was in the low-paying mayoral position. In contrast, Oz's team defends him as living the dream of a self-made American immigrant. "I purchased my houses with MY money," Oz tweeted Wednesday.
Still, Oz's team can't quite work out how to characterize Fetterman. They've tried to paint him as a loyal Bernie Sanders acolyte, but also as a "pretend populist" on account of his family's financial support. They have even shyly mocked Fetterman's health — an odd position for one of Hollywood's most famous doctors — by running a so-called basement tracker to count how many days he was off the trail. But the half-heartedly mean attacks feel out of character for a formerly sunny daytime TV host, especially one trying to introduce himself as a politician.
And when they do try to joke online, it comes across as, well, cringe. A Thursday afternoon tweet attempting to highlight Fetterman having lived in a $70,000 loft his sister had sold to him for $1 left most people baffled, rather than entertained.
More than anything, though, it's Oz who has been on the defensive from Fetterman's barbs — something that is evident even to fellow Republicans. "Right now, Fetterman really has Oz dancing to whatever it is he wants to talk about," said the Republican primary communications adviser. "I think the Fetterman campaign is doing a good job of making Oz react to things, and you never want to be in that position as a campaign."
Team Fetterman also insists that while they may be shitposting and trolling Oz mercilessly, they're not trolling trolling. They're also not reveling in attacks against average citizens such as teachers or librarians, unlike the two influential online figures arguably most responsible for the return of the anti-gay "groomer" rhetoric: Florida Gov. Ron DeSantis spokesperson Christina Pushaw and Brooklyn real estate agent Chaya Raichik, who runs the @LibsOfTikTok accounts.
"There's an edge to it, but it's not mean or personal, and I think sometimes the Republicans try to go as low as possible," Katz, the Fetterman adviser, said. "I would say we're not necessarily going high, but we're not personal."
The Republican campaign adviser who spoke with BuzzFeed News insisted they wanted to see Oz win, but mostly just to see Fetterman lose. And while they attacked Oz as a weak and arrogant candidate who struggles to communicate politically, they said they didn't believe most Pennsylvanians would be casting ballots based on tweets.
"It's an online, alternate reality game that's playing out on Twitter," they said of the social media spat, insisting it reflected poorly on both candidates for not engaging with voters on "the real issues."
But in addition to drowning the airwaves in ads that paint Fetterman as a tattooed and straight-talking Washington outsider who's serious on big issues (and which make no mention of his online persona), the Democrat's campaign understands that viral moments can translate into messaging opportunities.
"It's not just that his tweets go viral or he has a big following on Twitter," said Penn State's Mallinson, "but the more traditional media outlets pick up the stuff that he's doing and that amplifies it and amplifies his message."
"The day-to-day stuff that happens on Twitter does not really have a life outside of the app," the Democratic comms adviser said. "But these moments, like the crudité thing... The thing is, if you're smart enough and fast enough and you are able to create something that spreads like fire, then it lives outside of the app.
"I just hope people pay attention to this race and what they're doing online, and the lesson is we don't have to scare the shit out of people to get them to vote," they added.
Katz said they had indeed been trying to chart a different course than other campaigns of recent years where she believes "some Democratic hatred of Trump and his disciples has blinded smart strategy for a while."
"You need to meet voters where they are. And it doesn't always have to be with doom and gloom," she said. "It's been a hard couple of months and years. It's OK to have a little fun now and then." ●