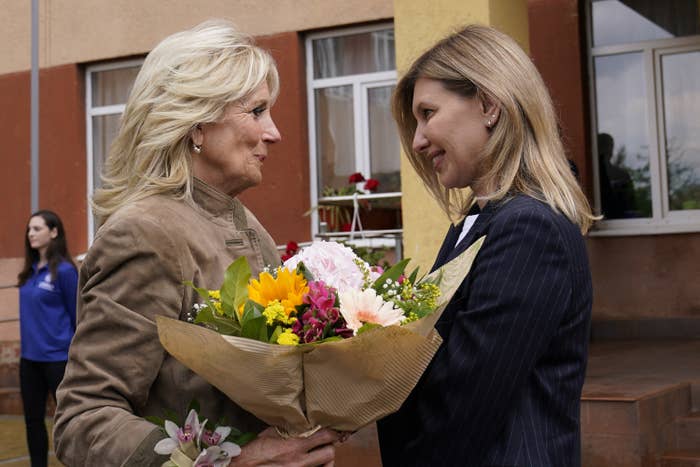 First lady Jill Biden made a surprise visit into Ukraine on Sunday and met with Olena Zelenska, the wife of President Volodymyr Zelensky. Zelenska had been in hiding since Russia's invasion began in late February.
"I wanted to come on Mother's Day," Biden told reporters traveling with her after they crossed into the city of Uzhhorod in western Ukraine from neighboring Slovakia. "I thought it was important to show the Ukrainian people that this war has to stop and this war has been brutal, and that the people of the United States stand with the people of Ukraine."

The two women embraced outside a local school that is now being used as temporary housing for people who have fled fighting to the east.
"I would like to thank you for a very courageous act," Zelenska told Biden after being gifted with a bouquet of flowers, "because we understand what it takes for the US first lady to come here during a war when the military actions are taking place every day, where the air sirens are happening every day, even today."
In order to avoid being targeted or captured by Russian forces, Zelenska and the two children she shares with Zelensky had not been in public since late February, although her husband has remained in Kyiv.
Despite the secrecy, a US official said Biden and Zelenska had been exchanging correspondence in recent weeks.
After the two women met privately inside the school for an hour, they visited a classroom to meet with 15 internally displaced Ukrainian children, who were enjoying arts and crafts.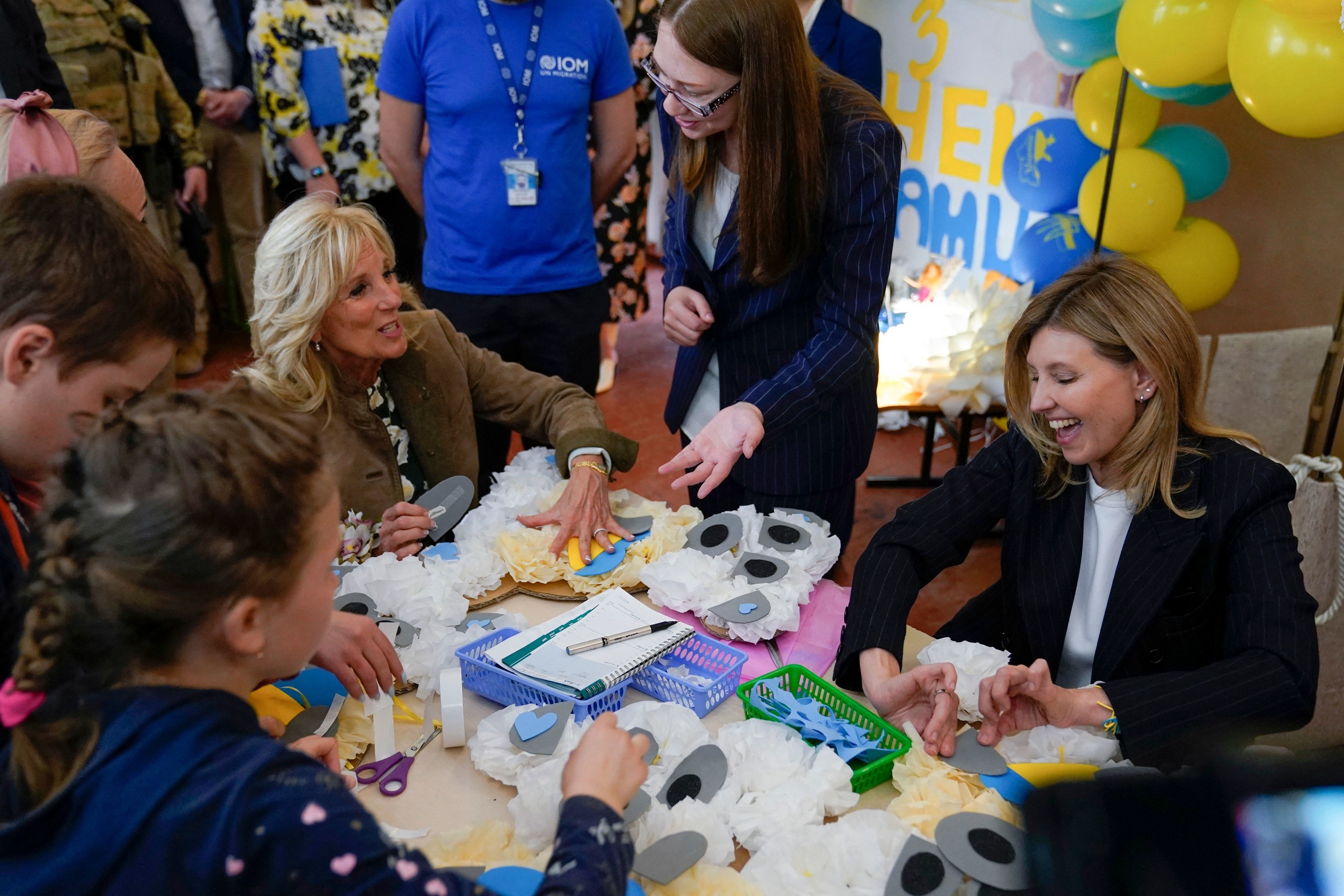 After almost two hours in Ukraine, Biden's motorcade returned to Slovakia.
The US first lady has been on a tour of Eastern Europe to meet with American troops and Ukrainian refugees.
Earlier on Sunday, she met with volunteers in Slovakia assisting refugees and visited another school where children were making crafts projects for Mother's Day.
"The hearts of the American people are with the mothers of Ukraine," Biden told the people gathered.
The classroom was full of families whose husbands and fathers have stayed behind to fight in Ukraine.
One woman told the pool reporter traveling with Biden that the first lady's visit was encouraging.
"It means support for us," the woman said. "We are very tired. This is emotional support for us."
A number of American officials have visited Ukraine in recent weeks in order to show solidarity, including Secretary of State Antony Blinken, Defense Secretary Lloyd Austin, and Speaker of the House Nancy Pelosi.
Also visiting the embattled country on Sunday was Canadian Prime Minister Justin Trudeau, who met with Zelensky in Kyiv, and U2 stars Bono and the Edge, who performed inside a train station in the capital.
But Sunday also saw yet more bloodshed in Ukraine after the bombing of a school where civilians had been sheltering in the eastern village of Bilohorivka.
A regional official said as many as 60 people were feared to have died.
"We have called out the Russians very early on for committing war crimes, and this contributes to that," US Ambassador to the UN Linda Thomas-Greenfield said to CNN about the bombing. "We're going to continue to work with the Ukrainian prosecutors and others to document evidence of their war crimes so that they can be held accountable. This just adds to the long list that we already have."