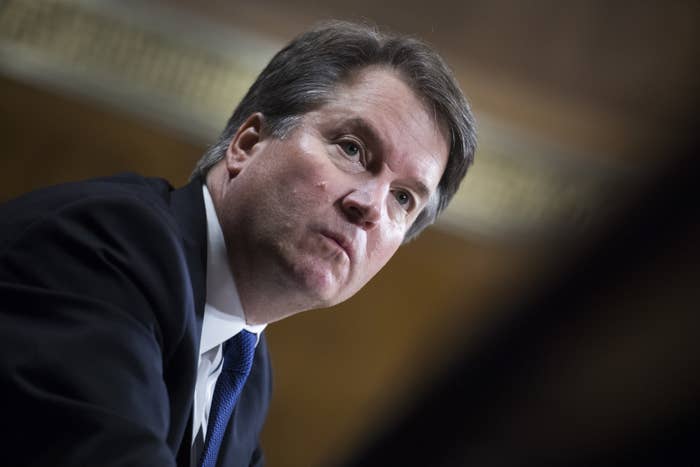 I know Thursday was a historic day in Washington — with Christine Blasey Ford testifying in the Senate that Supreme Court nominee Brett Kavanaugh sexually assaulted her — but Friday is here and we're not done yet.
Less than 24 hours after Ford delivered her testimony, Republicans on the Senate Judiciary Committee were scheduled to vote on whether to approve Kavanaugh's nomination in their committee, and send the vote to the full Senate.
At stake was the ideological division of the country's top court, which is currently evenly split between liberal and conservative justices, and could shift solidly right if Kavanaugh is confirmed.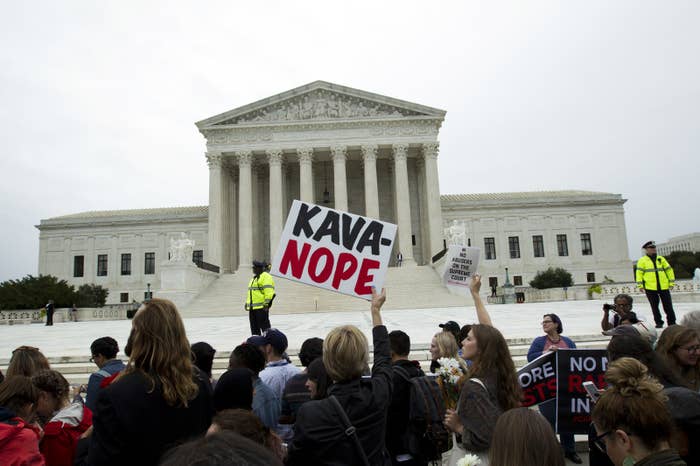 The first thing to know about Friday is that a lot of people were pissed.
Left-wing protesters took to the streets of DC to vent their anger that Republican senators weren't taking Ford seriously, while conservative groups pushed for the GOP to quit delaying the vote.
Remember, Republicans can only afford to lose one vote in the Senate given the numbers there (assuming every Democrat votes no). So it was a big deal when Sen. Jeff Flake of Arizona, who is retiring from politics after losing support in his home state, announced he'd be voting for Kavanaugh on Friday morning.
Flake had been seen as a swing vote because he's been critical of President Trump and is seen as more moderate than some of his colleagues. Yet he came out as a yes after saying he believed there was a "presumption of innocence" for Kavanaugh.
Then, something remarkable happened: Two women protesters confronted Flake shortly after his decision was announced in a Capitol Hill elevator.
The tense, emotional exchange lasted several minutes and was caught on camera by CNN.
"What you are doing is allowing someone who actually violated a woman to sit on the Supreme Court," one woman told Flake. "This is not tolerable. You have children in your family. Think about them."
One of the women was later identified as Ana Maria Archila, co-executive director of the Center for Popular Democracy and the Center for Popular Democracy Action.
"Having just seen the news of his statement, and knowing what he was about to do, had us both enraged," Archila told BuzzFeed News.
Flake looked very shaken in the exchange, quietly waiting for the women to leave as he tried to shut the elevator door while staring frequently at the ground.
Soon, though, it was time for the committee to convene.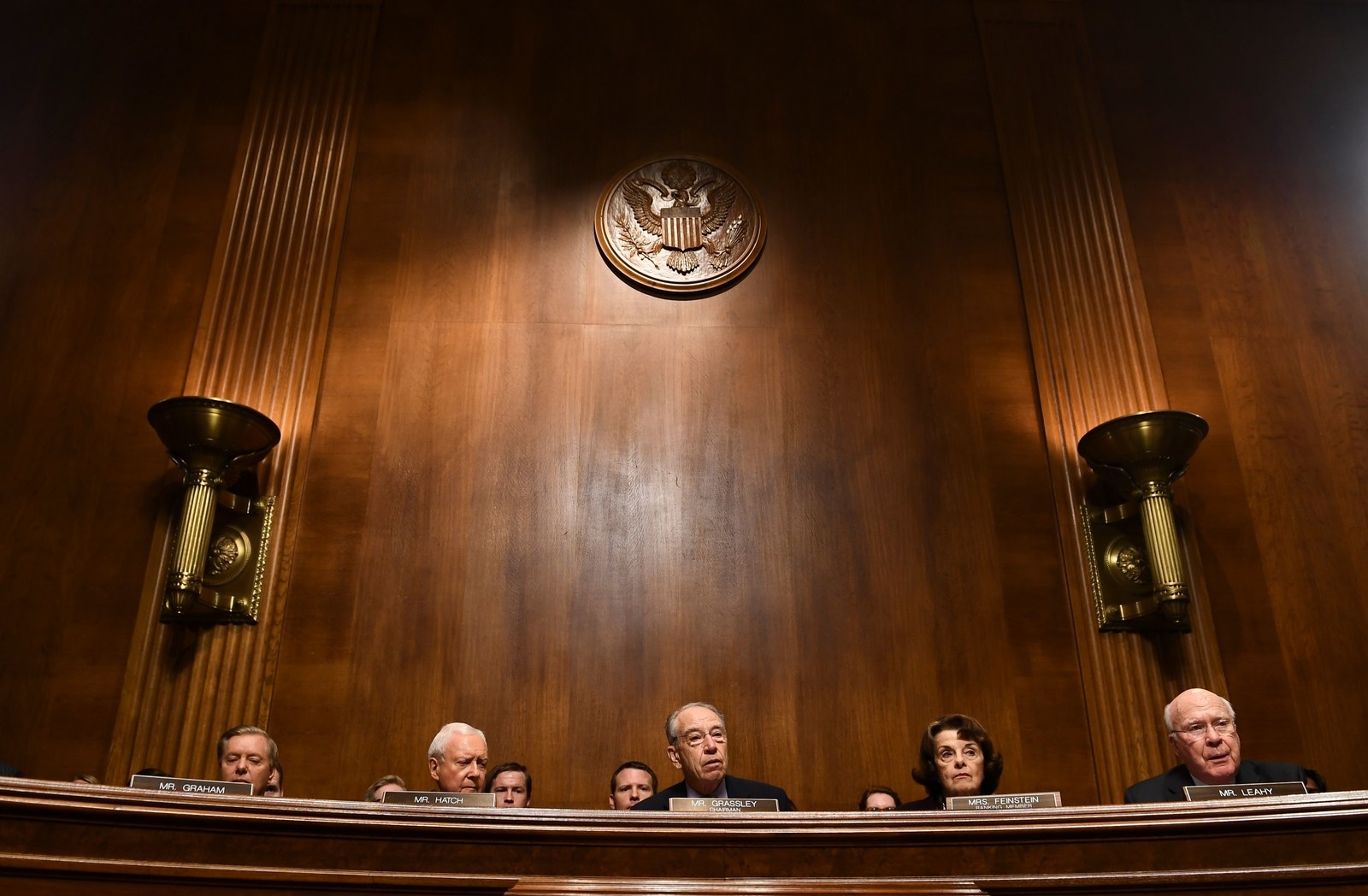 One by one, senators delivered statements; Republicans announced why they'd be voting for Kavanaugh, while Democrats seemingly felt helpless as they vowed not to vote for him.
At 12:15 p.m. ET, chair Chuck Grassley, a Republican, motioned to the next speaker in line.
It should've been Sen. Flake, but instead, his Republican colleague, Sen. Mike Crapo of Idaho, began talking.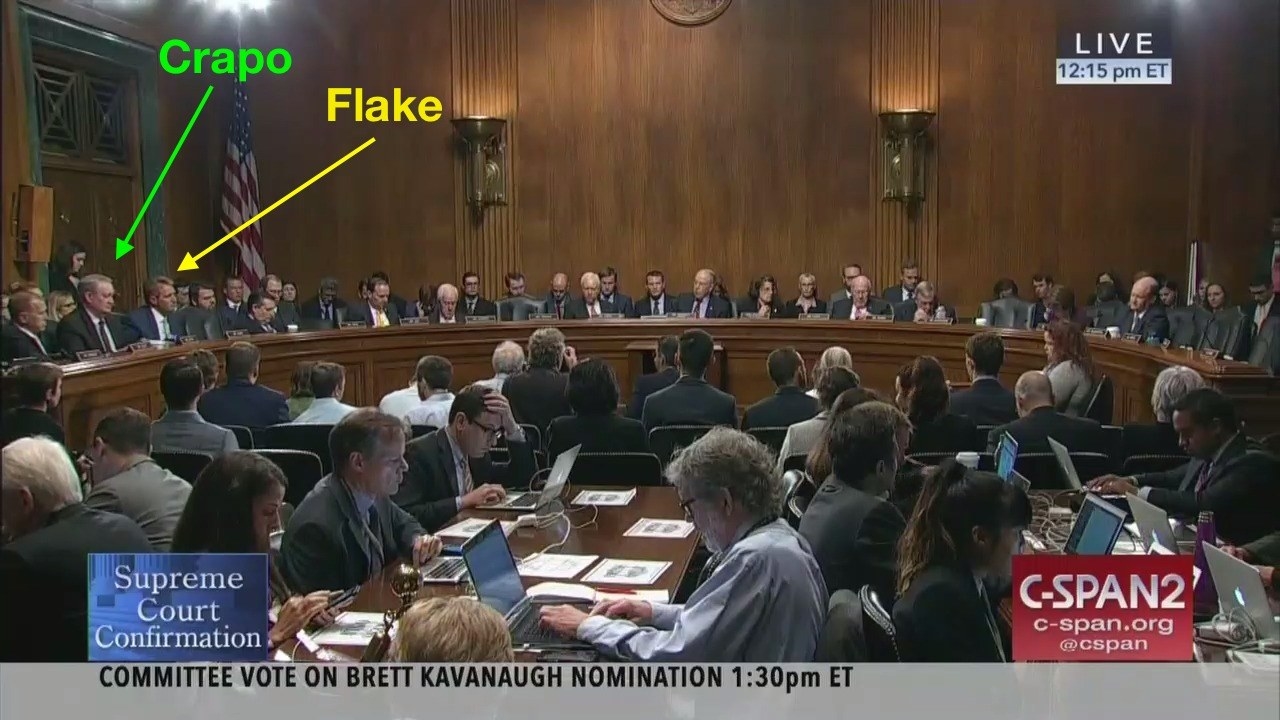 Why?
Because, as CNN's camera showed, Crapo tried to defer to Flake, but the Arizona lawmaker waved his hand and indicated he didn't want to speak.
So just a few hours after announcing he'd vote for Kavanaugh and then got confronted in the elevator, Flake suddenly had no words to share.
Instead, he got up and started walking out of the room.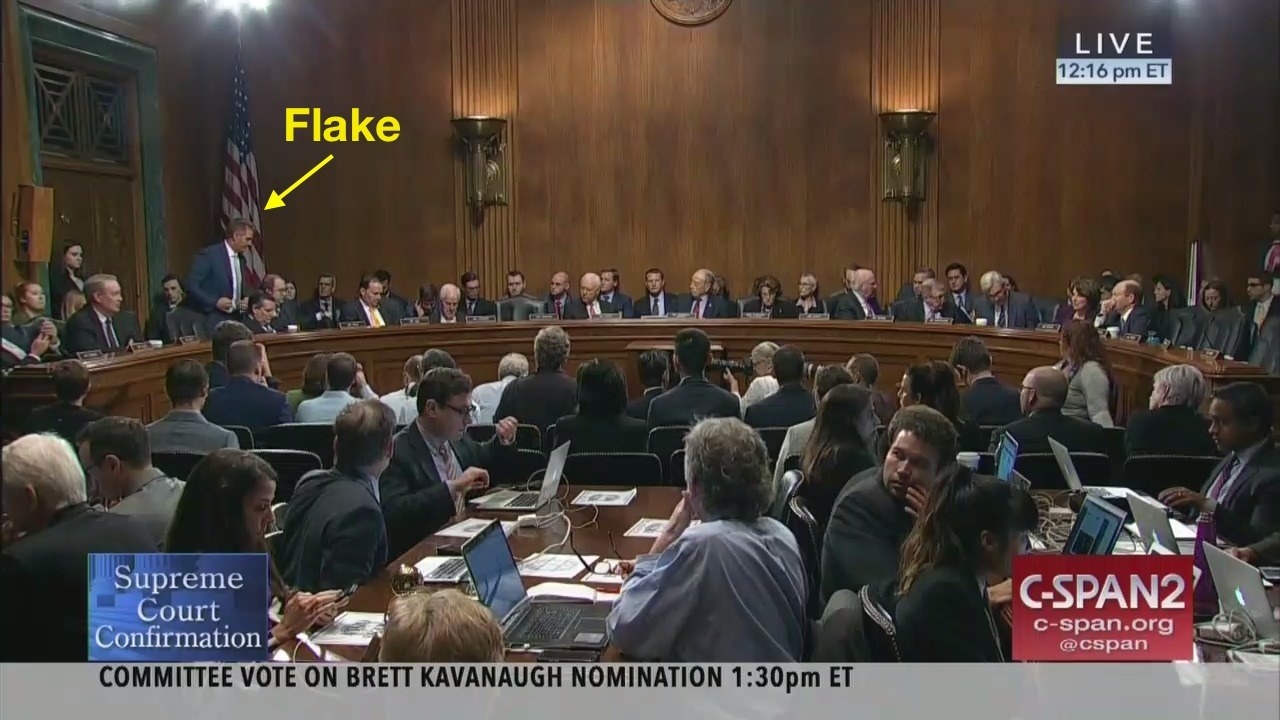 But he didn't go alone.
On his way out, as this CNN video shows, he asked Democratic Sen. Chris Coons to join him in the anteroom outside the committee room.
Just look at the faces of the two staffers watching the two senators from opposing parties leave the room together to chat.
👀👀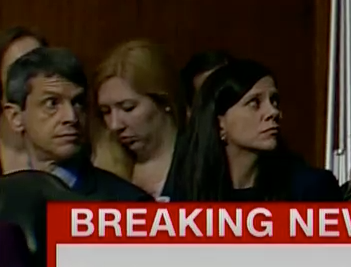 Same, tbh.
We should note that Coons, the junior senator from Delaware and a good friend of Flake's, was the last person to speak before Flake got up and walked out.
Coons argued that confirming Kavanaugh to the Supreme Court without a stronger investigation of his accusers' claims would delegitimize his legal decisions — and thus the court itself — for many Americans.
"It's about the court's legitimacy," Coons said. "We're left with the reality that if his nomination goes forward this morning, after testimony full of rage and partisanship and vitriol, but without even a brief pause for nonpartisan investigation into the serious allegations presented, his service may well have an asterisk."
Soon, as Crapo spoke, other Democrat senators were also missing from the room.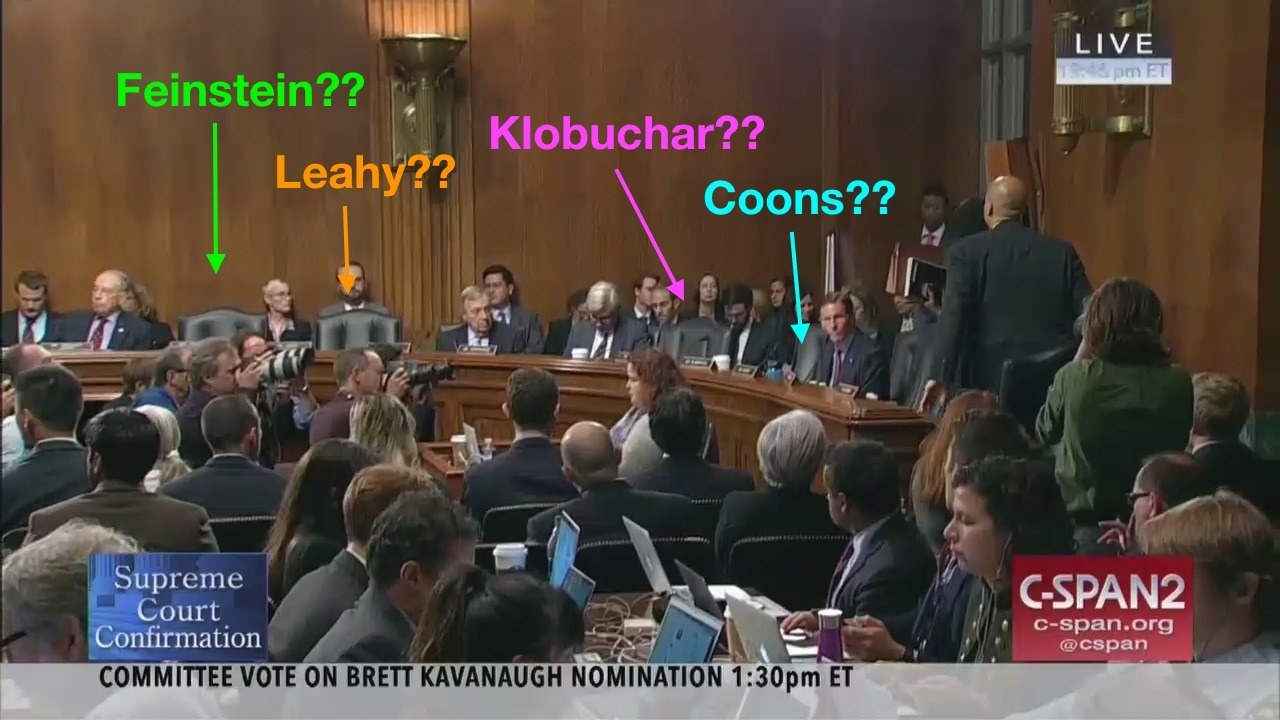 And then, even more were missing.
Sen. Richard Blumenthal of Connecticut was the only Democrat in the room. All the others were in the anteroom with Flake.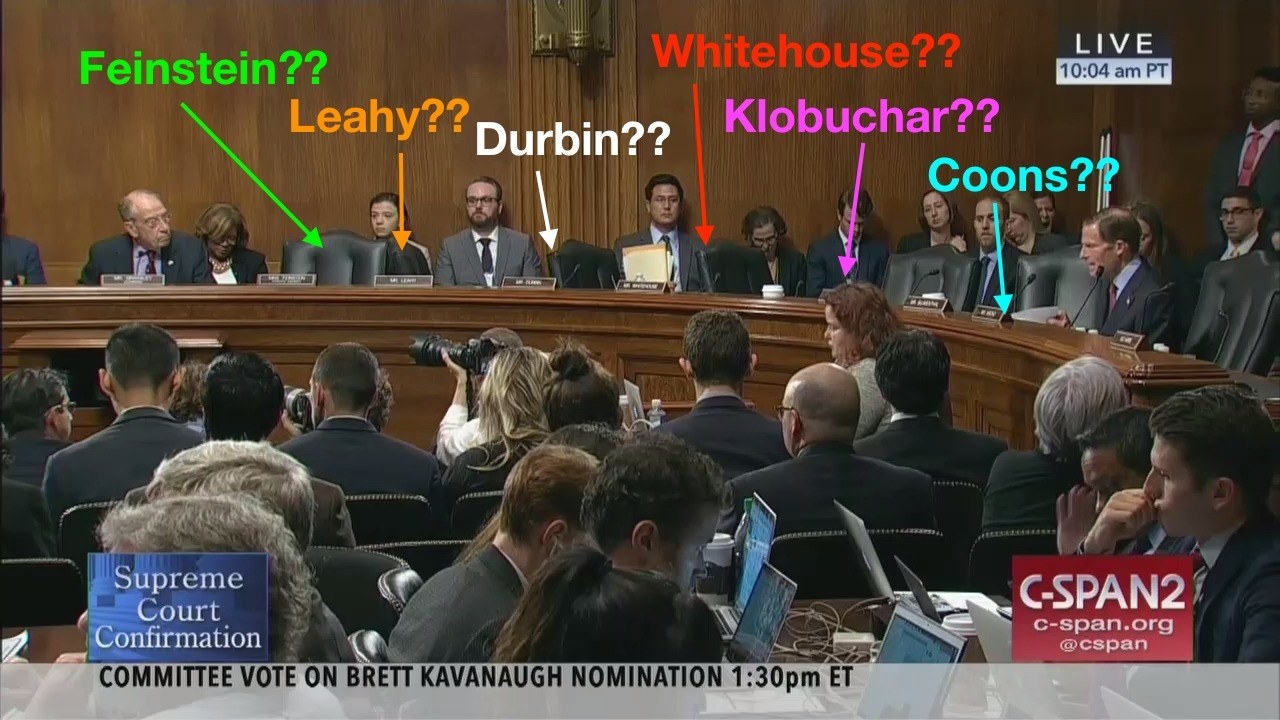 Once a break was formally called, a couple of Republicans wandered out there too to see WTF was going on.
Here you can see Sen. Orrin Hatch of Utah walking to Democrat Sen. Sheldon Whitehouse of Rhode Island in the space outside the committee room where everyone had gathered.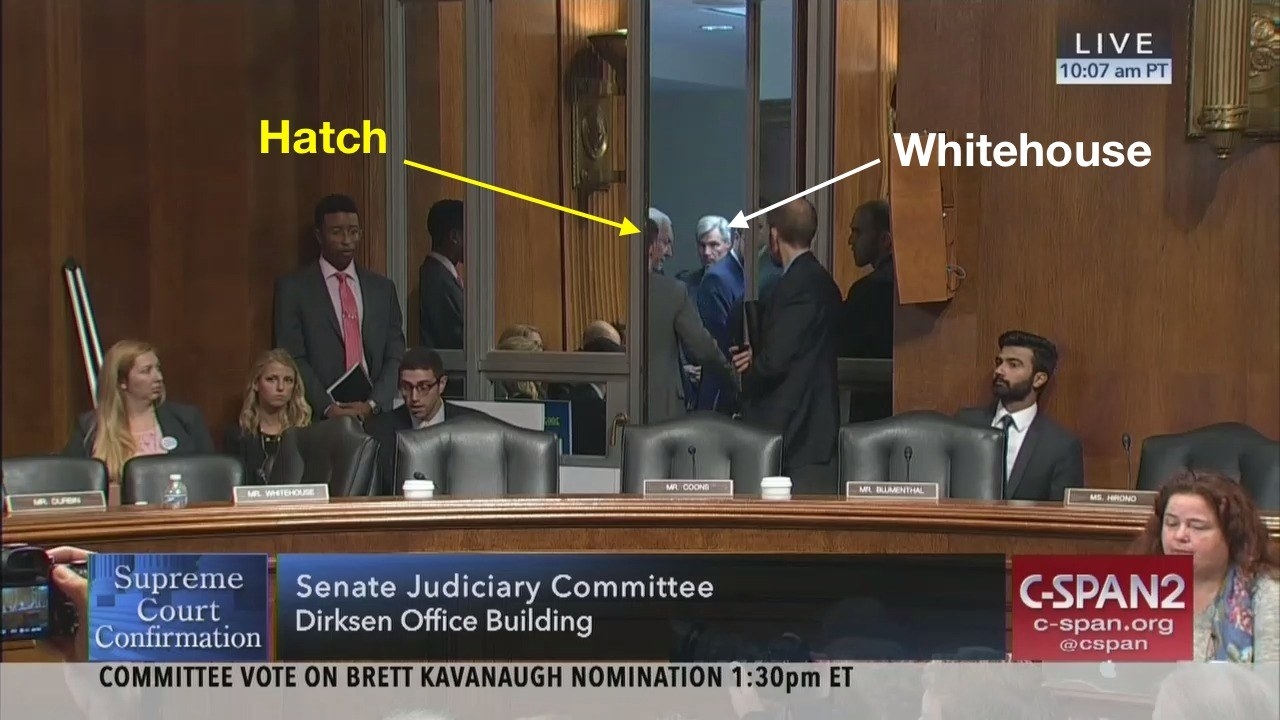 Sen. Lindsey Graham, who delivered a fiery defense of Kavanaugh at Thursday's session and lambasted Democrats for what he said was despicable politics, came back in the room.
He looked pretty confident.
"Let's vote!" he told Grassley, rubbing his shoulders.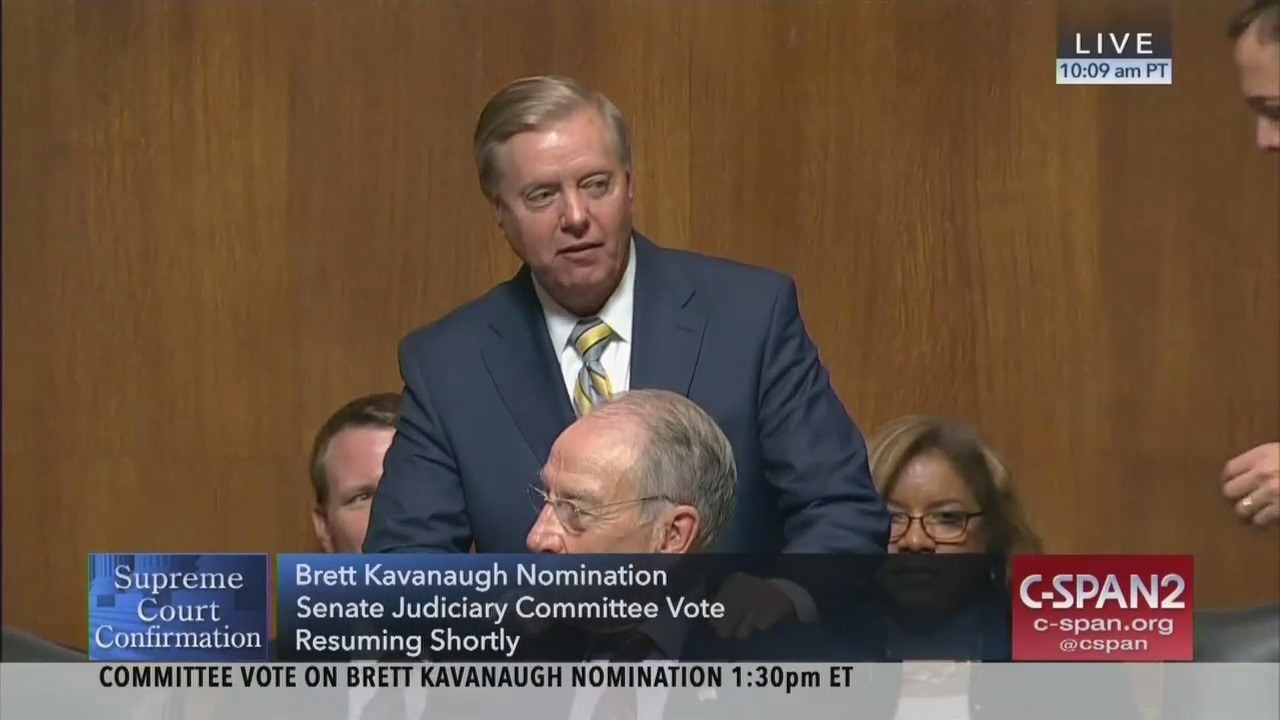 But then, a top Republican aide approached Graham and began speaking to him.
Mike Davis, the chief Republican counsel for nominations on the committee, used a binder to shield the conversation from reporters and photographers.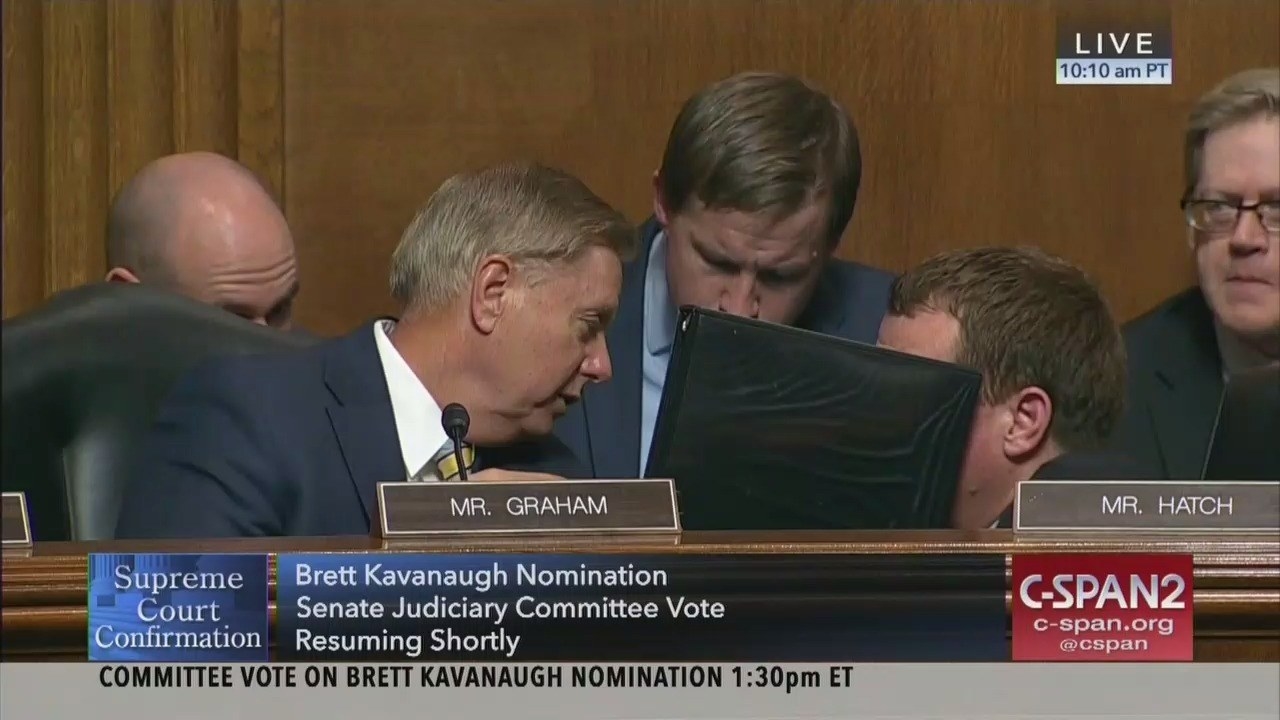 It had been almost one hour since Flake had left the room. He hadn't yet come back in.
As more and more people frantically rushed out to see what was happening, the mood shifted.
Here, you can see Grassley staring off into the distance for 12 straight seconds, perhaps as it dawned on him that something was amiss (or perhaps just wondering what he was going to have for lunch).
I, for one, wholeheartedly recommend rewatching that video while the opening of "The Sound of Silence" plays.
Anyway, soon Democrats started gradually reentering the room.
Here you can see Sen. Patrick Leahy of Vermont coming back in — which I'm including only because he made this funny gesture as if to say, Now where did I leave my glasses?
Then Sen. Dianne Feinstein, the top Democrat, walked back in.
She looked pretty darn happy with herself.
She walked over to Grassley and started chatting.
He made this expression.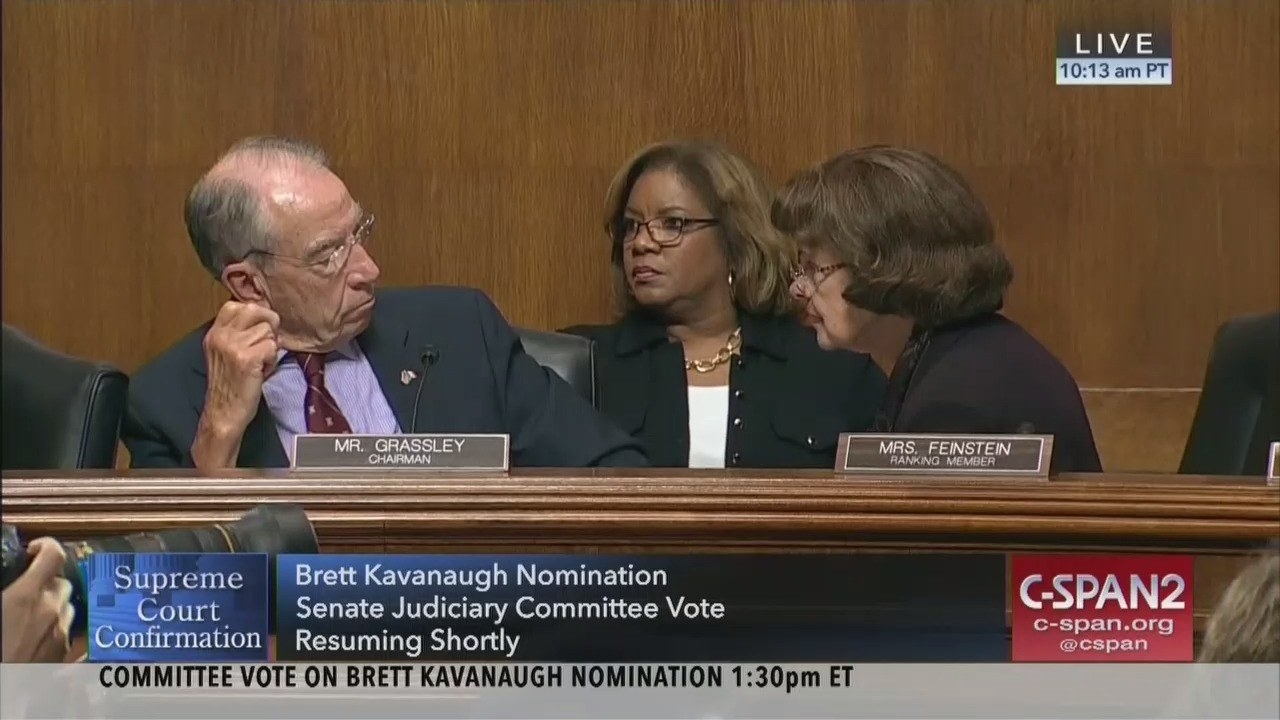 Lol. I know, right?
After Sen. Amy Klobuchar of Minnesota came back in, her Republican counterpart Sen. Ben Sasse of Nebraska walked in, too.
He sidled over to the Democrat then said what appears to be a single word: "Floor."
Well, that's what it looks like to me, at least.
It's most probably a reference to the vote leaving the committee (in some fashion) and heading to the Senate floor for a full vote.
Klobuchar didn't react to the news at all.
Eventually, as more Democrats came back in, Feinstein acknowledged what all the reporters and everyone watching at home had speculated: Something was happening.
Grassley's mic picks up Feinstein saying, "Jeff could force it if he wants to but there was no agreement to do that."
👀👀👀👀👀
Whitehouse then makes a play for more time.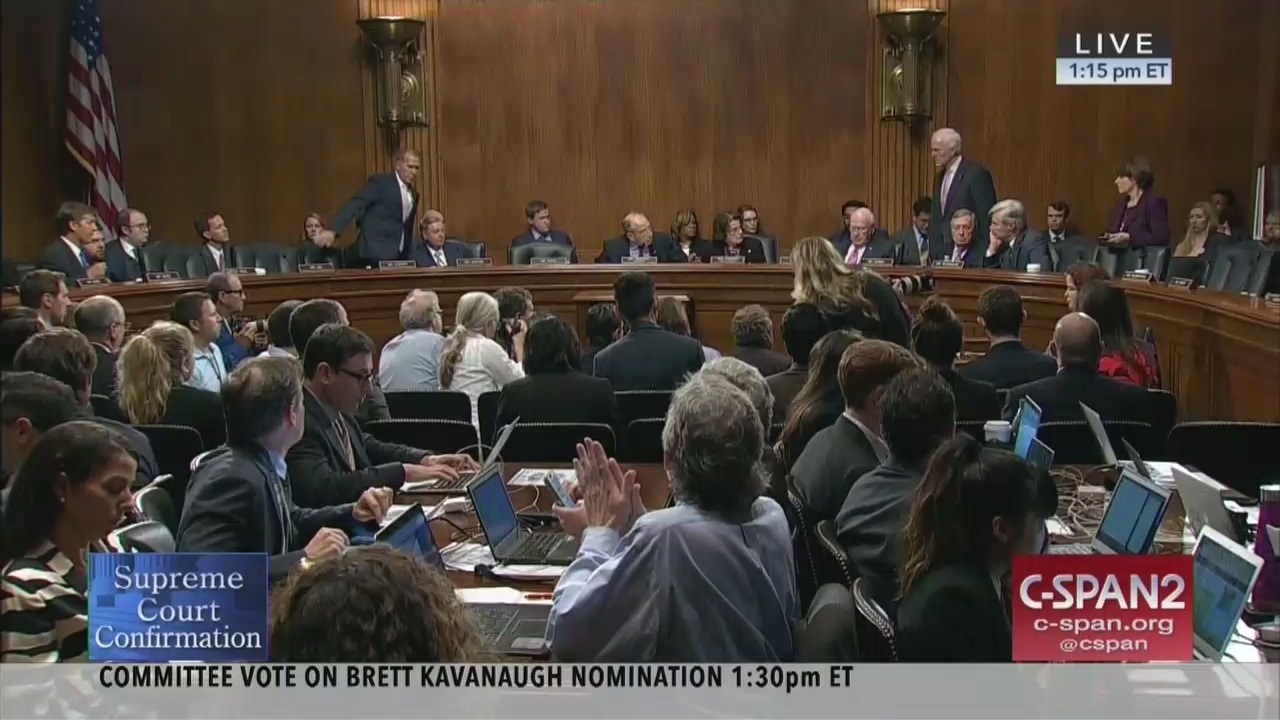 "Mr. Chairman," Whitehouse told Grassley, "given what's happening in the anteroom, I think if some more time is needed I think you'd get a unanimous consent to push the vote back pretty easily. If you need a few more minutes."
Grassley, though, was determined to hold the committee vote at 1:30 p.m. and declined to delay it.
Soon, more Republicans were in the room and conferring with one another.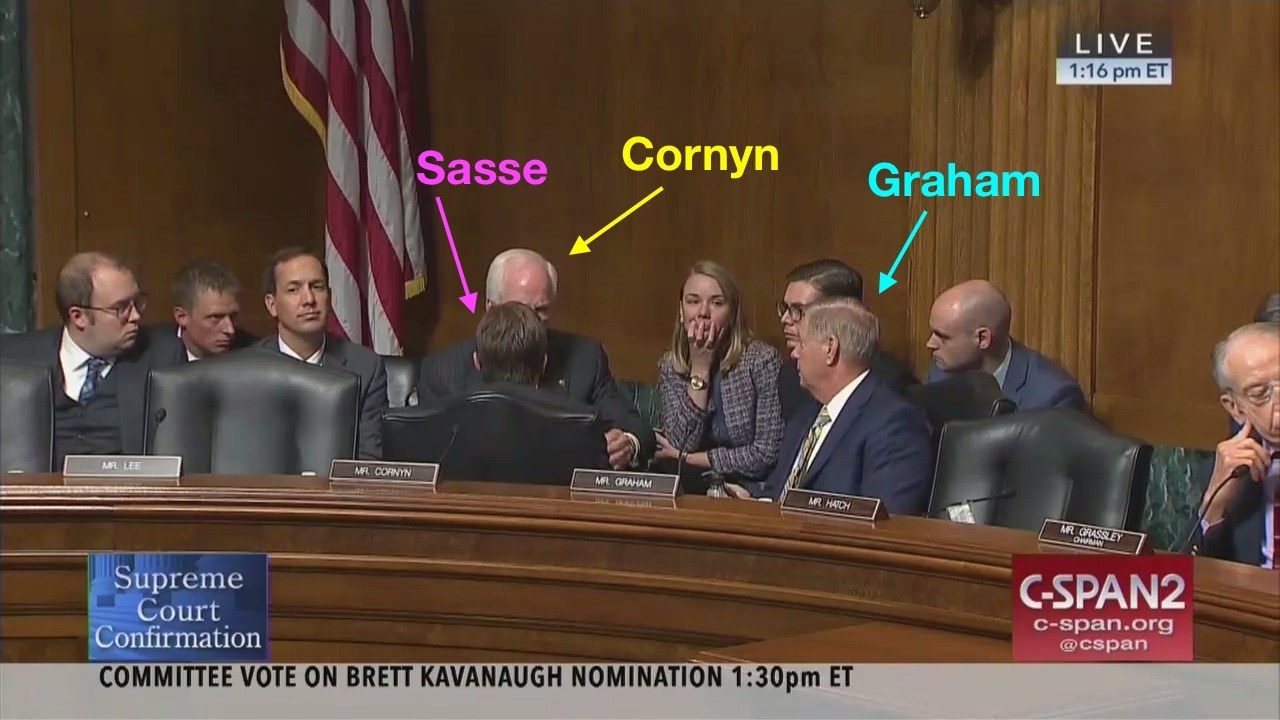 This woman was all of us watching at home.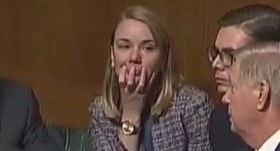 Eventually, Coons finally walked back into the room.
It had been 1 hour and 15 minutes since his buddy Flake asked him to step outside.
He went straight to Feinstein to chat.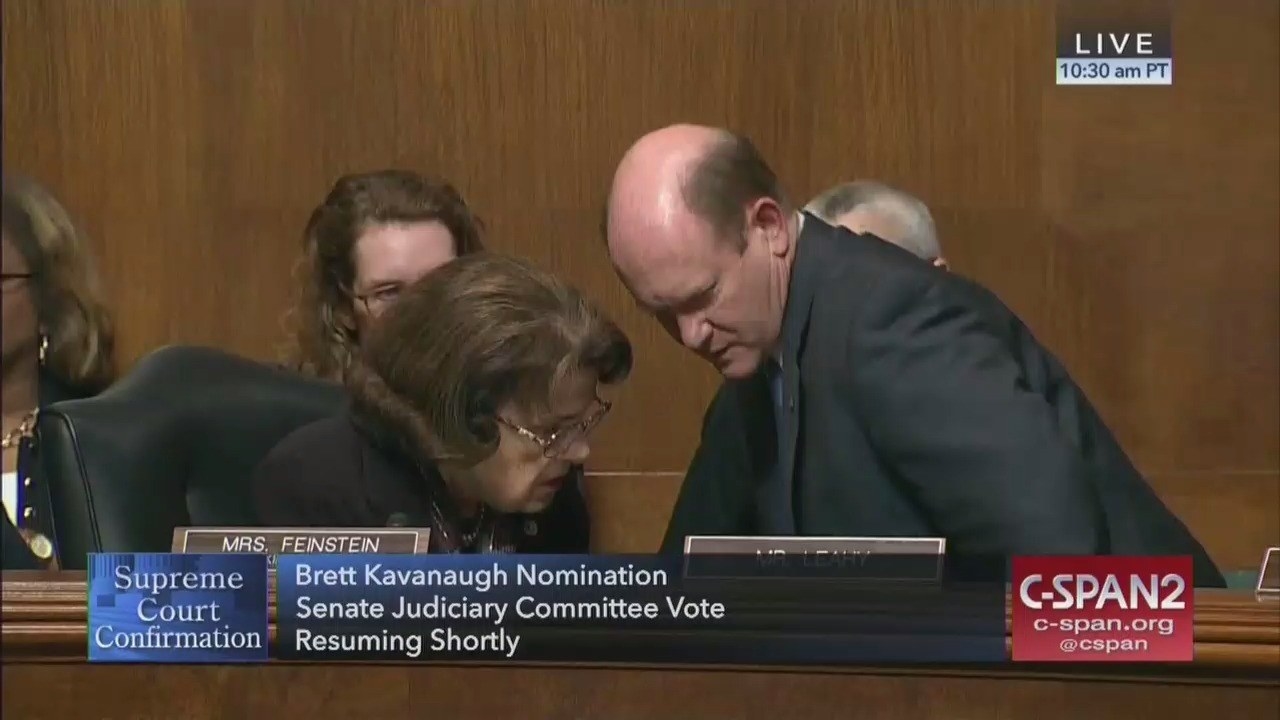 Republicans, who began the morning seeming confident, were starting to look PISSED.
Here's Hatch.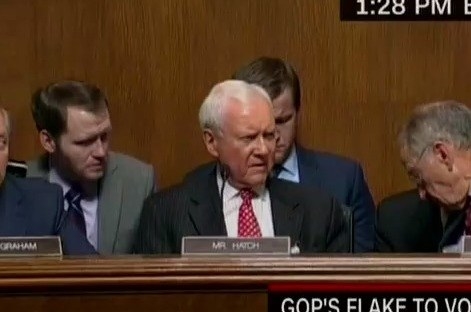 And CNN caught this epic moment where Graham turned to Hatch, closed his eyes in disbelief and shook his head in disgust.
Here's that moment as a GIF.
And here's the eye roll he did next as a GIF, too. (You're welcome.)
Finally, the man himself, the senator for messy bitches who live for DRAMA, came back into the room.
Flake had been gone for more than 90 minutes. He tapped Grassley on the shoulder and asked to speak.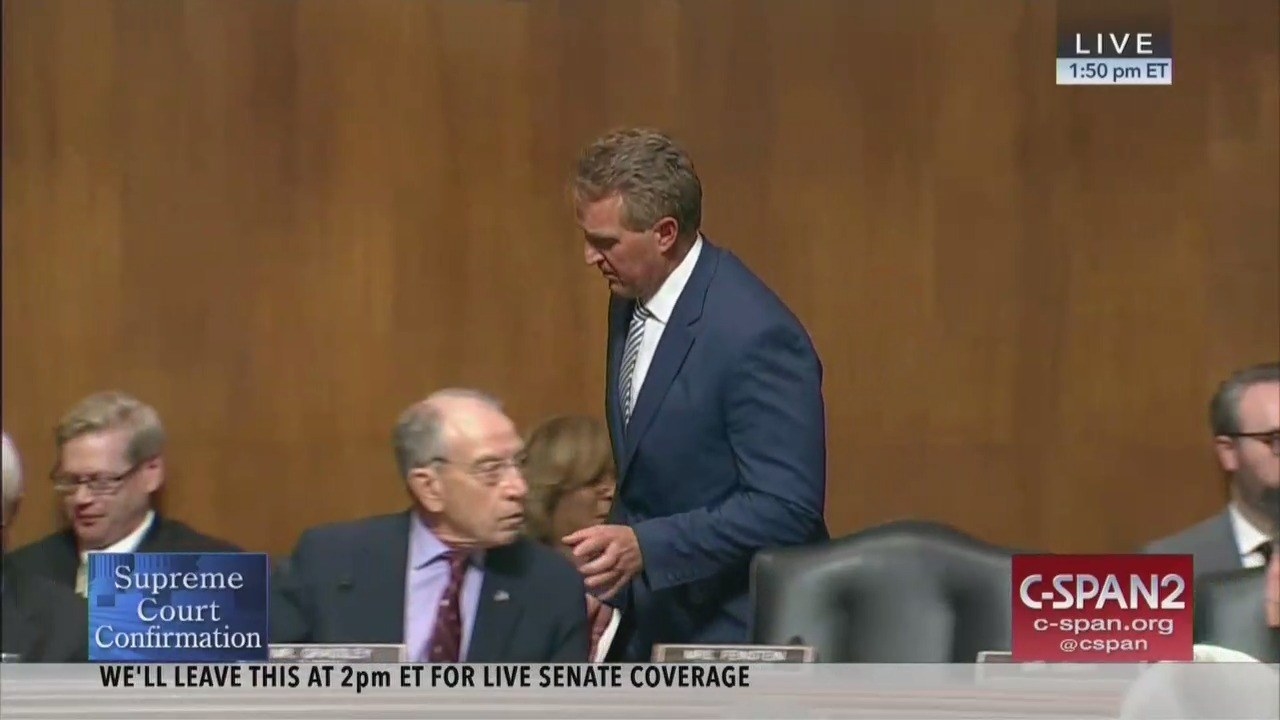 Grassley allowed Flake to have the mic — and the senator announced his decision.
He was going to vote to approve Kavanaugh out of committee — but on one big condition: He would only vote on the full Senate floor if the FBI took a week to investigate the allegations against the judge.
"This country is being ripped apart here, and we've got to ensure we do our due diligence," Flake said.
Just like his buddy Coons had said in his speech, Flake said it was important for Americans to trust that all had been done.
Democrats — and Christine Blasey Ford — had got what they wanted: an FBI investigation.
Coons looked pretty satisfied.
*stares directly at camera like Jim from The Office*
Republicans, meanwhile, looked like this.
And then, if the whole thing weren't dramatic and shocking enough, after the committee voted to move Kavanaugh to the next stage (with Flake's big FBI disclaimer), Grassley suddenly shut the whole thing down citing "the two-hour rule."
"What?!" Feinstein said to laughs.
WHAT INDEED. WHAT INDEED.
In short, here's me watching this entire thing.
See you next time, everyone!
CORRECTION
Sen. Lindsey Graham's name was misspelled in an earlier version of this post. I also misstated how much time passed between the elevator and him walking out of the room because I got distracted by all the DRAMA.