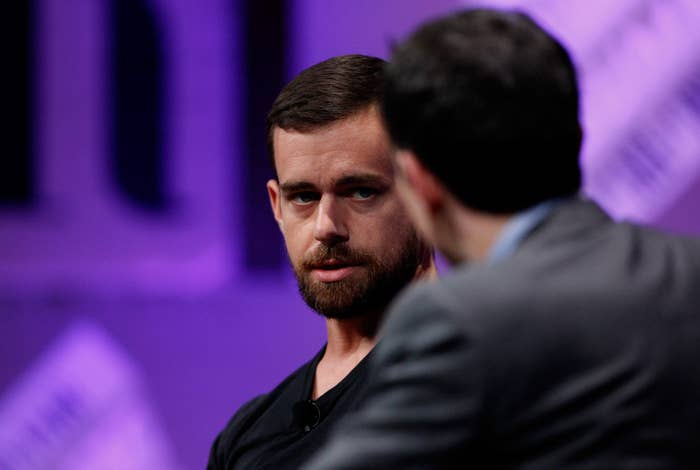 ISIS supporters on Sunday called on jihadis around the world to kill Twitter employees because of the company's frequent blocking of their social media accounts.
"Your virtual war on us will cause a real war on you," reads an online post addressed to Twitter founder Jack Dorsey and shared by ISIS supporters.
The post, whose authorship is unclear, was accompanied by a digitally altered image of Dorsey in the cross sights of a gun.
Twitter, like YouTube, often moves quickly to delete posts and suspend accounts that disseminate ISIS videos showing the gruesome executions of hostages.
Twitter's terms of service bar users from posting or publishing "direct, specific threats of violence against others." Users are also banned from using the service "for any unlawful purposes or in furtherance of illegal activities."
"You started this failed war," the ISIS post says. "We told you from the beginning it's not your war, but you didn't get it and kept closing our accounts on Twitter, but we always come back."
"But when our lions [brave men] come and take your breath, you will never come back to life."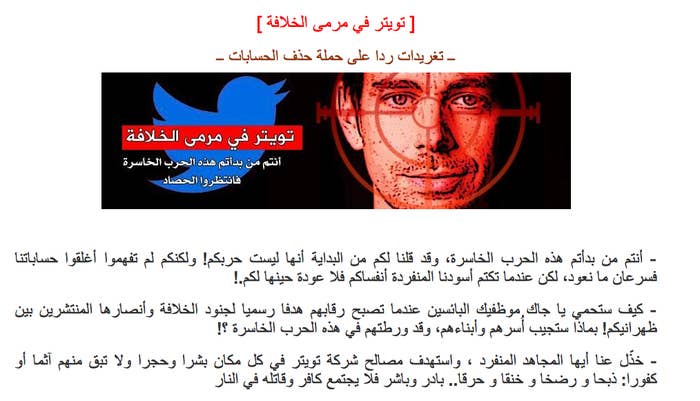 ISIS supporters who have been barred from traveling to Syria or Iraq to join the insurgent group have been previously encouraged to instead launch lone-wolf attacks in their Western home countries. Just last month, ISIS used Twitter to post a video suggesting followers launch attacks on police or military officials in the United States, the United Kingdom, and France.
Sunday's online message (which was also shared on Twitter) called on ISIS sympathizers to attack the social media company and its "interests."
"For the 'individual jihadi' all over the world, target the Twitter company and its interests in any place, people, and buildings, and don't allow any one of the atheists to survive."
A spokesman for Twitter, Jim Prosser, told BuzzFeed News: "Our security team is investigating the veracity of these threats with relevant law enforcement officials."
Maged Atef contributed to this report.