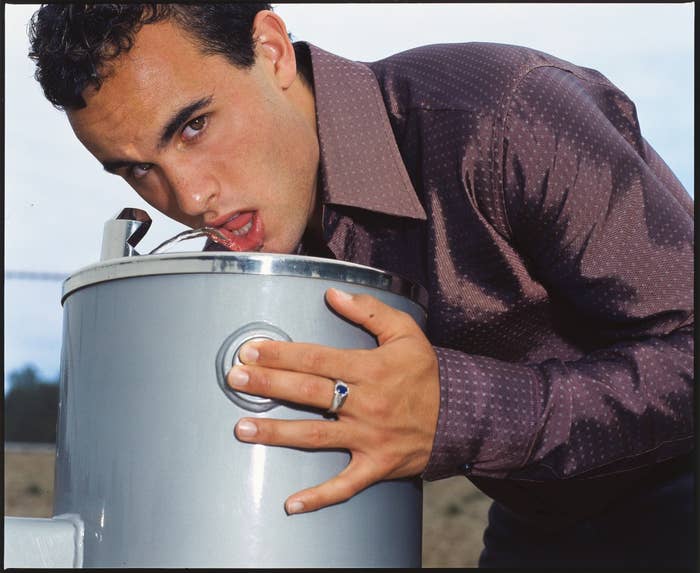 This week marks two decades since the New York Times published a set of photos that have since been called both "infamous" and "iconic." The newspaper was not (and is still not) widely seen as a purveyor of thirst traps, but in the early days of the internet, the pictures went as close as can be to viral among soccer fans.
The pictures were taken by photographer Matthias Vriens at WakeMed Soccer Park in Cary, North Carolina, as the US players prepared for the World Cup in South Korea. The plan was to shoot some photos for the paper's style section to promote the team. But no one could have anticipated what the end result would turn out to be — or that we'd still be talking about them 20 years later.
"I understand why, certainly within the United States, people were shocked, I guess, but for me that in itself is a big surprise," Vriens told BuzzFeed News in an interview to mark the anniversary and to reflect on the pictures, the reaction to them, and their place in soccer history. "And that reaction, not the pictures, is laughable."
Vriens said his brief from the Times was to make the team look sexy, and that's exactly what he did.
Not everyone agreed.
The website Top Drawer Soccer later described it as "the least sexy, sexy photo shoot of all-time." Former ESPN spinoff site Grantland said the pictures were "tonally bewildering" and that they "came blazing — literally blazing, like a Mack truck filled with dragons and pushed off the top of Mount Rushmore — into existence."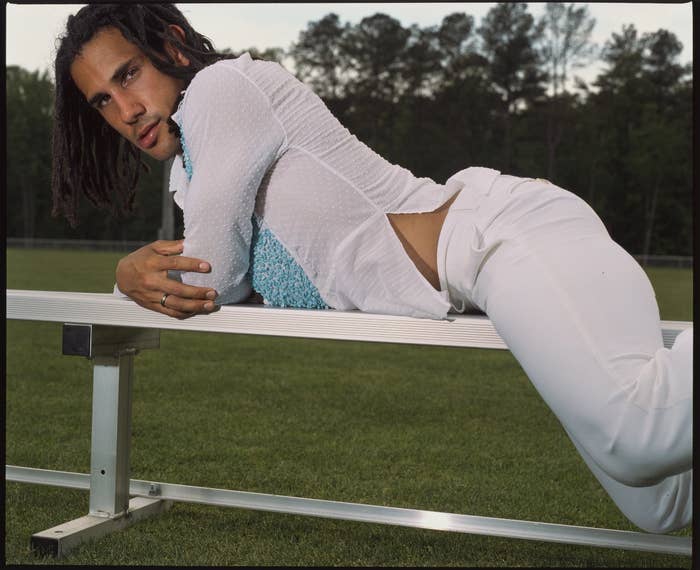 In one photo, defender Pablo Mastroeni lies on a bench wearing a $1,138 Roberto Cavalli shirt, his back arched to accentuate his buttocks. In another, superstar Landon Donovan, then in the early days of his career, wears a shiny Jacquard shirt worth $480 as he sips from a water fountain — eyes fixed on the camera as a trickle of liquid pours into his mouth and oozes off his lip. Other pictures showed goalkeeper Kasey Keller and midfielder DaMarcus Beasley lying on the grass as if it were a bed, sporting come-hither stares.
"The players all posed willingly," the New York Times wrote in a subsequent story once the pictures were released. "But then the photos hit the Internet."
The publication of the photos caused something of a flutter among fans and the team at the time. As they trained in Seoul, an Associated Press report noted the players were ribbing one another over the pictures.
"I think we're going to get a whole new fan base for our next games in New York and San Francisco," goalkeeper Keller was quoted as saying in an apparent reference to those cities' gay communities.
The AP story said the US Soccer Federation had sheepishly admitted the players were expecting "more traditional shots."
"I thought we were going to get suits," forward Brian McBride was quoted as saying.
"Everybody's laughing about it," McBride added. "If you can't laugh about it, you have severe problems."
The water fountain photo, in particular, haunted Donovan for years. Future teammates would parody it, while fans would re-create the photo at the site of the actual fountain.
In 2019, the Athletic published an exhaustive investigation into how the photo shoot came to be. Writer Pablo Maurer described the water fountain photo as "perhaps the most memorable photograph ever taken in the history of US men's soccer."
Vriens told BuzzFeed News he suspected that part of the controversial reaction at the time — and since — to the photos can be put down to differences in culture between the US and Europe. Growing up in the Netherlands, he'd always viewed soccer players as akin to rich and glamorous rock stars with beautiful women always by their side. People were probably not ready for him to apply that vision to the US team, who in 2002 was still trying to find a strong public foothold in its home country.

Similarly, Vriens still feels American puritanism and heteronormativity has a lot to answer for. Around the same time, he had been taking nude photos of the French rugby team for their Dieux du Stade, or "Gods of the Stadium," calendar. The black-and-white photos showed the players staring seductively at the camera while completely nude, save for rugby balls positioned over their penises. Vriens recalled the French players feeling completely comfortable during the shoots, waltzing around the set with their genitals out and more than willing to lick their lips or arch their backs in order to best show off their muscled bodies.
"There was a distinct difference in how people in Europe deal with sexuality and here in the United States," Vriens said. "So I think if I would have shot the soccer players of the national French team, they would have maybe laughed for a minute and it would have been over versus here, we are 20 years later and you and I are still talking about it."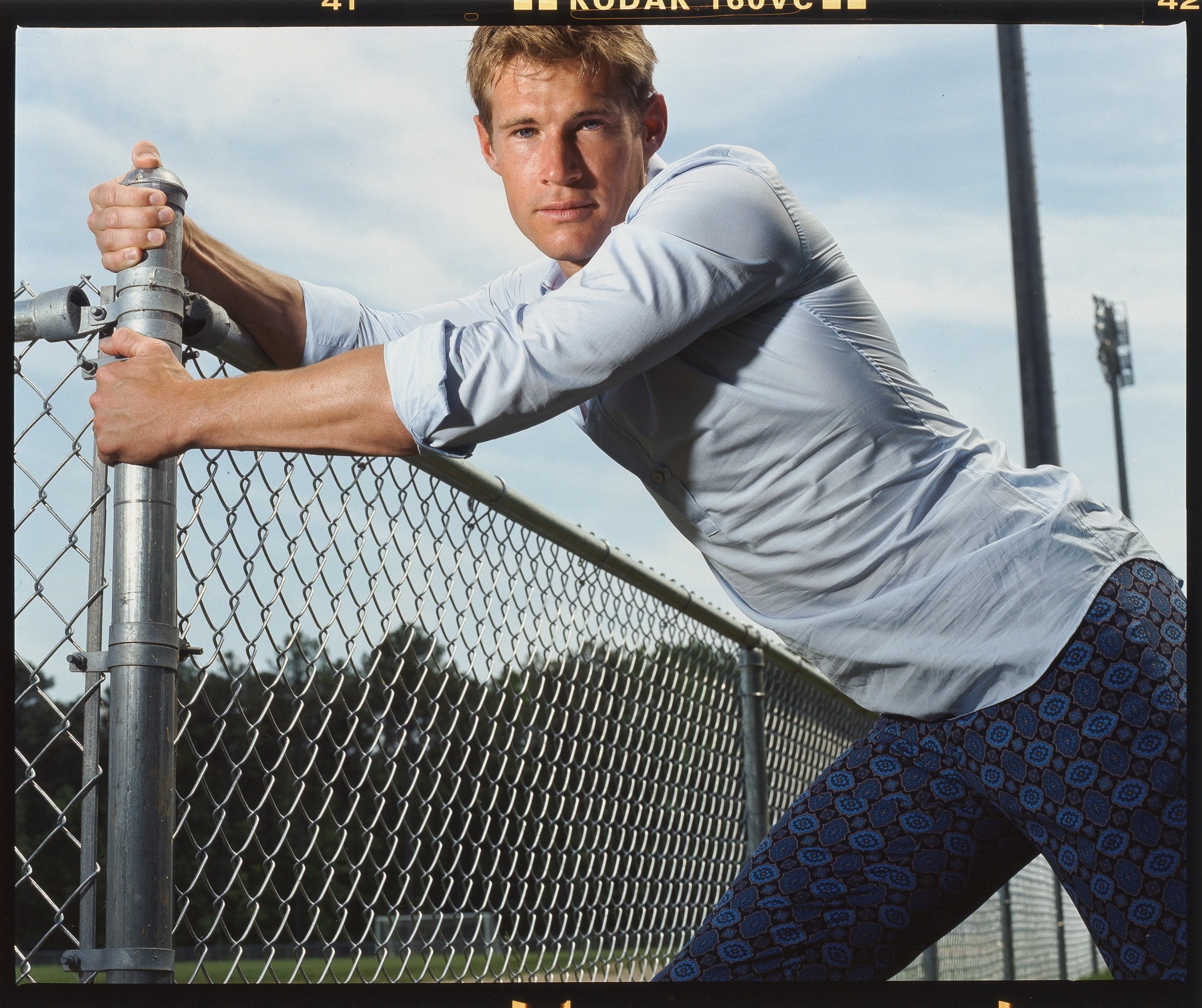 Across his career, Vriens has been intrigued by trying to circumvent gendered stereotypes. He's interested in photographing men in ways that women have been shown in art for centuries: as objects of desire. And while more athletes might be willing today to embrace and show off their fashion tastes, Vriens still senses internalized anti-gay bias from men who fear that being portrayed as a sexual being might make them look gay.
"What does that even mean in 2022?" he asked. "I think we have regressed. Things have not become more open-minded, and it's shocking."
Still, Vriens believes attitudes to nudity and sex are slowly changing.
"I mean, there's pretty soon going to be a president that we elect that we've seen his dick because everybody sends dick and ass and tit pics, and that's totally OK," he said. "So I think we should just, like, chill the fuck out and normalize sex and not scandalize it to a degree where it just becomes a very nonprogressive kind of thing."
Vriens' photos may even have played a small role in Team USA's strong showing in the 2002 World Cup, where they made the quarterfinals. Goalkeeper Brad Friedel told the Athletic that the fallout (and laughter) made the camaraderie among the team even stronger.
"That photo shoot, at the end of the day? It brought the team together," he said.
Donovan didn't respond to requests for comment for this story, but in 2020, he admitted to the Guardian that he had felt a little deceived about the shoot.
"I was 20 years old and very naive," Donovan said. "I think we were all a little taken aback. But we quickly realized there was a clear agenda by the magazine and the photographer that hadn't been explained to us. It was more funny than anything. At that point of our soccer history, any press was good press."
Still, as the years passed, Donovan also appeared to have made some peace with the infamous water fountain photo. In 2014, after he was cut from the squad headed to Brazil, he filmed an ad to promote the World Cup. In the short video, he answered phone calls at his desk while working on a laptop with a desktop background that looked familiar.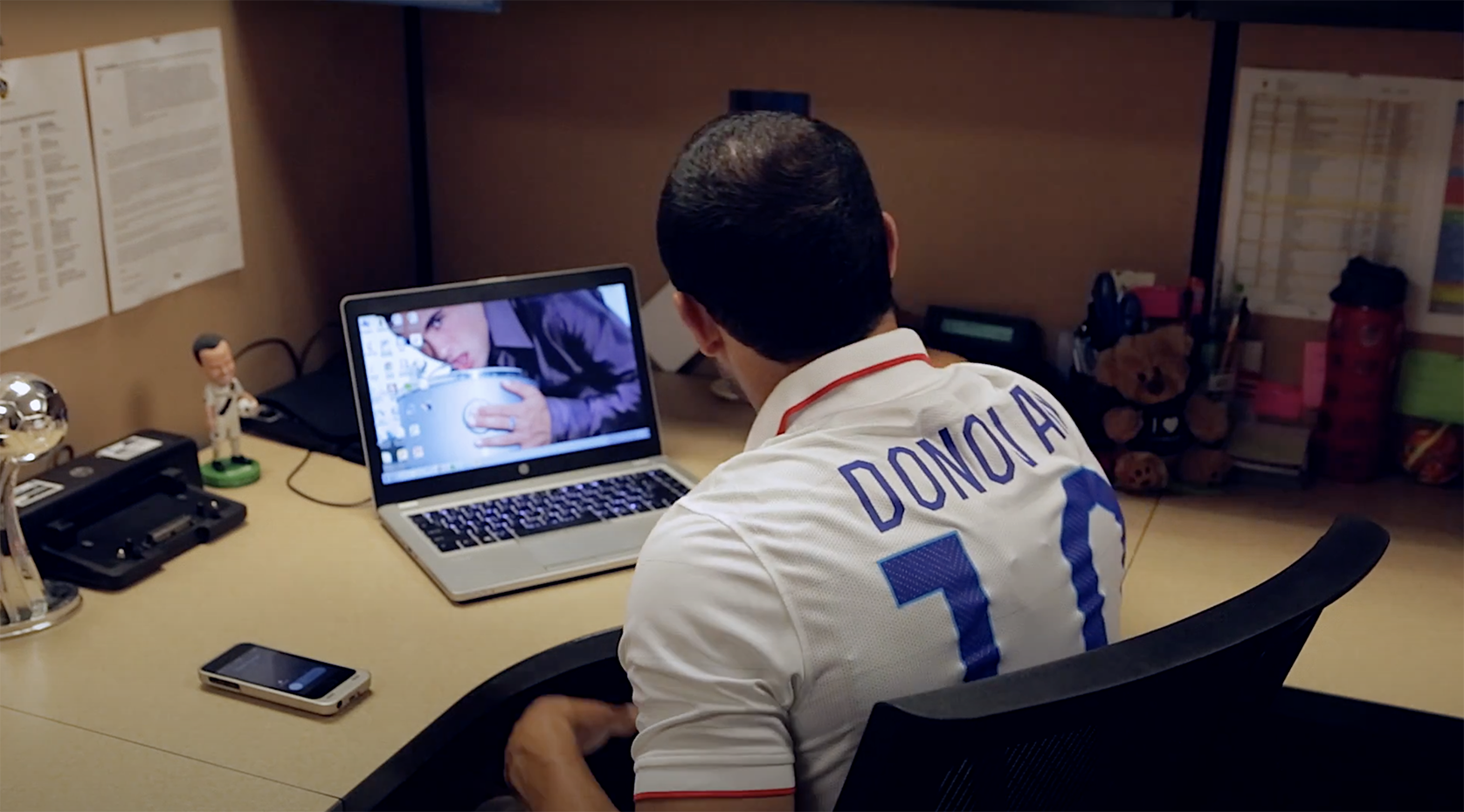 As for the water fountain itself, Athletic writer Maurer affixed a playful plaque on it in 2019 to commemorate its role in soccer history. "In the Summer of 2002, at this very site, the greatest goalscorer in the history of the U.S. men's national team had a drink of water," it stated.
Just last month, though, observers noted the fountain had been taken down and replaced. Maurer subsequently said he'd tracked it down and was in touch with city officials about its future.
That said, it appears to have a forever home in Texas.
Vriens said that he hopes that the passage of time had allowed the players to reconsider the photos in a new light — if only for reasons of vanity.
"I think that when the pictures came out, and the guys saw what they looked like in the fashion and the poses and the sex appeal that they embodied, I think to a few that was shocking," Vriens said.
"But I think certainly now, looking back at the way they looked 20 years ago, I think some of them are very, very happy that they were that hot in the first place."