People hoping for a relaxing summer day at the beach in Chatham, Massachusetts, on Monday were stunned to find a GREAT WHITE SHARK washed up on the Cape Cod shore.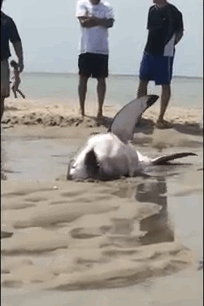 Beachgoers called officials around 1:30 p.m. to report the shark, which was believed to have been trying to catch seagulls on a sandbar before the tide receded, Chatham Harbormaster Stuart Smith told BuzzFeed News.
Stuart, who is used to dolphins and whales needing help, said this was the first shark rescue he's performed in his entire 28 years as harbormaster.
Working with state marine officials, Stuart and others threw buckets of water on the shark to keep it wet.
Crowds were instructed to keep back from the 7-foot shark as it writhed in the sand.
The shark's rear fin was then tied to the back of a small boat, which dragged the animal back into the water.
After a number of shark attacks in recent weeks along the coast of the Carolinas, Smith admitted officials did briefly debate whether to rescue the shark.
"It was definitely something that went through our minds," he said.
However, aware that great whites are endangered and federally protected, officials worked quickly to get the shark back to safe waters.
"There's a fair amount of white sharks in the ocean, and one more isn't going to make that much of a difference," Smith said.
The shark was eventually towed out to safer waters one mile off the shore, where it was able to swim away.