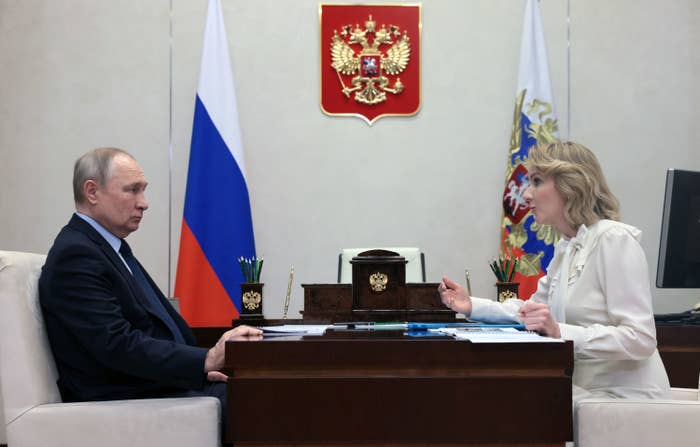 The International Criminal Court issued an arrest warrant for Russian President Vladimir Putin on Friday, accusing him of war crimes over the invasion of Ukraine.
Putin and Maria Lvova-Belova, Russia's commissioner for children's rights, are both wanted by the ICC for unlawfully deporting and transporting Ukrainian children to Russia.
The arrest warrants mark the first international charges to be brought since Russia invaded Ukraine in February 2022 and the first against a leader of a country with a permanent seat on the United Nations Security Council.
"This is an important moment in the process of justice," the ICC president, Judge Piotr Hofmański, said in a video statement.
Hofmański noted that, per procedures, the court's chief prosecutor had presented his case against the pair to a panel of pretrial judges, who concluded that there were "credible allegations" against them.
The ICC does not recognize diplomatic immunity for leaders on charges of war crimes, crimes against humanity, or genocide.
Russia is not a party to the Rome Statute, the treaty that gave rise to the ICC, and is not likely to turn over Putin or Lvova-Belova for prosecution.
"The International Criminal Court has issued an arrest warrant against Vladimir Putin," Dmitry Medvedev, former Russian presient and current deputy chairman of the Security Council of Russia, wrote on Twitter. "No need to explain WHERE this paper should be used🧻."
But the charges, which do not expire, will make the pair international pariahs.
The 123 countries that have ratified the Rome Statute are urged to arrest any suspects in their territory.
"The ICC is doing its part of work. As a court of law, the judges issued arrest warrants. Their execution depends on international cooperation," Hofmański said.
On Thursday, a report from the UN Human Rights Council's Independent International Commission of Inquiry on Ukraine accused Russia of a litany of war crimes in Ukraine, including the transfer of children.
Some Ukrainian children taken to Russia have had citizenship imposed on them or been placed with foster families.
Moscow has been open about its program to bring Ukrainian children to Russia, but has claimed that it is doing so in order to save thousands of children left behind in the war.
"The ICC has made Putin a wanted man and taken its 1st step to end the impunity that has emboldened perpetrators in Russia's war against Ukraine," Human Rights Watch said on Twitter.