House Republicans File Lawsuit Over Obamacare
Speaker John Boehner has been threatening to sue the Obama administration since July over alleged abuses of power related to the rollout of the health care law.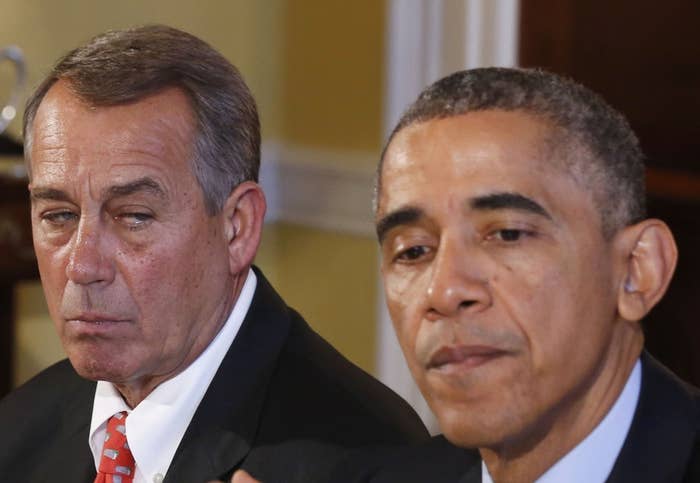 House Republicans have followed through with their threat to file a lawsuit against the Obama administration over its implementation of the Affordable Care Act, Speaker John Boehner announced Friday.
Boehner has been threatening to sue the administration for months over alleged abuses of executive authority relating to the health care law, with House Republicans passing a resolution authorizing the legal challenge on July 30.
"Time after time, the president has chosen to ignore the will of the American people and re-write federal law on his own without a vote of Congress," Boehner said in a statement. "That's not the way our system of government was designed to work. If this president can get away with making his own laws, future presidents will have the ability to as well.
"The House has an obligation to stand up for the Constitution, and that is exactly why we are pursuing this course of action," he said.
Republicans contend the administration unlawfully deferred a requirement that companies with 50 employees or more offer health care to their full-time workers or pay penalties.
In July 2013, the administration postponed the employer mandate requirement until 2015, before again delaying its implantation until 2016 for companies with 50 to 99 employees.
Boehner's office said the lawsuit will also challenge the administration's alleged unlawful transfer of roughly $175 billion to insurance companies over the next decade that has not been appropriated by Congress.
The White House criticized Republicans for what is said was a waste of taxpayers' money: "Instead of passing legislation to help expand the middle class and grow the economy, Speaker Boehner and House Republicans are spending hundreds of thousands of taxpayer dollars pursuing a lawsuit that is without any sound legal basis," said White House spokesperson Brandi Hoffine.
The suit has been filed against the Secretaries of the Treasury and Health and Human Services.
Earlier this week, Speaker Boehner hired George Washington University professor Jonathan Turley to handle the case, after two law firms decided not to take the case.
In a blog post Monday, Turley wrote that he supports national health care and voted for President Obama in 2008, but said he believes the executive branch had usurped the legislature's powers.
"The question presented by this lawsuit is whether we will live in a system of shared and equal powers, as required by our Constitution, or whether we will continue to see the rise of a dominant executive with sweeping unilateral powers," Turley wrote. "That is a question worthy of review and resolution in our federal courts."