1.
The Confederate Battle Flag Outside South Carolina's Capitol Building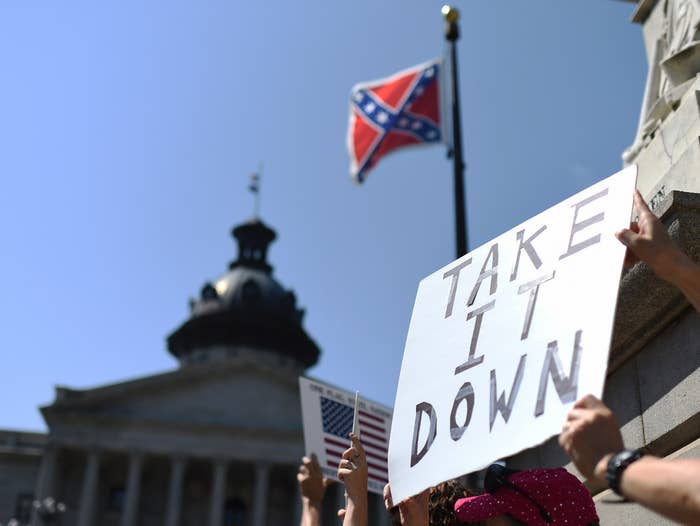 After nine black people were murdered in Charleston's Emanuel African Methodist Episcopal Church on June 17, attention soon turned to the Confederate battle flag flying on the South Carolina Capitol building's campus.
Alleged shooter Dylann Roof often posed with the flag. And it was used in an online manifesto about white supremacy thought to belong to the 21-year-old.
While other flags across South Carolina were lowered to half-staff in the wake of the murders in remembrance of those killed, the Confederate flag continued to fly at full staff. That's because state law controls the the height at which the flag is flown.
Protesters and activists began calling for lawmakers to permanently remove the flag from the public grounds — a movement that gained momentum Monday when South Carolina Gov. Nikki Haley, U.S. Sens. Lindsey Graham and Tim Scott, and Charleston Mayor Joseph P. Riley Jr. all publicly called for the flag to come down.
Charleston's Post and Courier newspaper has created a live tally board showing the public positions of state lawmakers on whether the flag should be taken down.
2.
The Design of the Mississippi State Flag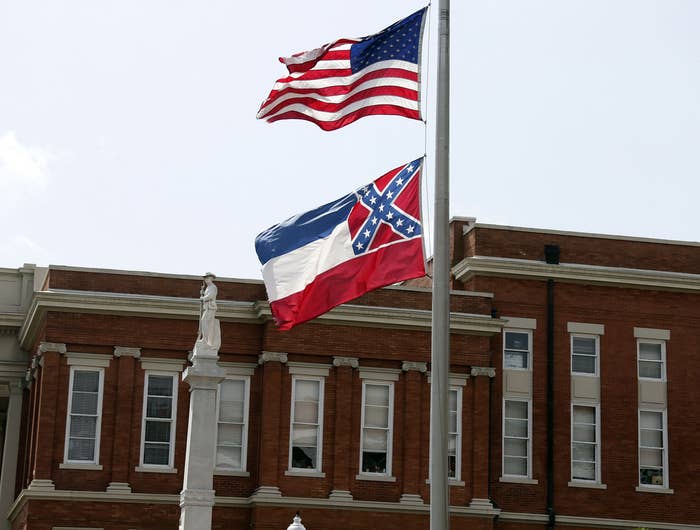 The Mississippi state flag, which was adopted in 1894, features the Confederate battle flag in its upper left corner. In a 2001 referendum, voters overwhelmingly elected to retain the divisive symbol, which for many people, especially African-Americans, is seen as a pro-slavery emblem.
The push to change the state flag received a boost Tuesday evening when Mississippi House Speaker Philip Gunn released a statement calling for the flag to be redesigned. "We must always remember our past, but that does not mean we must let it define us," the Republican said. "As a Christian, I believe our state's flag has become a point of offense and needs to be removed. We need to begin having conversations about changing Mississippi's flag."
Mississippi State Sen. Kenneth Wayne Jones, who leads his state's legislative black caucus, told BuzzFeed News that a redesign of the flag was long overdue.
"It's a problem for every African-American in Mississippi that that is what's flying over our state," said Jones. "At that time [in 2001] it was a very emotional issue, but I think if we put everyone at the table now with the right mindset of moving our state forward … you should be able to come up with something that doesn't offend anyone and still captures the historical impact of the Civil War."
BuzzFeed News has contacted the office of Mississippi Gov. Phil Bryant for comment.
On Wednesday, U.S Sen. Roger Wicker, who serves on the Armed Services Committee, said the state's flag should be "put in a museum and replaced by one that is more unifying to all Mississippians."
He added:
As the descendant of several brave Americans who fought for the Confederacy, I have not viewed Mississippi's current state flag as offensive. However, it is clearer and clearer to me that many of my fellow citizens feel differently and that our state flag increasingly portrays a false impression of our state to others.

In I Corinthians 8, the Apostle Paul said he had no personal objection to eating meat sacrificed to idols. But he went on to say that "if food is a cause of trouble to my brother, or makes my brother offend, I will give up eating meat." The lesson from this passage leads me to conclude that the flag should be removed since it causes offense to so many of my brothers and sisters, creating dissention rather than unity.
3.
Baltimore's Robert E. Lee Park
Officials said they long planned to submit a letter urging the city to rename Robert E. Lee Park, Baltimore County Executive Chief of Staff Don Mohler told BuzzFeed News, but the events in Charleston loomed large and demanded a swift response.
"Nothing happens in isolation," Mohler said of his decision to announce their plan on the same day as Haley spoke. "The time is now. The time is now to make the change. The name 'Lake Roland Park' is much more respectful to the diversity of our community."
The park was taken over by the county in 2009 through a licensing agreement, meaning the city will still need to formally approve the name change. However, Mohler said he's confident the name will be changed soon.
4.
Jefferson Davis Statue on the University of Texas Campus in Austin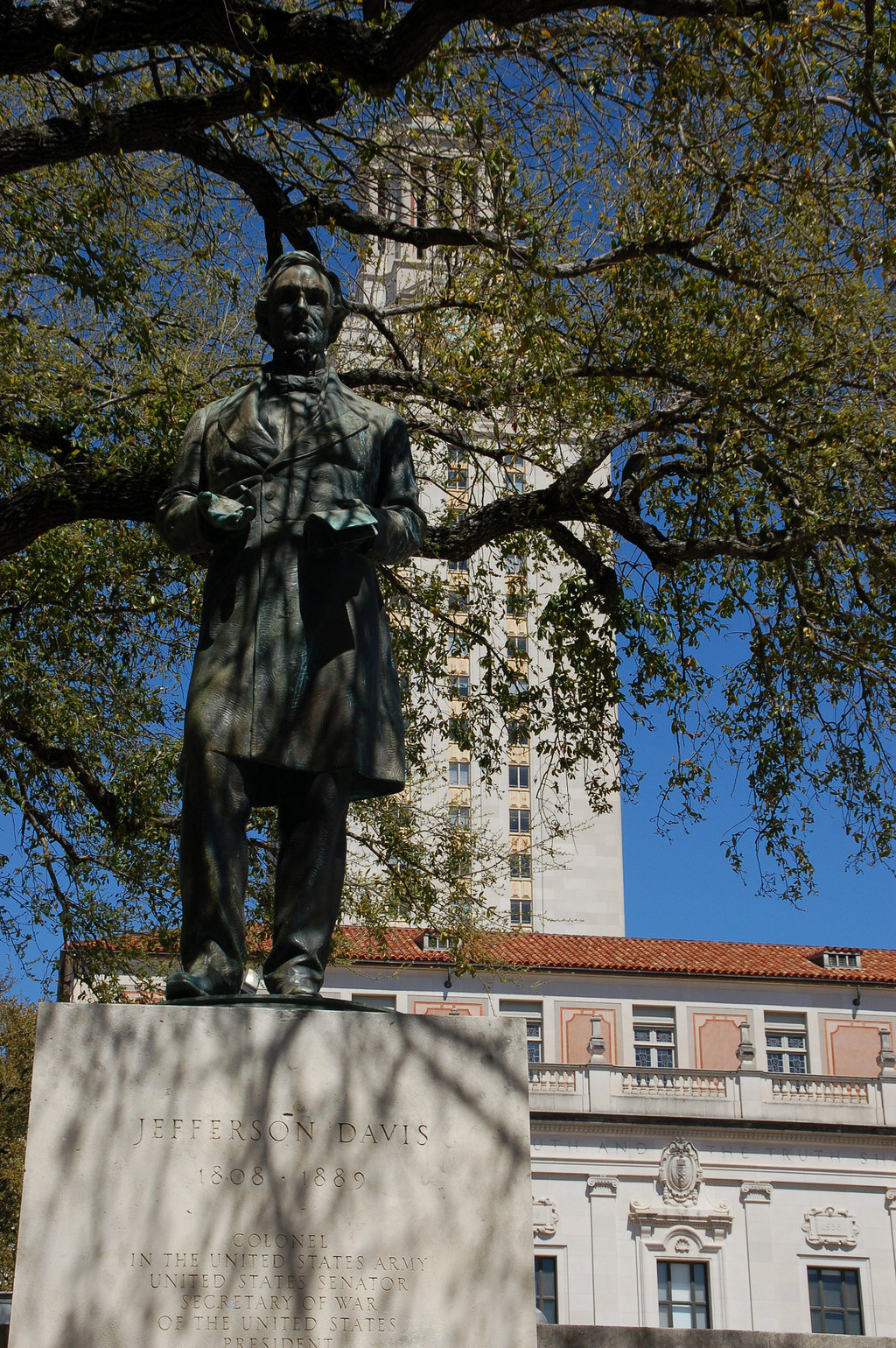 The UT student government has been working to have a prominent statue of Jefferson Davis, the president of the Confederacy during the Civil War, removed from campus, but the Charleston events have given their efforts momentum.
"The tragedy in South Carolina … sparked a lot of our students and alumni to think about the Confederate iconography on our campus," student body president Xavier Rotnofsky, 21, told BuzzFeed News. "People reached out on social media, by email, in letters. It really gave our push to remove the statue some momentum."
"Jefferson Davis stands for a most horrible part of our past and represents a movement based on white supremacy and racism, so we don't think it's appropriate for it to be on university public grounds," he said.
Rotnofsky, who was elected in March, said he had met with the university president to discuss the issue and was confident an outcome would be reached soon.
Three UT statues of Confederate figures, including the Jefferson Davis piece, were vandalized on Monday evening, with the words "Black Lives Matter" painted on the plinth.
5.
A Bust of Nathan Bedford Forrest in the Tennessee State Capitol
Lawmakers in Tennessee have been publicly objecting to statues of Confederate
Gen. Nathan Bedford Forrest, who served as the first Grand Wizard of the Ku Klux Klan.
One bust of Forrest sits in the Tennessee statehouse and there are now calls for its removal.
"Symbols of hate should not be promoted by government," U.S. Rep. Jim Cooper, a Republican, told the Tennessean. "South Carolina should remove the Confederate battle flag from its Capitol, and Tennessee should remove the bust of Forrest inside our Capitol."
BuzzFeed News has contacted the office of Tennessee Gov. Bill Haslam for comment, but he told a local station he does support the removal of the statue.
Meanwhile, Nashville Democratic mayoral candidate Megan Barry is proposing trees and shrubs be planted alongside a highway to block a large monument to Forrest that sits on private land.
"This is an offensive display of hatred that should not be a symbol for a progressive and welcoming city such as Nashville," Barry said in a statement.
"While we cannot remove this monument from private land, I had a good conversation with Governor Haslam and I look forward to working with him and with [the Tennessee Department of Transportation] to restore the trees and brush along the stretch of I-65. I am optimistic that we may be able to see action taken on this issue."
6.
A Confederate Naval Jack flag that hangs in The Citadel's Chapel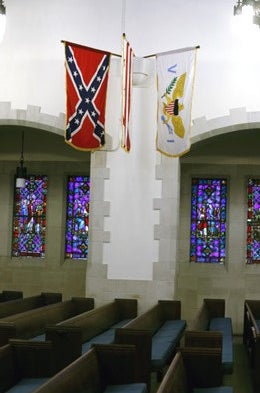 The Citadel, a state-supported military college in South Carolina, voted to remove the Confederate Naval Jack that hangs in the school's chapel.
The Board of Visitors voted on Tuesday 9-3 in favor of removing the flag from Summerall Chape and moving it to another location on campus, officials said in a statement.
The removal of the flag from the Citadel chapel is especially significant, as cadets from the school are considered by some to have fired the first shots of the Civil War. In 1861, cadets on Morris Island hit a steamship that was transporting supplies and Union troops. Cadets and faculty advisors continue to celebrate and even reenact the event at the military college, the Augusta Chronicle reported.
"The move will require an amendment to the Heritage Act by the South Carolina legislature," a statement from Citadel President Lt. Gen. John Rose said. "The board's motion authorizes the Chair of the Board of Visitors and the administration of the college to work with the legislature on the amendment. The Board of Visitors and I believe now is the right time to move the flag from a place of worship to an appropriate location."
The flag is covered by the Heritage Act, a 2000 law that was used as a reason for why it couldn't be removed from the chapel after a Charleston city council member complained, PBS reported.
"Moving the flag from Summerall Chapel and properly displaying it in an appropriate location honors those who did their duty by serving while respecting the opinion of those who view the flag as divisive," Lt. Gen. Michael Steele, chairman of the Board of Visitors, said in a statement.
It is not clear where the flag will be moved to once approval is gained from the South Carolina legislature, but Citadel's Vice President of Communications Brett Ashworth told BuzzFeed News that the campus museum would be a place where they "will look first." He added that the museum is currently under renovation and other options on campus would also be considered.
7.
State License Plates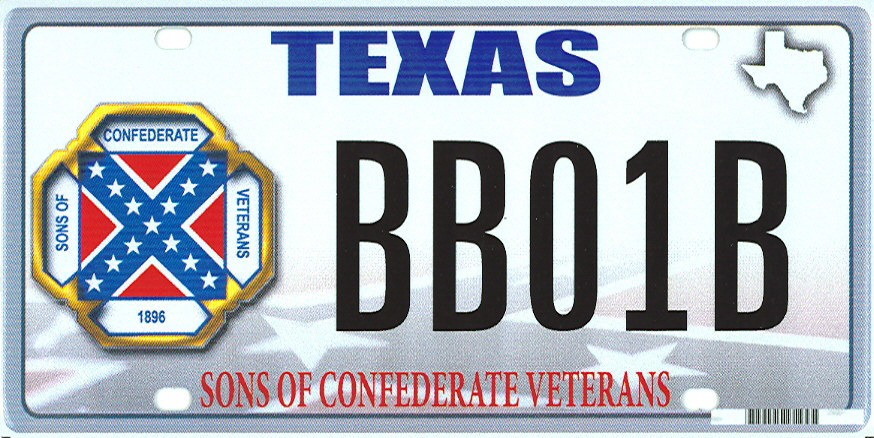 On Tuesday, Virginia Gov. Terry McAuliffe announced his administration would begin removing Confederate flags from speciality state-issued license plates.
It followed a recent decision from the Supreme Court that ruled Texas and other states can restrict certain designs on speciality vehicle license plates because the plates constitute the government's own speech.
Gov. McAuliffe said the enduring presence of the Confederate emblem was hindering efforts to make his state "more open and welcome to everyone."
"As Governor Haley said yesterday, her state can ill afford to let this symbol continue to divide the people of South Carolina," McAuliffe said. "I believe the same is true here in Virginia."
"Even [the Confederate flag's] display on state issued license tags is, in my view, unnecessarily divisive and hurtful to too many of our people," he said.
The mayor of Baltimore, Stephanie Rawlings-Blake, also announced Tuesday that she believed Maryland should stop issuing license plates with the Confederate flag, describing it on Twitter as "divisive and offensive."
A spokesperson for Maryland Gov. Larry Hogan told BuzzFeed News he backed the mayor's comments.
"Governor Hogan is against the use of the Confederate flag on Maryland license plates," Press Secretary Erin Montgomery said. "Our office is working with the Motor Vehicle Administration and the Attorney General to address this issue."
Tennessee Gov. Haslam said Monday he also supported the removal of the Confederate flag from speciality license plates in his state, the Times Free Press reported.
8.
Products Sold by Several Major Retailers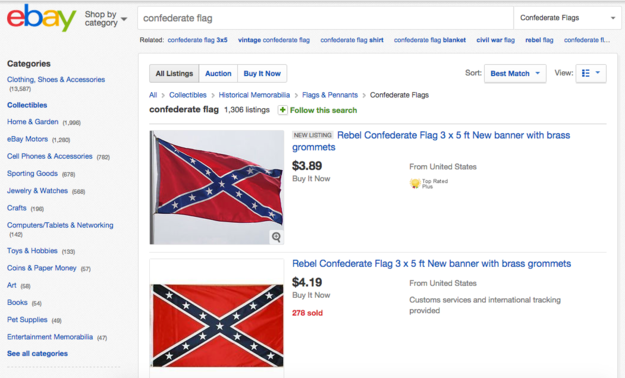 Walmart, eBay, Amazon, and Sears were among several major retailers to announce that they would no longer sell products featuring the Confederate flag.
"We never want to offend anyone with the products that we offer," a Walmart spokesperson told BuzzFeed News in a statement. "We have taken steps to remove all items promoting the Confederate flag from our assortment — whether in our stores or on our website."
Ebay said it had decided to prohibit the sale of Confederate flags because they had become a "contemporary symbol of divisiveness and racism," a company spokesperson told BuzzFeed News. "This decision is consistent with our long-standing policy that prohibits items that promote or glorify hatred, violence, and racial intolerance," the spokesperson said.
Online marketplace Etsy also announced it would no longer carry Confederate-themed products. "Etsy's policies prohibit items or listings that promote, support, or glorify hatred and these items fall squarely into that category," the company told BuzzFeed News.
9.
Confederate Flags at the Alabama State Capitol
Like South Carolina, Alabama has flown Confederate flags on public ground outside its Capitol building in Montgomery to commemorate the Civil War dead. On Wednesday, the flag was taken down, officials told BuzzFeed News.
In a statement to BuzzFeed News Alabama Gov. Robert J. Bentley's office said the governor ordered the flags removed from the Capitol this morning because "he does not want the flags to be a distraction from other state issues."
Democratic State Rep. Alvin Holmes told the Associated Press Tuesday that he planned to file a legislative resolution to have the flags removed, saying they're offensive and have no place at a public building.
In 1993, Holmes was part of a group of black lawmakers who filed a successful lawsuit against the then-governor to have the Confederate flag removed from the top of the Capitol building.
An online petition has also been created to "move Alabama forward" and remove the flags from the Capitol grounds.
The move is opposed by Republican Rep. Gary Palmer, who told a local radio station that calls to remove the flags in South Carolina were coming from "people that have an agenda seeking to exploit a tragedy."
Gov. Bentley reportedly told an AL.com reporter that he removed flag because it "had the potential to become a major distraction as we go forward."
"I have taxes to raise, we have work to do. And it was my decision that the flag needed to come down."
10.
Statue of Jefferson Davis in Kentucky's Capitol building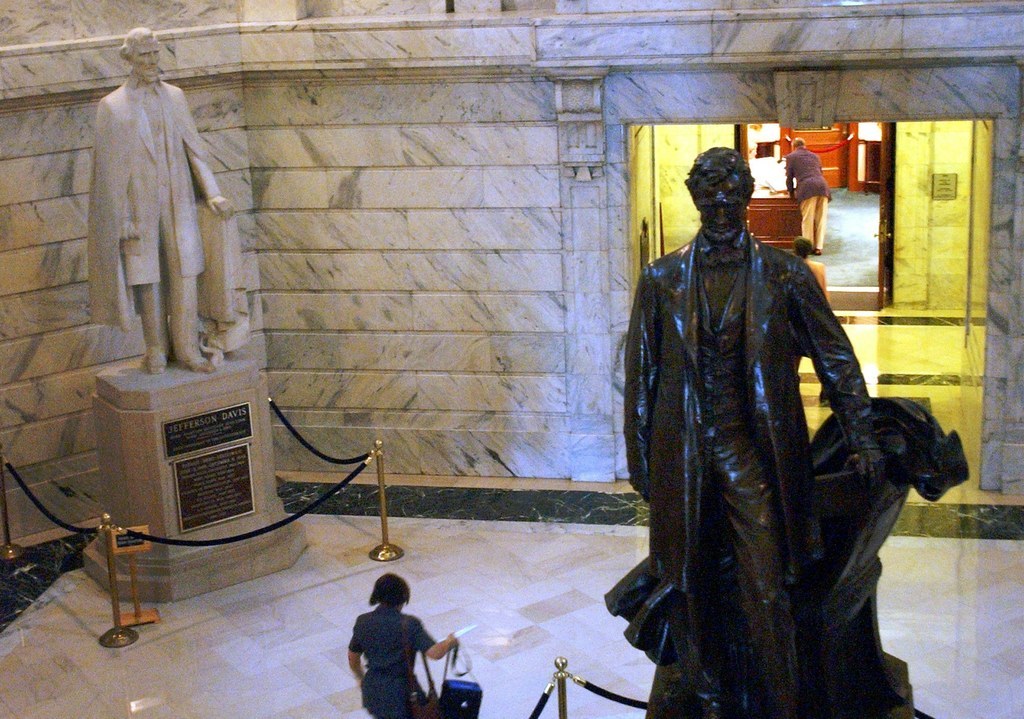 Kentucky Gov. Steve Beshear on Tuesday requested a review of all monuments at the state Capitol after the Republican candidate to succeed him called for the statue of Jefferson Davis to be removed.
Senate Majority Leader Mitch McConnell of Kentucky echoed Beshear, telling reporters that the Jefferson Davis statue, which has sat in the Capitol building's rotunda for more than 50 years, would likely be better placed elsewhere.
"I think it's appropriate, certainly in Kentucky, to be talking about the appropriateness of continuing to have Jefferson Davis' statue in a very prominent place in our state capital," he said, according to the Associated Press.
He went on to suggest moving the statue be moved to the Kentucky History Museum.
Beshear's call for a commission to review monuments on Capitol grounds "in context of Kentucky's history" came after Matt Bevin, the Republican nominee for governor, and state Senate president Robert Stivers said the Davis statue should be removed.
In a statement to BuzzFeed News, Beshear said that while "Davis' likeness hasn't been used in the same way as the Confederate flag, a broader discussion of the statue's position in the Capitol is due."
On Wednesday, U.S. Rep. Andy Barr, a Republican, called for the state to be moved:
I join my fellow Americans in mourning the tragic events last week in Charleston and the unspeakable massacre of nine innocent children of God. I continue to be inspired by the remarkable grace and Christian love and forgiveness shown by the family members of the victims, which is, ultimately, what is required of all of us to achieve the genuine reconciliation our nation clearly needs. Because I support any and all additional steps that might facilitate healing in our country, I concur in the judgment of state leaders who have called for the statue of Jefferson Davis to be relocated out of the state Capitol building to another location.
11.
Dukes Of Hazzard Merchandise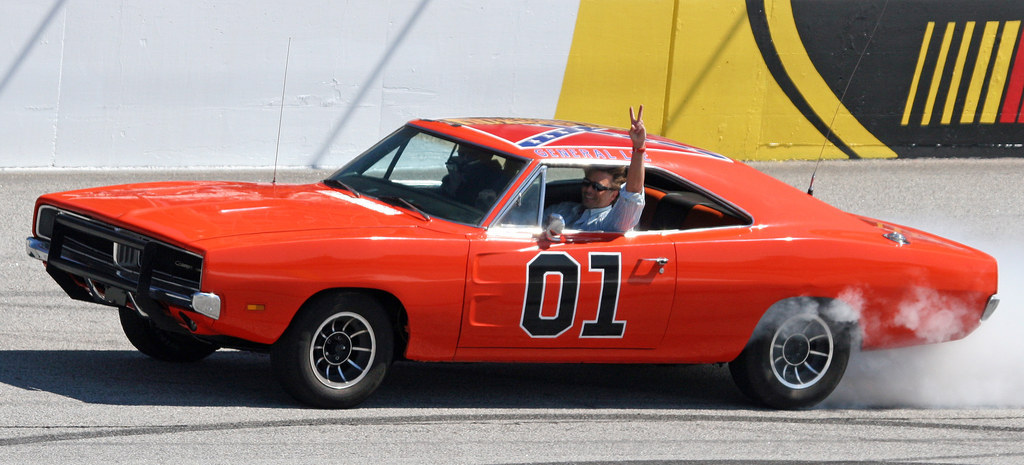 Warner Bros.' consumer licensing division told the website Vulture that it had decided to no longer allow the manufacturing of products from The Dukes of Hazzard TV show that feature the Confederate flag.
The Duke brothers' iconic General Lee car features the Confederate flag painted on its roof.
"Warner Bros. Consumer Products has one licensee producing die-cast replicas and vehicle model kits featuring the General Lee with the confederate flag on its roof — as it was seen in the TV series," a spokesman for the company told BuzzFeed News in a statement. "We have elected to cease the licensing of these product categories."
Other Hazzard products will still be available for sale without the Confederate symbol.
12.
General Lee Avenue In Brooklyn, New York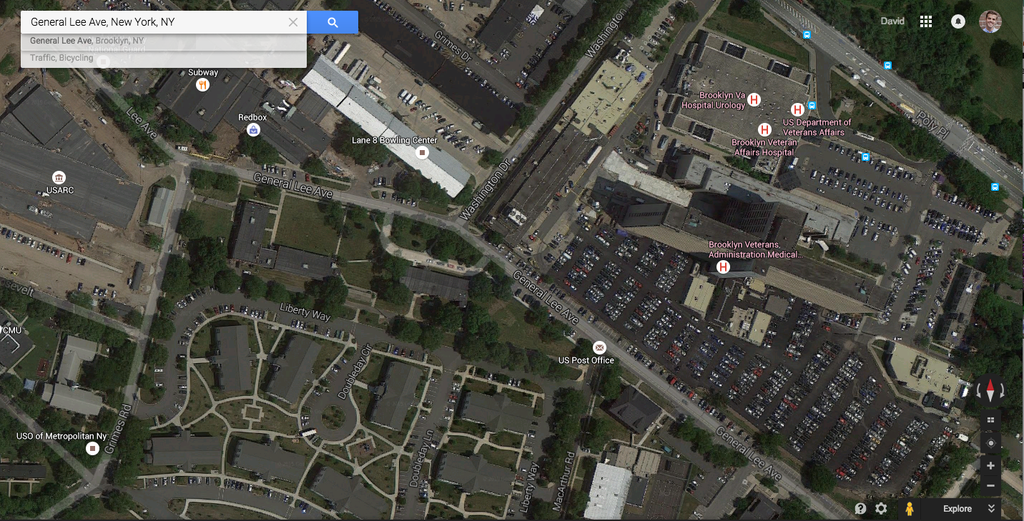 General Lee Avenue runs through the sole military base in New York City in the Fort Hamilton area of Brooklyn. Robert E. Lee briefly spent time at the base before abandoning the U.S. army and becoming a Confederate general.
"Why should a Brooklyn street be named after a Confederate General who fought to uphold slavery?" Congressman Hakeem Jeffries asked Wednesday on Twitter.
"Brooklyn is one of the most diverse counties in America, with sizable communities of color. There is no good reason for a street to be named after an individual who led the Confederate Army in the fight to keep slavery and racial subjugation alive in America," Jeffries told Business Insider. "It is my hope that we will do the right thing and find an appropriate local hero for whom the street can be renamed."
The base sits on federal land, a spokesman told Business Insider, which means local officials are powerless to change the name.
13.
Lee Circle Statue In New Orleans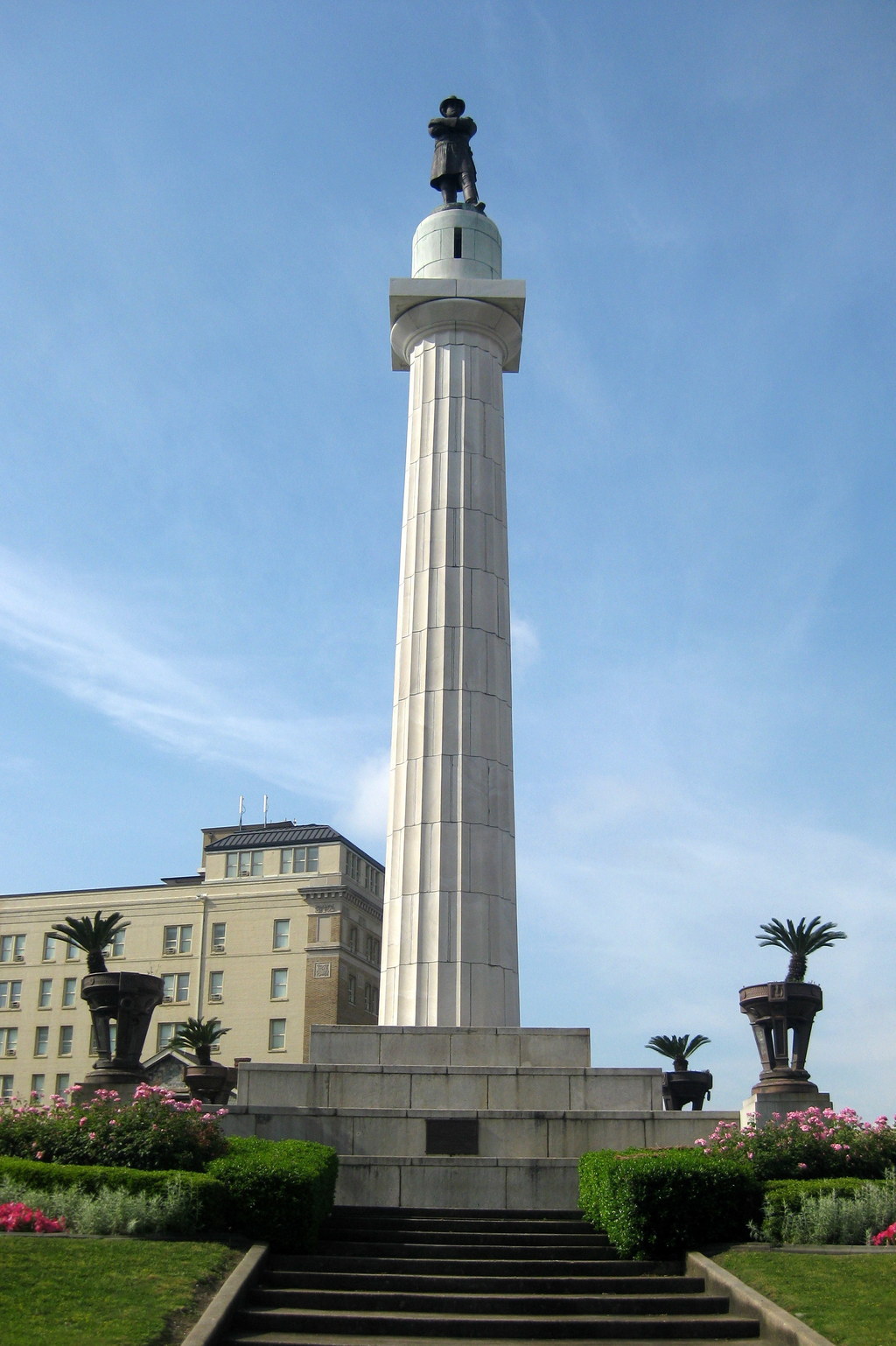 Lee Circle in New Orleans features a large bronze statue of Robert E. Lee that was placed atop a doric column in 1884. According to NOLA.com, the statue faces North so Lee "never turns his back on his enemies."
"Today is the day to start the discussion on replacing the Robert E. Lee Monument," New Orleans Mayor Mitch Landrieu said on Twitter on Wednesday. "Symbols matter -- [we] must ask if prominent city symbols reflect who we are today or if they ever really reflected who we were."
The mayor has tasked the 2018 Tricentennial Commission with addressing New Orelans' racial history as the city prepares for its 300th anniversary, NOLA.com reported. The commission's tasks also include examining monuments currently on public display.
"It is not something that unites us. It is not something to be celebrated," Shawn Anglim, the pastor at First Grace United Methodist Church, which sits near the statue, told WWLTV.com. "It is something that divides us."
14.
National Parks Service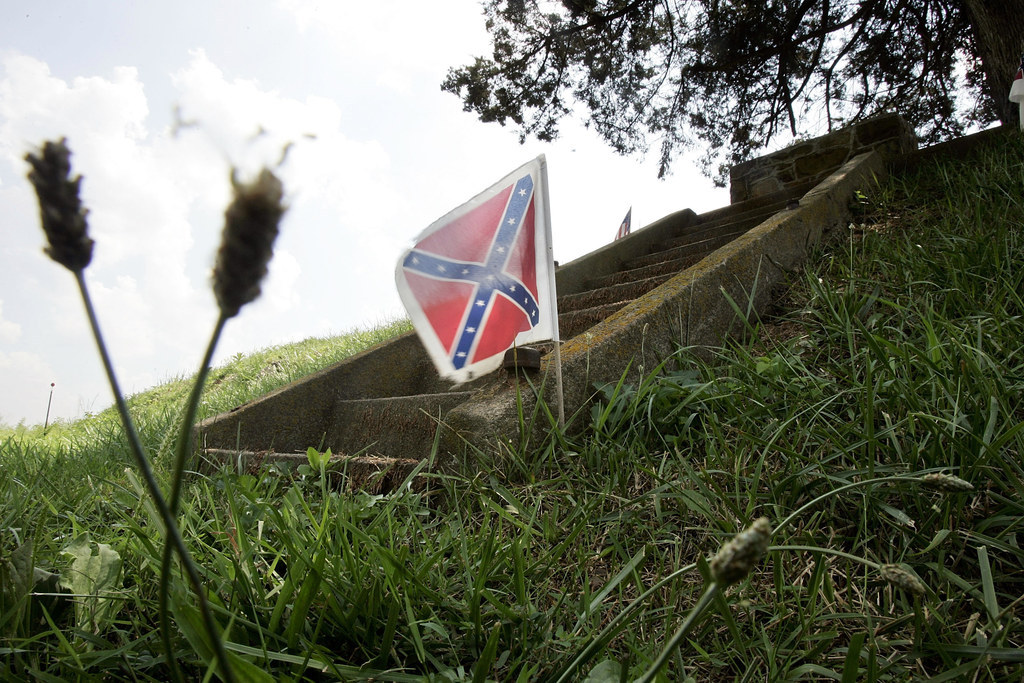 On Thursday the National Parks Service (NPS) pledged to remove Confederate flag items for sale in as many of their book stores and gift shops as possible.
"We strive to tell the complete story of America," National Park Service Director Jonathan B. Jarvis said in a press release on Thursday. "All sales items in parks are
evaluated based on educational value and their connection to the park. Any stand-alone depictions of Confederate flags have no place in park stores."
NPS spokesperson Kathy Kupper told BuzzFeed News they are encouraging shops to remove items such as individual flags, hats, or belt buckles portraying the flag, but that books and DVDs using the symbol within a historical context will not be affected. This applies to flags on battlefields where the Confederate army fought or in reenactments as well, she clarified.
"We are very firm about presenting our whole history, both the good and the not so pleasant," Kupper told BuzzFeed News. "We always try to give visitors all the information so they can make their own connections."
Jarvis has asked gift shops and book stores to pull "standalone Confederate flag items" from their stock, but the NPS does not in fact have the power to do so themselves. Most of the shops affiliated with one of America's 407 national parks, Kupper told BuzzFeed News, are not run by the NPS but by nonprofits and partner organizations.
Their largest cooperating association, Eastern National, began voluntarily removing Confederate flag items even before Jarvis made his request, but it is yet to be seen whether the other organizations will follow suit.
"All superintendents and program managers will personally evaluate which sales items fit this description, have educational value, and are appropriate for the site," Jarvis announced.
In the statement, the NPS confirmed that this request was entirely inspired by the events in Charleston last week and the ensuing discussion about "symbols and relics from our nation's past such as the Confederate Battle Flag."
Kupper told BuzzFeed News that the NPS had not considered the removal of the Confederate flag before last week.
15.
Civil War-themed games in Apple's App Store that feature images of the Confederate Flag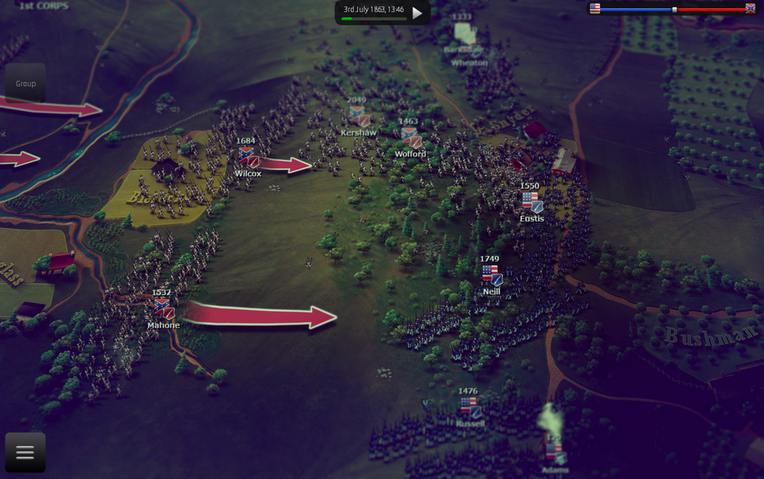 This post will be updated as more information becomes available.