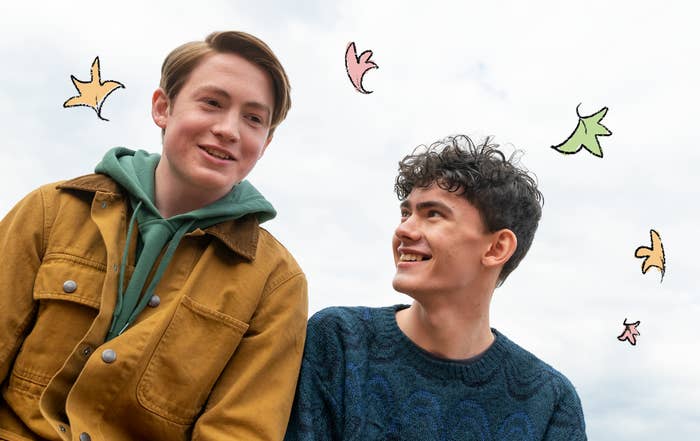 Two British teenage boys are running through an empty corridor. As their friends dance downstairs at a rich bully's 16th birthday, they escape to a room for some peace. Alone at last, and amid silence only punctuated by their quiet breaths, one begins to gingerly question the other.
"Would you go out with someone who wasn't a girl?"
"Would you kiss someone who wasn't a girl?"
"Would you kiss me?"
I don't think I've held my breath for as long as I did during this moment from new Netflix teen show Heartstopper since that confessional scene in the second season of Fleabag. In both shows, we watch two friends grow closer while nursing a forbidden attraction toward the other. The moment they're finally alone and honest with each other about their feelings — then finally act on them — is fraught yet also cathartic.
Heartstopper debuted last week and became an instant hit. Almost immediately, it launched into the streaming giant's top 10 most-watched shows. The teen rom-com was also the most-tweeted-about show over the weekend, according to Variety, and has exploded in popularity on TikTok. It boasts an astonishing 100% Fresh rating from critics on review aggregator Rotten Tomatoes, where it was described as "an inclusive romance told with striking sensitivity" and "so effortlessly charming that viewers won't dare skip a beat."

The show is almost impossibly cute. Based on a webcomic turned graphic novel by Alice Oseman, who also wrote the series, it centers on Charlie (Joe Locke), a sweet young teen who was outed the previous year but is now finding his way as the only openly gay kid at an English all-boys high school. He's friends with Tao (William Gao) and the introverted Isaac (Tobie Donovan), though they all miss their friend Elle (Yasmin Finney), who moved to the local girls' school after coming out as transgender. Soon, Charlie falls for Nick (Kit Connor), an older and sportier boy, who seems like everything Charlie isn't, but may have more in common with him than they first realize. (If this all doesn't sound queer enough, Oscar-winning gay icon Olivia Colman shows up in a small, secret cameo as Nick's mother, which made me think I was having a gay fever dream.)
There's been a fair bit of pop culture following young queer characters lately, and coming out stories aren't as rare as they once were. But what makes Heartstopper feel unique is its unabashed sentimentality. It delights in building the friendship between Charlie and Nick, then seemingly envelops them in a protective cocoon as they start to feel something more than friendship. The show is less interested in its characters feeling gay feelings for one another than it is in them feeling feelings at all.
These kids are about 15; they're still getting picked up by their parents from parties at night, but they're starting to form relationships based on genuine love for one another. In a delightful nod to Heartstopper's illustrated roots, animated flashes and flowers seem to dance between characters as they feel sudden flutters of the heart or see them reciprocated in someone else for the very first time. (Heartstopper's cast are also actual teenagers, instead of actors in their 20s pretending to be high schoolers, which only underscores the characters' earnest naivete.)
Each actor is perfectly cast, but Connor (who appeared in 2019's Rocketman and voices Pantalaimon in HBO's His Dark Materials) is particularly strong as Nick, the popular rugby player grappling with his burgeoning bisexuality. He can deliver both charm and anguish, sometimes simultaneously; when he receives an Instagram DM from Charlie, his shy smiles are tinged with both excitement and melancholic confusion. Nick walks through the hallways with an easy confidence but also a gentility that makes him a more-than-believable crush object for the susceptible Charlie. The character is described in the show as resembling a golden retriever, but Connor really looks like a combination of Princes William and Harry when they were young. Even on the rugby field, he sports immaculately blow-dried auburn hair that is somehow always lit with a glow, as if to emphasize the dreamy way Charlie sees him.
When, at the end of the second episode, Nick is zooming in on a photo of Charlie, he smiles and tenderly strokes his phone with his thumb. He then looks up, suddenly painfully aware of his newfound crush and all its complications. So, like any teen with internet access, he turns to Google. He can barely bring himself to type the words "Am I gay?" into the search engine, but then, as the eponymous questions in the song "Why Am I Like This?" by Orla Gartland ring out, he musters the courage to complete the search. The screen cuts to black, the credits roll, and I am in a puddle of tears on the floor.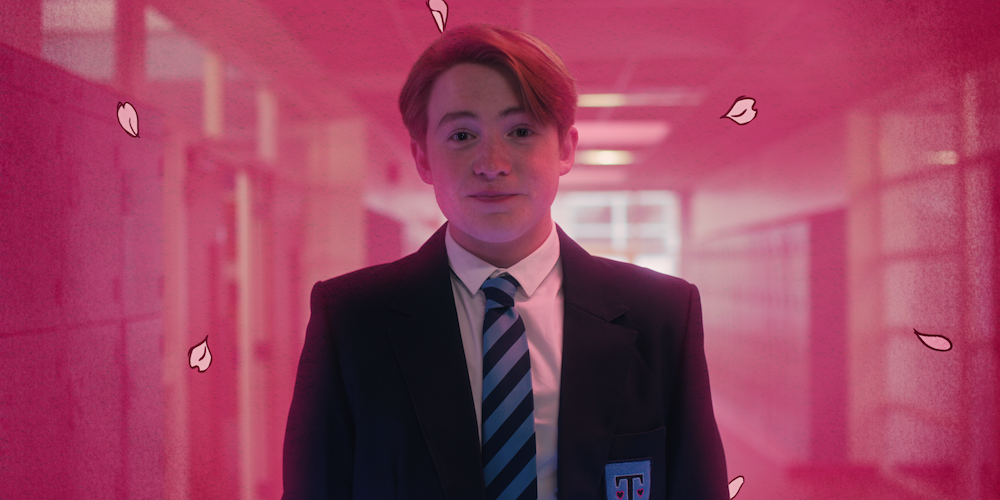 I went to a school in Australia not unlike Heartstopper's Truham Grammar School, rife with rugby and repression. Like Charlie, I swooned over athletic and confident boys who showed me the faintest kindness. Like Nick, I dared not ever speak about it. I'm not sure there had ever been a boy brave enough to fully come out before I graduated in 2005. I'd be surprised if there have been any since.
But I do vividly recall one friend confiding in me (probably via MSN Messenger, the era's preferred method of communication) that he had a crush on one of our other friends. Many of us closeted students had naturally gravitated toward one another, but we didn't dare talk about our sexuality. That was, at least, until he went first. I listened and offered him support, but I'll regret for the rest of my life that I didn't then seize the chance to confide in him, too — that I couldn't summon up the courage he'd shown me.
Times have certainly progressed, but that doesn't make coming out easy. Throughout the show, multiple kids share their admiration with those who had the courage to come out first. "That was really brave," Charlie's first, very closeted romantic interest Ben (Sebastian Croft) tells him in a flashback of their first meeting. "You're brave for putting up with all the negativity."
Despite his bravery, Nick only tries to be alone romantically with Charlie after he watches in quiet awe as Tara (Corinna Brown) and Darcy (Kizzy Edgell), two friends of Elle's at her new school, kiss and dance ebulliently to CHVRCHES's soaring "Clearest Blue" in a moment of unabashed queer joy that is quite literally rainbow-colored. Later, the girls are the very first people he tells about Charlie. But as Tara tells him, there are consequences to going first. "Being out is hard," she tells him. "A lot of people will see you in a different way, and it is a lot to deal with."
Even Tara and Darcy have different experiences of being out. "It's different for me. You came out years ago," Tara tells her girlfriend. "I'm not loud and confident about being a lesbian. I could barely say the word lesbian when we started going out… You're so confident about your sexuality and I still feel like I know nothing."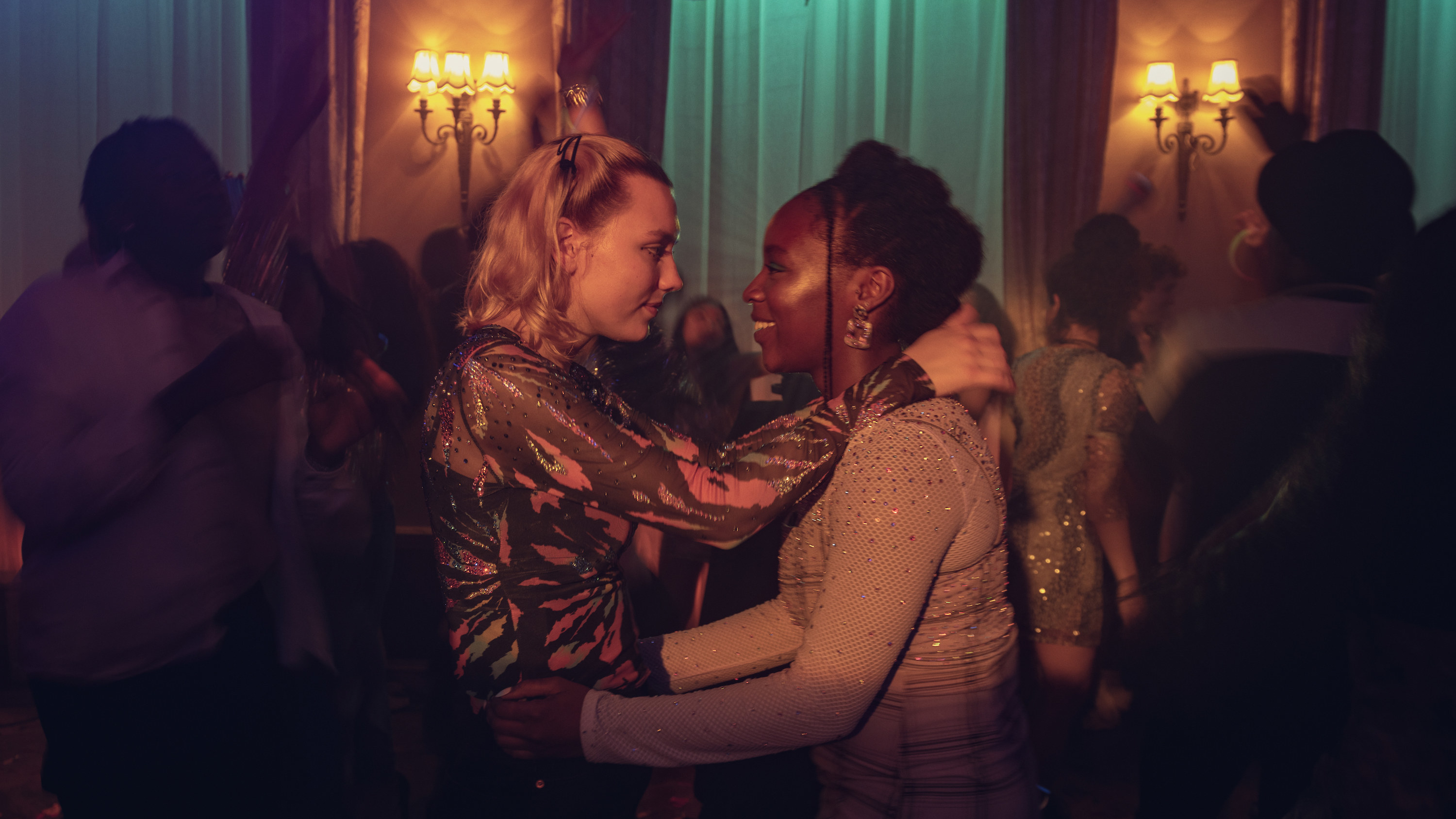 Heartstopper is refreshingly honest about the toll being first takes on people. Both Tara and Charlie suffer at the hands of bullies, even if the aggressors seem to wince at being called homophobic. Progress is slow and painful and comes at a price. But it's also volatile and constantly under threat.
The show has arrived on Netflix at a time when, like its characters, LGBTQ people and even books are under attack in schools. The speed and ferocity with which many right-wing politicians have sought to undermine queer progress by, for example, preventing trans kids from getting medical care and banning mentions of LGBTQ people in classrooms, most notably through a political strategy that has focused on children, has galvanized activists and organizers to counter these cruel and harmful policies. But it's left others — like me — stunned. I had hoped we were past coded language about "groomers" and misplaced fears that showcasing queer people in pop culture would turn straight kids gay. This latest moral panic feels so tired, and yet I'm shocked at its spread.
Against such an urgent landscape, this twee and even slightly formulaic little love story feels almost radical. Its success (there's already speculation about a second season) also serves as an act of defiance against those who would rather we go back into hiding.
"When I was at school, I thought that hiding from it all was safer, easier," Charlie's art teacher and gay adult role model Mr. Ajayi (Fisayo Akinade) tells him. "But sometimes the loneliness was just as bad. Don't let anyone make you disappear, Charlie."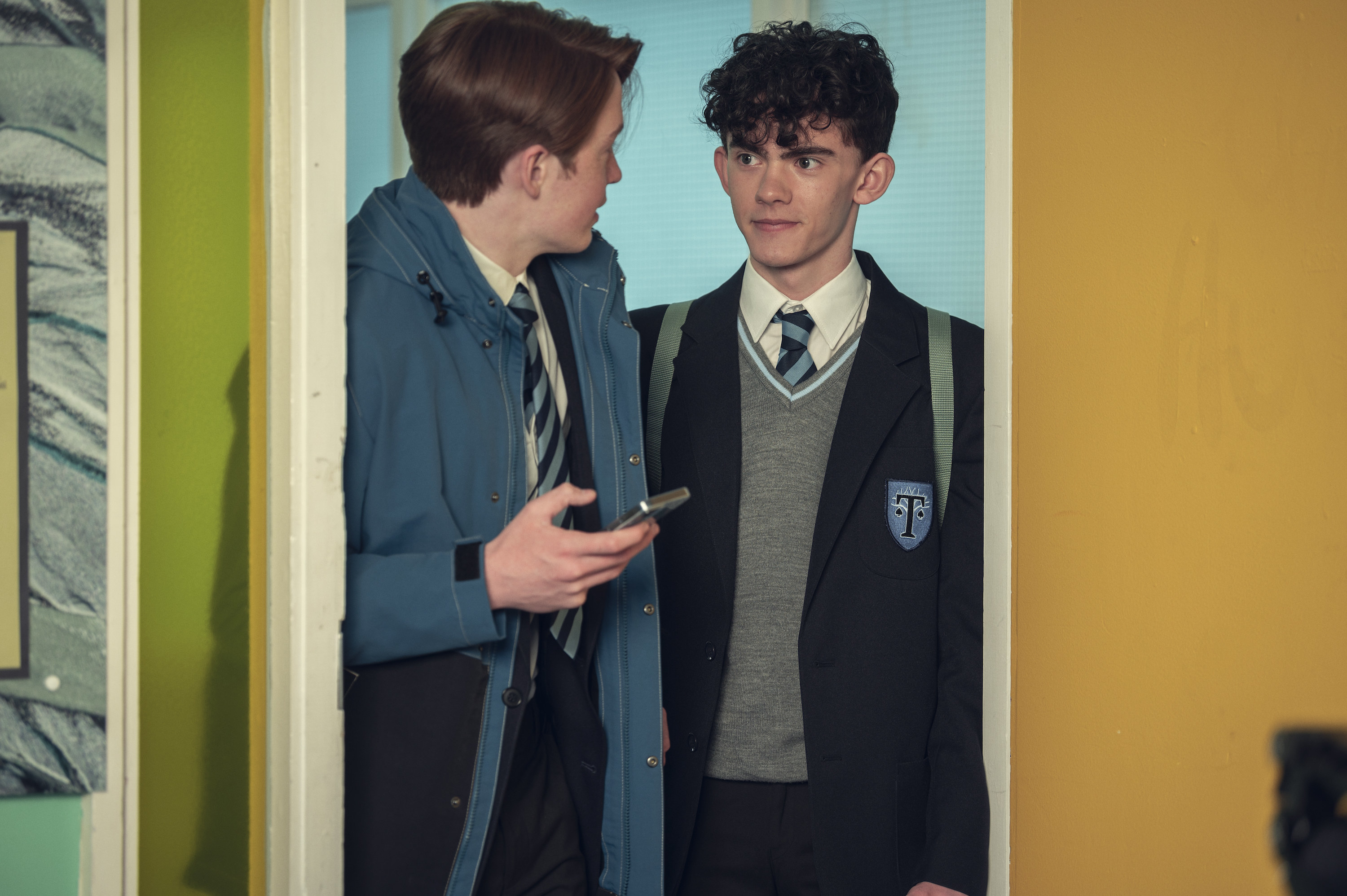 Heartstopper isn't perfect. At times, it feels saccharine and stilted, and some of the side characters are seriously underdeveloped (including a criminal underuse of Colman). Also, for a show about sexuality, there is also not a single reference to anything sexual — even sexual thoughts! — as if its creators feared film ratings systems or, worse, the judgment of straight audiences.
Still, the people who do need it will find it, and it'll hopefully make them feel less alone.
The rights of LGBTQ teens to be who they are, to love who they want, and to discover it all without fear are somehow once again the subject of national debate. Heartstopper zeroes in on something that shouldn't be political, something delicate and natural and true: love.
The series is part of a tradition of shows, books, and movies about LGBTQ teens that have built on what came before them, exploring difficult, important, but sometimes joyful subject matter. These works are often made by people who wished they had something like that when they were in school — people still determined, in spite of conservative censure, to leave the world more enlightened than when they'd first found it.
As Nick tells Charlie in one of their tender moments, "I wish I'd met you when I was younger. I wish I'd known then what I know now." ●