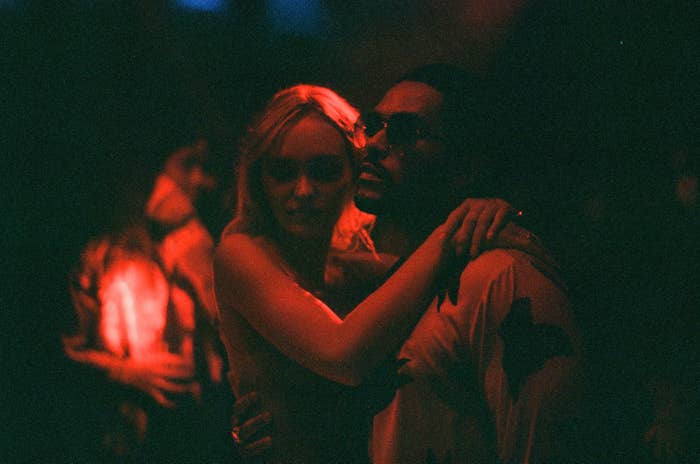 On Monday, HBO dropped the first teaser trailer for The Idol, its controversial upcoming series from The Weeknd and Euphoria creator Sam Levinson.
The show, which will debut on June 4, follows pop star Jocelyn (Lily-Rose Depp) as she falls under the spell of nightclub owner Tedros, who is played by The Weeknd.
In the teaser, set to a remix of Britney Spears's "Gimme More," we see the pair meet and those around Jocelyn become concerned that Tedros has "brainwashed" her.
The erotic drama series, which is also co-created by Reza Fahim, costars Troye Sivan, Dan Levy, Da'Vine Joy Randolph, Rachel Sennott, Eli Roth, Hari Nef, Hank Azaria, Moses Sumney, Ramsey, Mike Dean, Suzanna Son, and Jennie Ruby Jane from Blackpink.
Last month, Rolling Stone reported that production on The Idol had devolved into a "shitshow" after a tumultuous creative process, including script rewrites and reshoots.
One source on the show told Rolling Stone the show "went from satire to the thing it was satirizing," while another described Levinson's vision for the series as "like any rape fantasy that any toxic man would have in the show — and then the woman comes back for more because it makes her music better."
In a creative overhaul last year, Levinson took over from director Amy Seimetz and began reshooting from scratch when she had already filmed about 80% of the series. Deadline reported at the time that The Weeknd felt the show was leaning too much into a "female perspective."
According to Rolling Stone, the show was changed to be less about a troubled star fighting to reclaim her agency after falling for a predator into more of a "degrading love story." The script was reportedly reworked to include several "disturbing sexual and physically violent scenes" that one source said were "like sexual torture porn."
But HBO defended the series, telling BuzzFeed News that it would be one of their "most exciting and provocative original programs."
"The initial approach on the show and production of the early episodes, unfortunately, did not meet HBO standards so we chose to make a change," an HBO spokesperson said.
The Weeknd hit back at Rolling Stone after it published its story, while Depp defended Levinson as "the best director" she had ever worked with.
"Never have I felt more supported or respected in a creative space, my input and opinions more valued," she said.