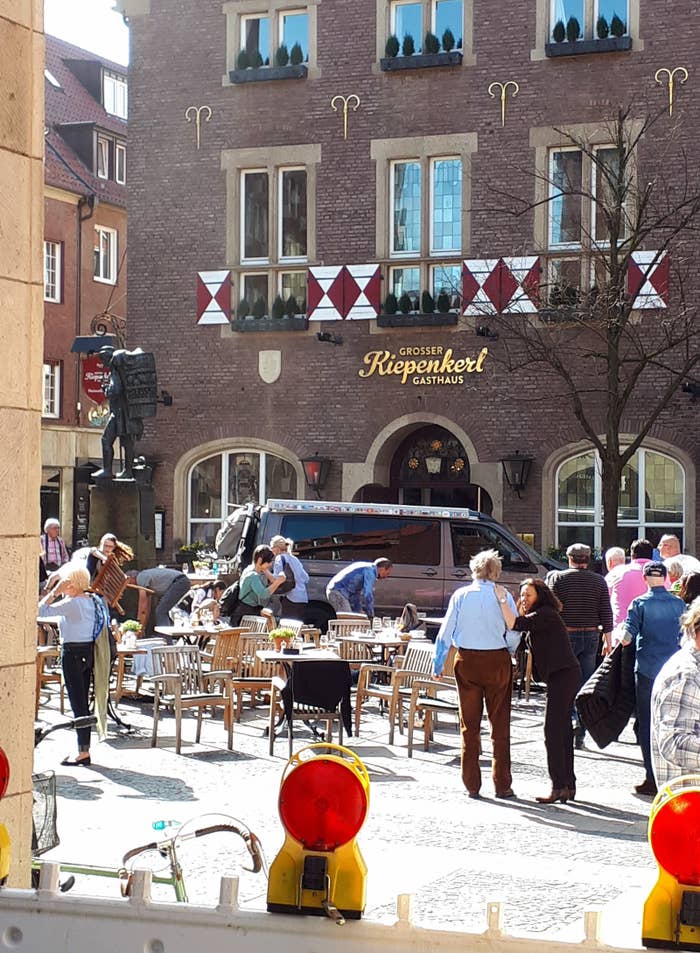 Two people died on Saturday when a vehicle rammed into a crowd of people dining outdoors at a restaurant in the western German city of Muenster.
The driver, a 48-year-old local man who had been investigated after expressing suicidal thoughts, fatally shot himself at the scene.
Local newspaper Westfälische Nachrichten reported the vehicle drove at a high speed into a crowd enjoying warm weather in the city's old town.
In a photo from the scene shared on Twitter, the restaurant's outdoor seating appeared scattered and smashed by a vehicle.
A police statement confirmed that two people died — a 51-year-old woman and a 65-year-old man, who were both German — while 20 people were injured, some seriously.
The driver, a 48-year-old local man, shot and killed himself at the scene, police said.
Herbert Reul, the interior minister of the North Rhine-Westphalia state, said the offender was a German man with no Islamist background.
On Sunday morning, local police confirmed that the suspected driver, who has not yet been named, had no accomplices and was acting alone.
Police said they found the gun the suspect used to shoot himself in the van, along with a dozen explosive fireworks and an alarm gun, which can fire blanks or tear gas cartridges.
Police also searched one of the suspect's apartments and found more of the fireworks and a "deco" weapon — an "unusable" AK-47 machine gun. They also discovered several gas cylinders and canisters of bioethanol and gasoline but said they are still investigating why he had these. Other apartments he owned in Dresden and Pirna were also searched.
As of Sunday, they had not confirmed a motive in the attack. "So far, there are still no indications of a political motivation of the perpetrator," said Police Commissioner Hajo Kuhlisch.
The man was previously known to police, having been investigated for threats, property damage, fraud, and a hit-and-run between 2014 and 2016. These charges were all eventually dismissed.
At the end of March, one of the man's neighbors contacted police after receiving an email that "revealed vague hints to suicidal thoughts, but no clues to the endangerment of others," police said. Officers went to his apartments but could not locate the man until Saturday's attack.
"Our research is focused on getting as complete a picture as possible of the offender's behavior in the previous weeks in order to determine his motivation for the terrible crime," Kuhlisch said. "But that takes time. We have to take this time to clear up as completely as possible. "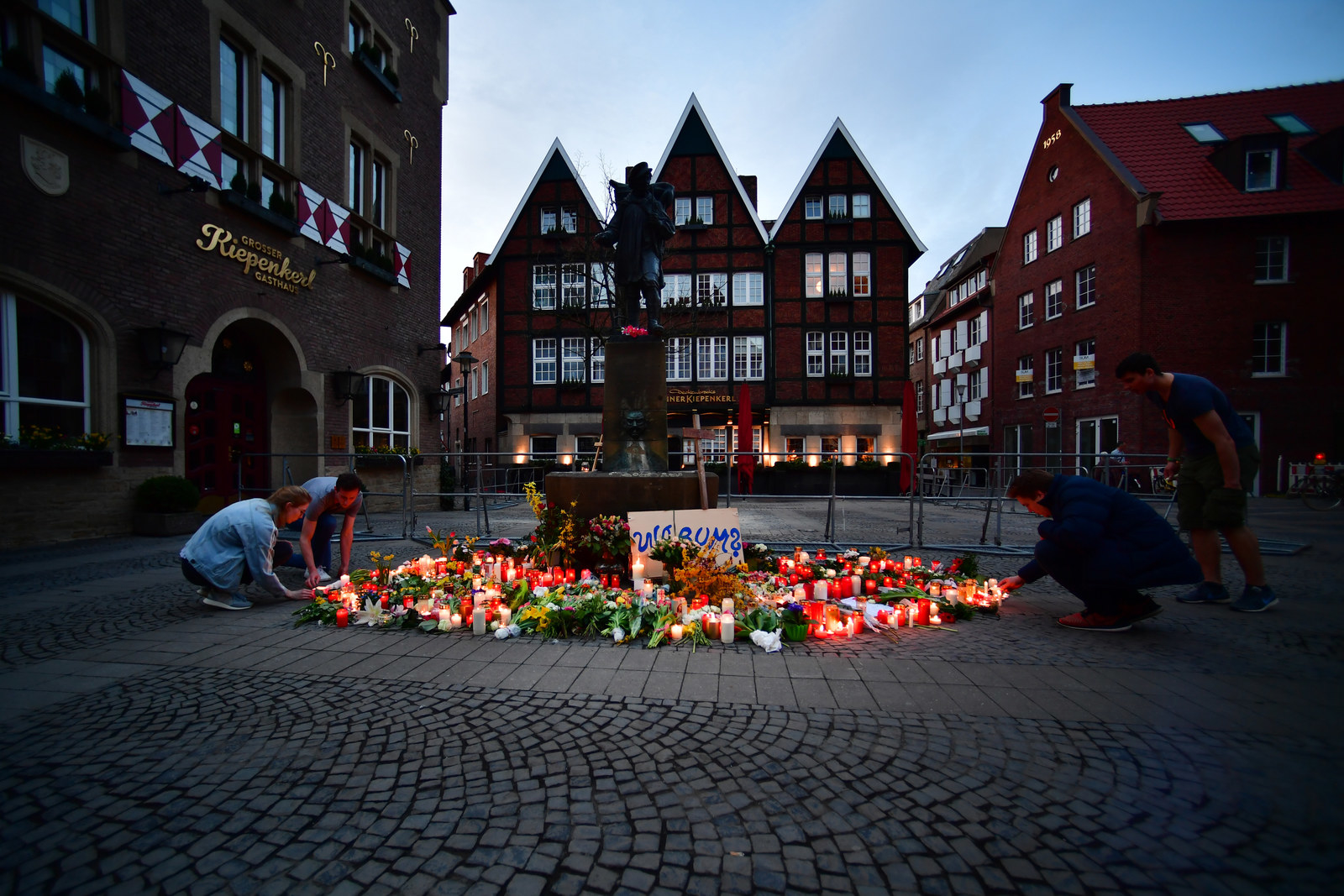 "All of Münster is appalled by the human-despising violence that has struck our city out of the blue," said Markus Lewe, mayor of Muenster.
German Chancellor Angela Merkel said in a statement that she was "deeply shocked by the terrible events in Muenster."
"Everything conceivable is being done to investigate the crime and to support the victims and their relatives," she said, adding that she was in "constant contact" with local officials and Germany's Interior Minister.
The Interior Minister, Horst Seehofer, said he was dismayed at the incident, and that federal authorities were working with local police.
"A sad, a terrible day for our country!" tweeted Armin Laschet, the prime minister of North Rhine-Westphalia, where Muenster is located.
On Sunday morning local officials gathered to commemorate the victims at the site as the investigation continued.
The owners of the Kiepenkerl bar — the storied Muenster pub whose outside tables were plowed into by the van attack Saturday — also expressed their shock and condolences.
The day "began so beautiful, sunny and cheerful — and suddenly became black and horrible," they wrote in a Facebook post. "Our thoughts are with the dead, injured and their families. We wish we were able to console them."
They added that no employees were injured in the crash.
This isn't the first time a vehicle has been driven into a crowd in Germany.
In December 2016, a truck intentionally crashed into a Christmas market in Berlin, killing 12 and injuring 48 others.
The attacker, who had posted a video pledging allegiance to ISIS, was later killed in a shootout with police.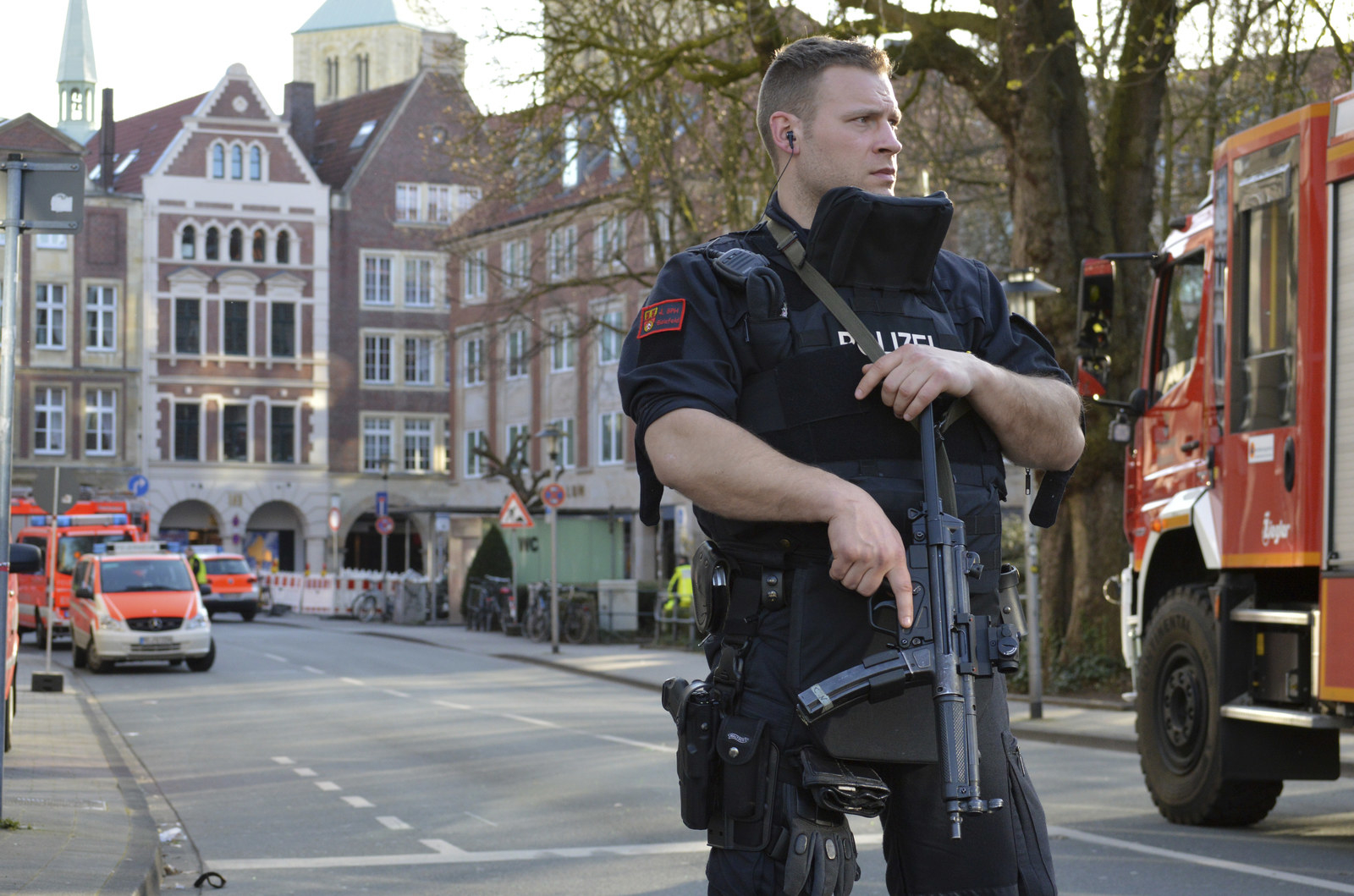 In a statement Saturday night, the White House said that President Donald Trump had been briefed on the incident and offered condolences to the victims.
"While the German authorities have not yet announced a motive for this cowardly attack on innocent people, we condemn it regardless, and pledge any support from the United States Government that Germany may need," the statement said.