Authorities in Savannah, Georgia, have their eyes out for whoever put, well, a pair of eyes on a historic statue in the city's downtown.
"Who did this?!" asked the city's official Facebook page after someone affixed the googly eyes on the monument to Revolutionary War commander Nathanael Greene, which stands in the city's Johnson Square.
"It may look funny but harming our historic monuments and public property is no laughing matter," the city wrote. "In fact, it's a crime."

City officials urged anyone with information to contact local police. "We are hoping to find the person responsible!" they wrote.
Police public information coordinator Bianca Johnson told BuzzFeed News that a member of the local media contacted authorities after seeing images of the made-over monument on social media.
"Everybody's calling them googly eyes," she said of the objects stuck to the statue. "I don't know what to call them. They're little craft store eyes."
"They didn't do any damage," she said.
She said authorities took a police report for trespass — as the vandal would've had to climb over a railing.
"It is a trespassing," she said. "It is technically a crime, so we are going to be looking at the [surveillance] cameras and seeing what comes of it."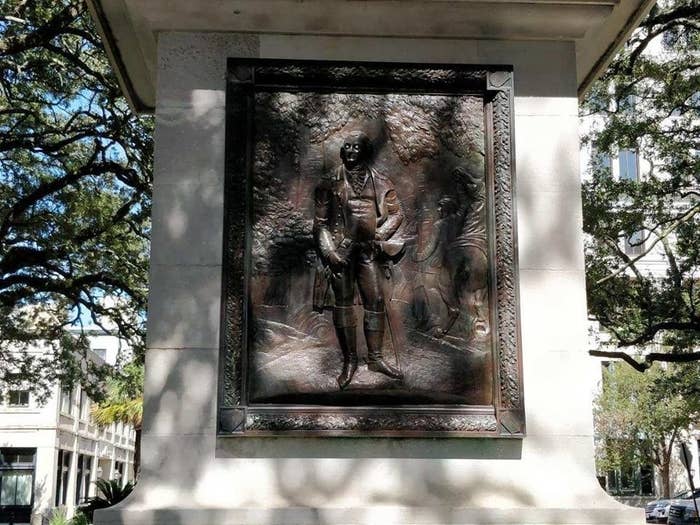 The city's post went viral on Facebook after being posted on Thursday, with many people mocking officials for investigating what they said was a minor crime.
"I always wanted to visit Savannah, but now that I see how unsafe it is, no thanks," one user wrote sarcastically. "I'll consider it once they catch this psychopath. Is the FBI involved yet?"
"Turns out that I'm nowhere near white enough to be outraged by this," added another.
Johnson, though, defended the police investigation to BuzzFeed News.

"If we didn't do anything this thing could get out of hand," she said, noting the city had many historic statues. "We want people to understand we don't want to see this kind of thing happening."
"They need to know they can't go around doing whatever they want to our statues."