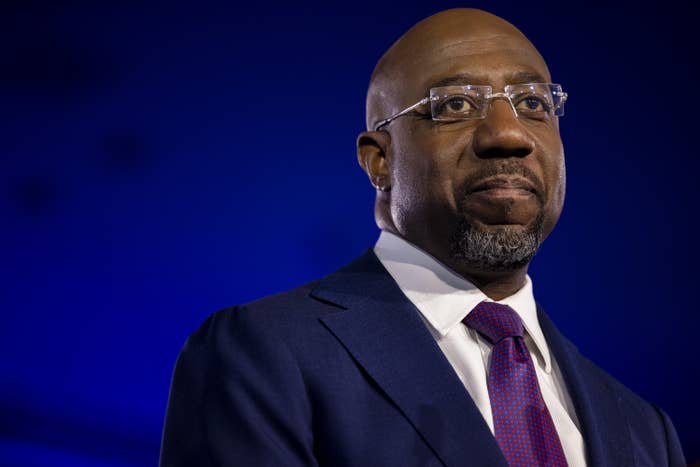 Sen. Raphael Warnock has once again kept Georgia blue in a special runoff Senate election.
The Democrat defeated Republican former football star Herschel Walker in Tuesday's runoff, giving Warnock a full six-year term following the other runoff election he won just last year. The 2021 election made Warnock the first Black senator elected to represent Georgia, and now, he's the first to do so for a full term.
With 98% of results reported, Warnock had 51.31% of the vote to Walker's 48.69%. Decision Desk HQ called the race for Warnock at 9:48 p.m. ET.
"After a hard-fought campaign — or, should I say, campaigns — it is my honor to utter the four most powerful words ever spoken in a democracy: The people have spoken," Warnock told supporters at his Atlanta victory party.
His win ensures Democrats will have 51 seats in the next Senate, maintaining control of that chamber despite the House of Representatives narrowly flipping to Republicans. The victory further underscores the surprising strength of Democrats' performance in the midterm elections, which are typically punishing for the party in the White House.
It also adds fuel to criticisms of former president Donald Trump, who had endorsed Walker and whose picks for candidates in key races across the country largely flopped.
Tuesday's runoff was necessary because under Georgia law, neither candidate managed to achieve over 50% of the vote in the midterm. When the ballots were counted, Warnock had about 49.44% of the vote to Walker's 48.49%. With more than 3.9 million ballots cast, less than 40,000 votes separated the pair in November.
But this runoff was not like the last one.
In January 2021, Warnock's defeat of Republican Kelly Loeffler helped ensure the Senate would be narrowly controlled by Democrats in the first two years of the Biden administration.
But following a historically strong showing in the midterms by Biden's party that turned a much-hyped Republican "red wave" into more of a ripple, Democrats managed to keep control of the Senate thanks to wins in Pennsylvania, Arizona, and Nevada.
Still, retaining Warnock's seat remained important to give Democrats some room to breathe in the Senate and also to increase their odds of holding onto the chamber in 2024.
There were signs of some GOP strength during the midterms in Georgia, where voters comfortably reelected Republican Brian Kemp as governor, dashing Democratic candidate Stacey Abrams's hopes once again following her loss to Kemp in 2018.
But despite both being Republicans, Kemp and Walker were not exactly peas in a pod. While Trump had endorsed Walker as part of his MAGA movement, the former president had previously directed his ire at Kemp for refusing to pressure Georgia Secretary of State Brad Raffensperger to overturn President Joe Biden's win in 2020.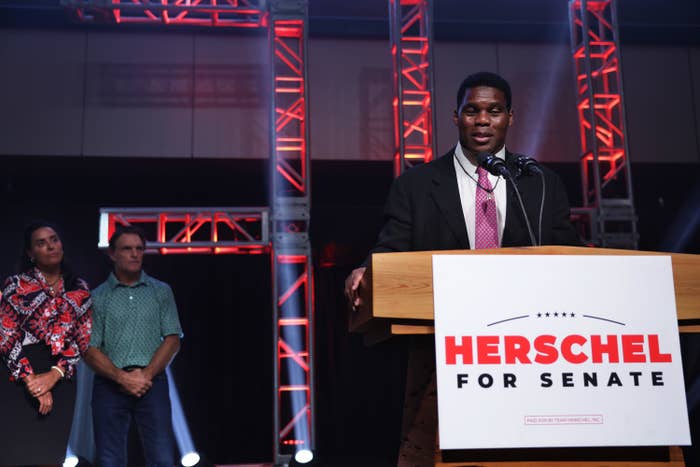 Kemp campaigned with Walker during the runoff after they avoided each other during the midterms, with Republicans hoping moderate conservative voters who had backed the governor might now throw their support to Walker too. Democrats, meanwhile, hoped these voters would either cross party lines to support Warnock or sit the election out entirely.
Ahead of Tuesday's Election Day, there had been a tremendous and record-breaking turnout among early voters in the state. Democrats won a lawsuit to allow early voting on Saturday, Nov. 27, against Republican objections. The day followed a state holiday that historically had celebrated Confederate general Robert E. Lee.
Following his slim lead in the November election, Warnock had remained a slight favorite to win the runoff, with experts predicting that Black, educated, and suburban voters would be turned off by Walker's many controversies as a candidate.
The final stretch of Walker's campaign had also worried some Republican allies, with the candidate choosing to take five days off for Thanksgiving despite the close race and Warnock's serious fundraising advantage. Revelations also emerged that the football star had claimed Texas — not Georgia — as his residence for tax purposes, leading to renewed accusations of carpetbagging.
Walker, who had a habit of delivering unintelligible answers on everything from gun violence to the economy to healthcare, had been plagued by accusations of domestic violence by his ex-wife, as well as another former girlfriend who came forward last week.
The Daily Beast reported in June that Walker, a critic of fatherless Black homes, had a second son whom he had not publicly acknowledged and whose mother had sued the candidate for child support. Walker was subsequently forced to admit that in addition to his son Christian Walker, a conservative social media influencer, he had three other children.
The Walker campaign was rattled again months later by reporting from the Daily Beast in which a woman said he impregnated her in 2009 and then paid for her abortion — claims he continued to deny despite revelations that the woman was the mother of one of his children.
Weeks later, a second woman said she was so disgusted by Walker's denials that she felt compelled to reveal that she too had had an abortion at his urging when they were in a relationship in the 1990s. Again, Walker — who campaigned as an anti-abortion evangelical who wanted a total ban on the procedure with no exceptions for rape, incest, or the health of the pregnant person — denied the woman's claims.
Prioritizing victory at all costs, top Republicans and Christian leaders opted not to abandon Walker over the abortion scandals. "I don't care if Herschel Walker paid to abort endangered baby eagles," said Dana Loesch, a former spokesperson for the National Rifle Association. "I want control of the Senate."
But the abortion claims and denials evidently caused outrage among some of those close to Walker, as son Christian used his large social media following to publicly turn on his father, calling him a deadbeat and a liar.
"Every family member of Herschel Walker asked him not to run for office because we all knew (some of) his past. Every single one. He decided to give us the middle finger and air out all of his dirty laundry in public while simultaneously lying about it," Christian tweeted. "I'm done."
One unnamed Republican official allied with Walker told the Atlanta Journal-Constitution that Christian's comments were so damaging that he would be "solely to blame if Herschel loses the race."