Georgia Executes Man With Claimed Intellectual Disability
Warren Hill was executed Tuesday night after the Supreme Court refused to intervene.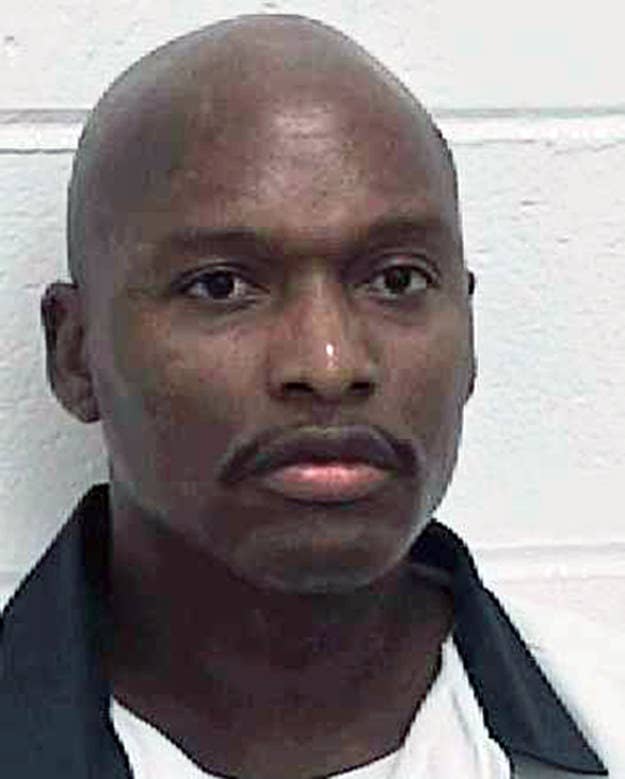 UPDATE — 8:03 p.m. ET: Georgia executed Warren Hill for the 1990 murder of an inmate.
Hill was pronounced dead at 7:55 p.m. ET.
Update — 6:42 p.m. ET: Supreme Court denied Warren Hill's stay of execution request.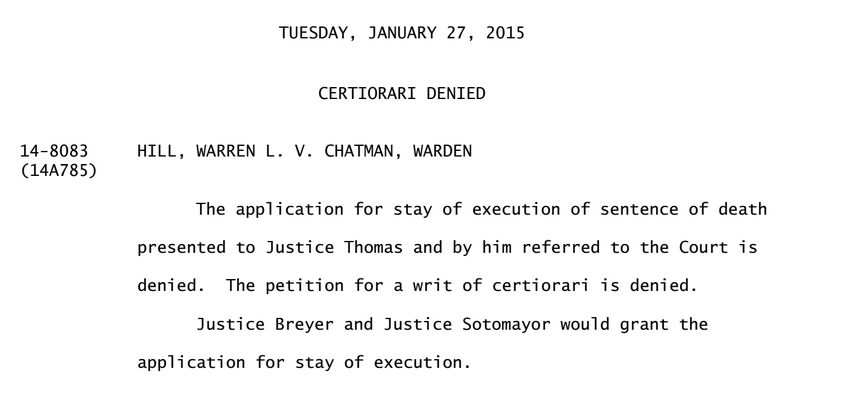 The Supreme Court also denied Hill's habeas petition.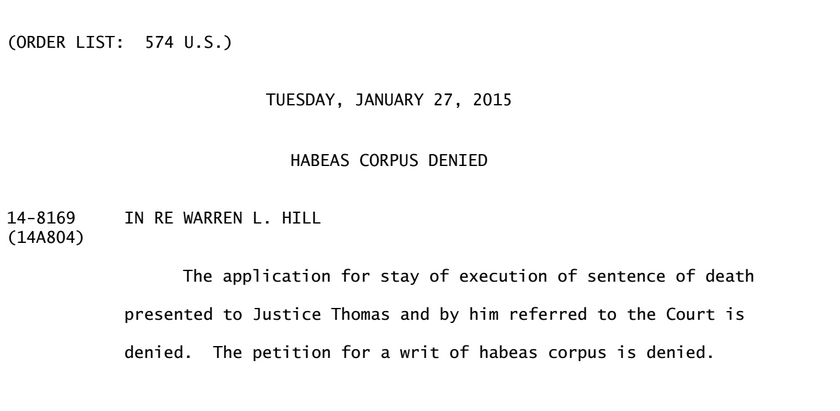 Georgia's Board of Pardons and Paroles voted Tuesday to deny clemency to Warren Hill, a death row inmate set to be executed this evening despite numerous findings that he suffers from an intellectual disability.
Hill, who has an IQ of approximately 70, was serving a life sentence for the 1985 murder of his girlfriend when he killed fellow inmate Joseph Handspike in 1990. He was then sentenced to death for Handspike's murder.
The Parole Board met on Monday to consider his last-minute appeal but announced Tuesday it had voted to deny clemency after reviewing all the documents and information pertaining to the case.
Hill is set to be executed by lethal injection at 7 p.m. ET at the Georgia Diagnostic and Classification Prison in Jackson.
"The clemency board missed an opportunity to right a grave wrong," Hill's attorney Brian Kammer said in a statement.
"According to every doctor who has ever examined him, Mr. Hill has intellectual disability. Mr. Hill's disability means that he has the emotional and cognitive functioning of an 11 year old boy," Kammer said.
In the 2002 case of Atkins v. Virginia, the U.S. Supreme Court ruled that executing intellectually disabled inmates violates the Eighth Amendment's ban on cruel and unusual punishment. However, Georgia has an exceptionally high burden of proof, with defendants required to prove "beyond a reasonable doubt" that they have an intellectual disability.
Kammer called this burden of proof "unscientific" and "extreme."
"Mr. Hill's execution cannot be permitted to proceed," Kammer said. "It is illegal, and it is a violation of the fundamental rights of persons with developmental disabilities to society's protection."
Kammer filed a petition for a writ of certiorari and a motion for stay of execution in the U.S. Supreme Court on Jan. 22.
Hil's planned execution is a "flagrant violation of the rights of persons with disabilities," Dr. Margaret Nygrem CEO of the American Association on Intellectual and Developmental Disabilities, said in a statement provided to BuzzFeed News. "There is no doubt that Mr. Hill meets all the clinical criteria for intellectual disability, and there are seven doctors who concur and none who disagree. Our courts must affirm his rights, which include exemption from execution," she said.
In a Jan. 21 statement, Amnesty International said his execution would violate the International Covenant on Civil and Political Rights by amounting to "the arbitrary deprivation of life."
On Jan. 13, Georgia executed a mentally ill Vietnam war veteran after the Supreme Court refused to stop the execution.
The state also executed a man with claimed intellectual disability in December 2014, after the Supreme Court refused to intervene.
In July 2014, the Georgia Board of Pardons and Paroles granted clemency to Tommy Lee Waldrip, 26 hours before his execution.