Fred Thompson, Former Senator And "Law And Order" Star, Dies
The one-time contender for the Republican nomination for president was 73.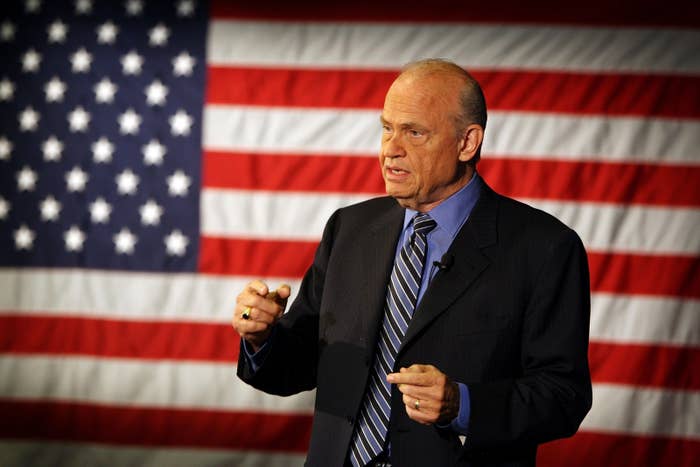 Fred Thompson — the former U.S. senator, Republican presidential candidate, and actor — died Sunday in Nashville, Tennessee, at the age of 73.
According to a statement from his family released to the Tennessean and the New York Times, Thompson died from a recurrence of lymphoma.
"It is with a heavy heart and a deep sense of grief that we share the passing of our brother, husband, father, and grandfather who died peacefully in Nashville surrounded by his family," the statement read.
"Fred was the same man on the floor of the Senate, the movie studio, or the town square of Lawrenceburg, his home," his family said.
After representing Tennessee in the U.S. Senate from 1994 to 2003, Thompson went on to play the role of a district attorney in NBC's Law and Order between 2002 and 2007.
In 2007, he announced his candidacy for the Republican nomination for president. His campaign was short-lived, however, and he dropped out of the race in early 2008.
With his height and a booming voice, the character actor made a name playing roles that demanded a sense of gravitas, such as judges, attorneys, police officers, and military figures.
In addition to Law And Order, his television credits included appearances in The Good Wife, Matlock, and NBC's short-lived 2015 drama Allegiance.
His film roles included turns in Days of Thunder, Cape Fear, Die Hard 2, and The Hunt For Red October.
But it was in political and legal circles that Thompson first made his name, serving as an assistant U.S. attorney before rising all the way to Congress.
After he earned a law degree from Vanderbilt University in 1967, he started working as an assistant U.S. attorney, where he met current U.S. Sen. Lamar Alexander.
"Very few people can light up the room the way Fred Thompson did," Alexander said in a statement Sunday. "He used his magic as a lawyer, actor, Watergate counsel, and United States senator to become one of our country's most principled and effective public servants. He was my friend for nearly fifty years. I will miss him greatly. Honey and I and our entire family send our love and sympathy to Jeri and the Thompson family."
In the early 1970s, he served as committee counsel on the Watergate investigation into President Richard Nixon.
Thompson was 30 at the time, and Nixon was none-too-pleased with the appointment, considering the young lawyer not "very smart," according to a review of his White House tapes by the Associated Press.
Thompson's knowledge of the Watergate tapes eventually helped determine the president's resignation. Thompson was the first to bring up the tapes in a public hearing nearly one year before, the Tennessean reported.
Thompson's first acting role came in 1985 and was actually to play himself, a whistleblower in a major Tennessee political scandal, in the movie "Marie."
The movie was based on Thompson's 1977 case, when he had represented Marie Rigghianti, a parole administrator, who refused to release inmates who had paid for pardons from then-Gov. Ray Blanton. He won the case for Rigghianti, which allowed her to return to work in 1978.
He was first elected to the Senate in 1994 to replace Al Gore, who had been elected vice president. Thompson was re-elected in 1996.
"Fred believed that the greatness of our nation was defined by the hard work, faith, and honesty of its people," his family said. "He had an enduring belief in the exceptionalism of our country, and that America could provide the opportunity for any boy or girl, in any corner of our country, to succeed in life. "
According to the Tennessean, he is survived by his wife, Jeri, and their two young children, as well as his two surviving adult children from a previous marriage and several grandchildren.
This is a developing news story. Check back for updates or follow BuzzFeed News on Twitter.