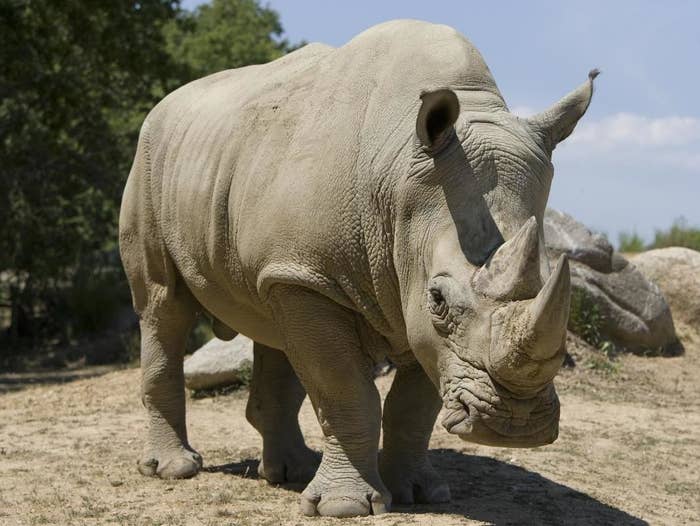 Poachers broke into a zoo west of Paris, shot and killed a rhinoceros, and carved off one of its horns, staff said Tuesday, in what was said to be the first such incident at a European zoo.
Vince, a four-year-old white rhinoceros, was found dead on Tuesday morning by his keeper, who was said to be "deeply affected" by the animal's death, according to a Facebook post by the Thoiry Zoo.
"All the staff are completely shocked," officials wrote, adding that police had visited the zoo early on Tuesday to investigate the "massacre."
It's believed the poachers broke into the zoo by breaking past an outer gate near the site's "African Plain" area, before breaking two more doors at the rhinoceros enclosure, staff said.
"They then killed Vince, a young 4-year-old male, to cut off one of his horns, probably with a chainsaw," staff wrote. "His second horn was only partially cut, which suggests that the criminals were disturbed or that their equipment proved defective."
Two other rhinoceroses in the enclosure were unharmed, staff said.

Vince and another rhino, Bruno, arrived at the French zoo in March 2015 from the Netherlands.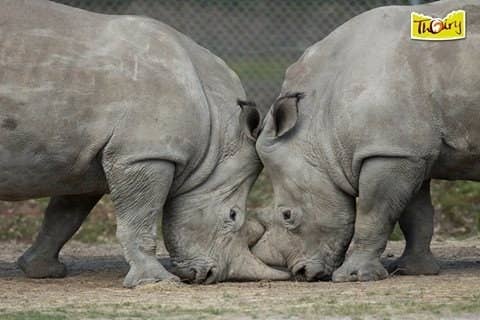 The break-in occurred despite the zoo being fitted with security cameras, as well as five staff members who live on site.
"It's extremely shocking," zoo director Thierry Duguet told French outlet 20 Minutes. "An act of such extreme violence has never happened before in Europe."

According to the World Wildlife Fund, both species of African rhinoceros are gravely threatened by poachers due to a demand for the animal's horn, mainly in Asia.

Without any proper medical basis, the powdered horn is marketed as a supposed cure for illnesses including cancer, fevers, and even hangovers, according to the WWF, but in Vietnam it is also purchased as a status symbol.
The French government formally banned the trade of ivory and rhino horn in August 2016.
French Environment Minister Ségolène Royal on Tuesday tweeted about Vince's "criminal slaughter," writing, "it is time for countries to introduce a ban on trading in ivory and horns as I did in France."
UPDATE
The language in this post has been updated to clarify that there is no scientific or medical basis supporting rhino horn as a medicinal treatment.