A French police officer was charged Sunday with allegedly using his baton to sodomize a man during a check of his identity papers, an incident that has prompted outraged protests in the ethnically diverse northern suburbs of Paris.
Three other officers were charged with assault in connection with the incident on Thursday, the country's Ministry of Interior announced.
The officers have denied the charges against them, according to France Info.

The 22-year-old man, identified only as Theo, was allegedly stopped by the officers in the immigrant-rich suburb of Aulnay-sous-Bois, north of Paris, when he was sodomized with the baton, according to his lawyer, Eric Dupond-Moretti.
"It's a very serious matter," Dupond-Moretti told the radio station France Inter on Monday. "He was stopped by four cops who beat him — there was blood on the walls — and a baton was introduced into the anus of this young man. His pants down, having fallen by accident."
The attorney said his client, who is being treated in a hospital, was not known to police.
"I knew that where we were there were no cameras," the alleged victim told French TV station BFMTV.

"[The officer] took his baton and kicked it into my buttocks," he said. "I had difficulty walking, I was not even myself. I thought I was going to die."
All four officers have been suspended pending the outcome of the case, Interior Minister Bernard Le Roux said in a statement.

"Le Roux wishes to see justice officials establish clearly and without ambiguity the conditions in which this questioning took place," the ministry statement said.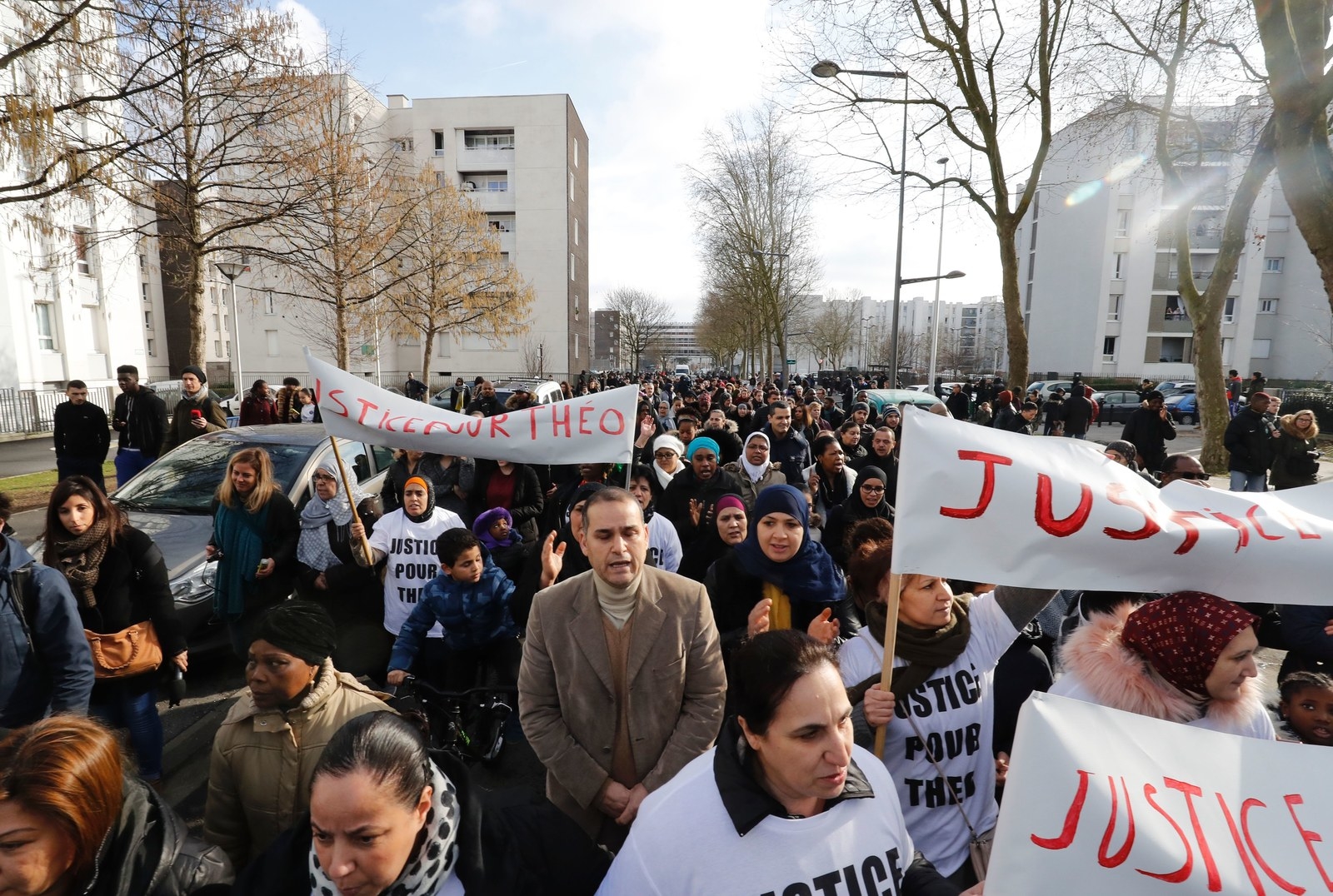 Demonstrators holding signs reading "Justice for Theo" marched in Aulnay-sous-Bois on Monday as police in riot gear looked on.
The demonstration came after five people were detained during a night of clashes with police in which several cars were burned, Agence France-Presse reported.
Graffiti on the local police station read, "Fuck the police," and, "Police rapists."