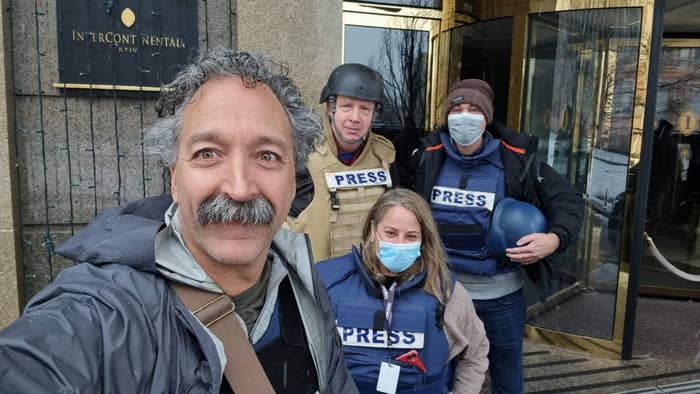 A Fox News camera operator and a local producer who were covering the war in Ukraine have died after the vehicle in which they were traveling was struck by incoming fire, the network announced Tuesday.
Camera operator Pierre Zakrzewski's death was announced in a memo to employees by Fox News Media CEO Suzanne Scott that was shared with BuzzFeed News. Scott said Zakrzewski, 55, died after coming under fire in Horenka, a village northwest of Kyiv, on Monday.
Scott later confirmed that Ukrainian journalist Oleksandra "Sasha" Kuvshynova was also killed in the same incident. The 24-year-old had been working for Fox as a producer, assisting the network's crew.
Fox News correspondent Benjamin Hall was also injured in the attack and has been hospitalized in Ukraine.

"Pierre Zakrzewski was an absolute legend at this network and his loss is devastating," anchor Bill Hemmer told Fox News viewers on Tuesday morning.

London-based Zakrzewski, who was Irish, had been in Ukraine since February, having previously covered multiple wars for Fox, including the conflicts in Iraq, Afghanistan, and Syria. In December, Fox News awarded him an "Unsung Hero" award to recognize his work.
"[Zakrzewski's] talents were vast and there wasn't a role that he didn't jump in to help with in the field — from photographer to engineer to editor to producer — and he did it all under immense pressure with tremendous skill," Scott wrote in her memo. "He was profoundly committed to telling the story and his bravery, professionalism, and work ethic were renowned among journalists at every media outlet."

Kuvshynova, the producer, had been working with Fox for weeks in her home country. In a later memo to employees, Scott said the network had held off announcing her death out of respect for her family.

"Several of our correspondents and producers spent long days with her reporting the news and got to know her personally, describing her as hard-working, funny, kind, and brave," Scott wrote.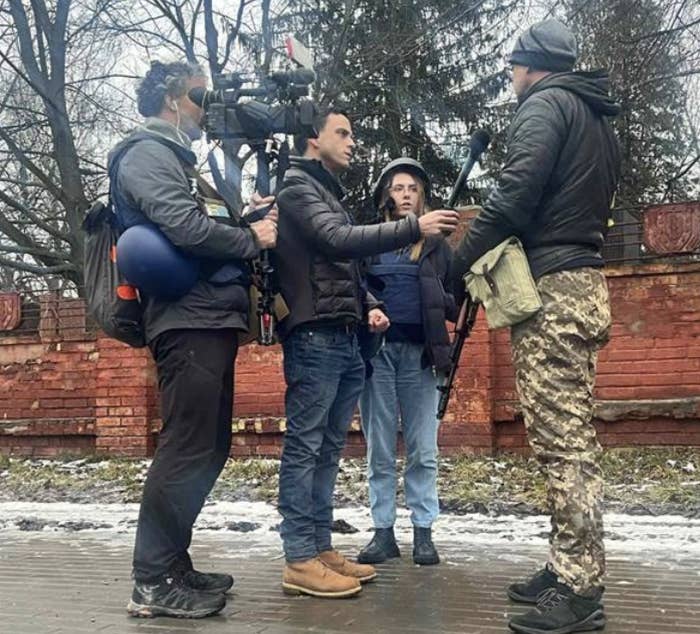 Their deaths come two days after another video journalist, American Brent Renaud, was killed after gunfire hit the vehicle in which he was traveling near Kyiv.
The 50-year-old award-winning journalist had been in Ukraine working with Time Studios on a project about the global refugee crisis.
The Committee to Protect Journalists condemned Renaud's killing, describing it as a violation of international law.
"Russian forces in Ukraine must stop all violence against journalists and other civilians at once," CPJ Program Director Carlos Martinez de la Serna said.
Fox News reporters paid tribute on Twitter to their late colleagues.
Although Fox has reporters in Ukraine and elsewhere in Europe covering Russia's war, the network has devoted its most-watched primetime hours to opinion broadcasts from Tucker Carlson and Laura Ingraham, who have been accused of spreading Kremlin propaganda.

Russian state media has even aired clips from Carlson's show in which the host defended Putin as not posing a threat to the US.
Fox reporters on the ground in Ukraine have made efforts to push back against some false claims aired on the network by guests and news hosts.
Last week, host Greg Gutfeld suggested images of the war were being overplayed to create an emotional response, comparing them to images of purported police brutality.
"Speaking as someone on the ground, I want to say that this is not the media trying to drum up some emotional response," one Fox News reporter later said. "This is absolutely what's happening."
That reporter was Hall, who is now being treated in a Ukrainian hospital.
UPDATE
This story has been updated with the confirmation of Kuvshynova's death.