The former Miss Universe pageant winner — whose weight gain Donald Trump on Tuesday said had been a "real problem" — said she cannot forget being insulted and mistreated by the businessman, but is finally ready to fight back.
Alicia Machado, a former Miss Venezuela who won Trump's Miss Universe pageant in 1996, was cited by Hillary Clinton during Monday's presidential debate as a particularly shocking example of her opponent's past comments about women.
"One of the worst things he said was about a woman in a beauty contest," Clinton said. "He loves beauty contests, supporting them and hanging around them. And he called this woman 'Miss Piggy.' Then he called her 'Miss Housekeeping,' because she was Latina.
"Donald, she has a name," Clinton continued. "Her name is Alicia Machado, and she has become a US citizen.

"And you can bet she's going to vote this November," she finished.
"Where did you find this? Where did you find this?" Trump was left asking repeatedly.
Machado's story, told to the New York Times in May, has since been turned into a video shared by the Clinton campaign immediately after the debate and retweeted tens of thousands of times.
Speaking to reporters Tuesday in both English and Spanish during a call set up by the Clinton campaign, Machado said she was surprised to hear her name come up during the most-watched debate in American history — but even more surprised that Trump said he didn't remember her.
"Mr. Trump doesn't even remember me. He doesn't remember me. He doesn't remember a lot of the things that happened, that he said to me, it was evident.
"Maybe he doesn't remember a 19-year-old girl that he insulted and mistreated for many times for years. I always remember it.
"He always treated me like nothing, like trash, and now his face [during the debate] was like, 'This trash is coming back.'"
After winning the crown for the 1996 pageant, the first since Trump acquired the event, Machado said she spent a lot of time with the businessman.
"I would go with him to a lot of events," she said. "He asked me to be there. It was part of my job."
But their working relationship soon soured after Machado gained weight, with Trump threatening to take away her crown, she said.

Instead, he forced her to work out before a crew of assembled photographers and reporters. He was there, too, kissing her on the cheek in front of the cameras.
During a February 1997 interview with Howard Stern uncovered by BuzzFeed News, Trump said Machado "ate a lot of everything."
"She gained about 55 pounds in a period of nine months. She was like an eating machine," he said.

On Tuesday morning, Trump repeated his criticism of Machado's weight gain, telling Fox News that she "gained a massive amount of weight, and it was a real problem."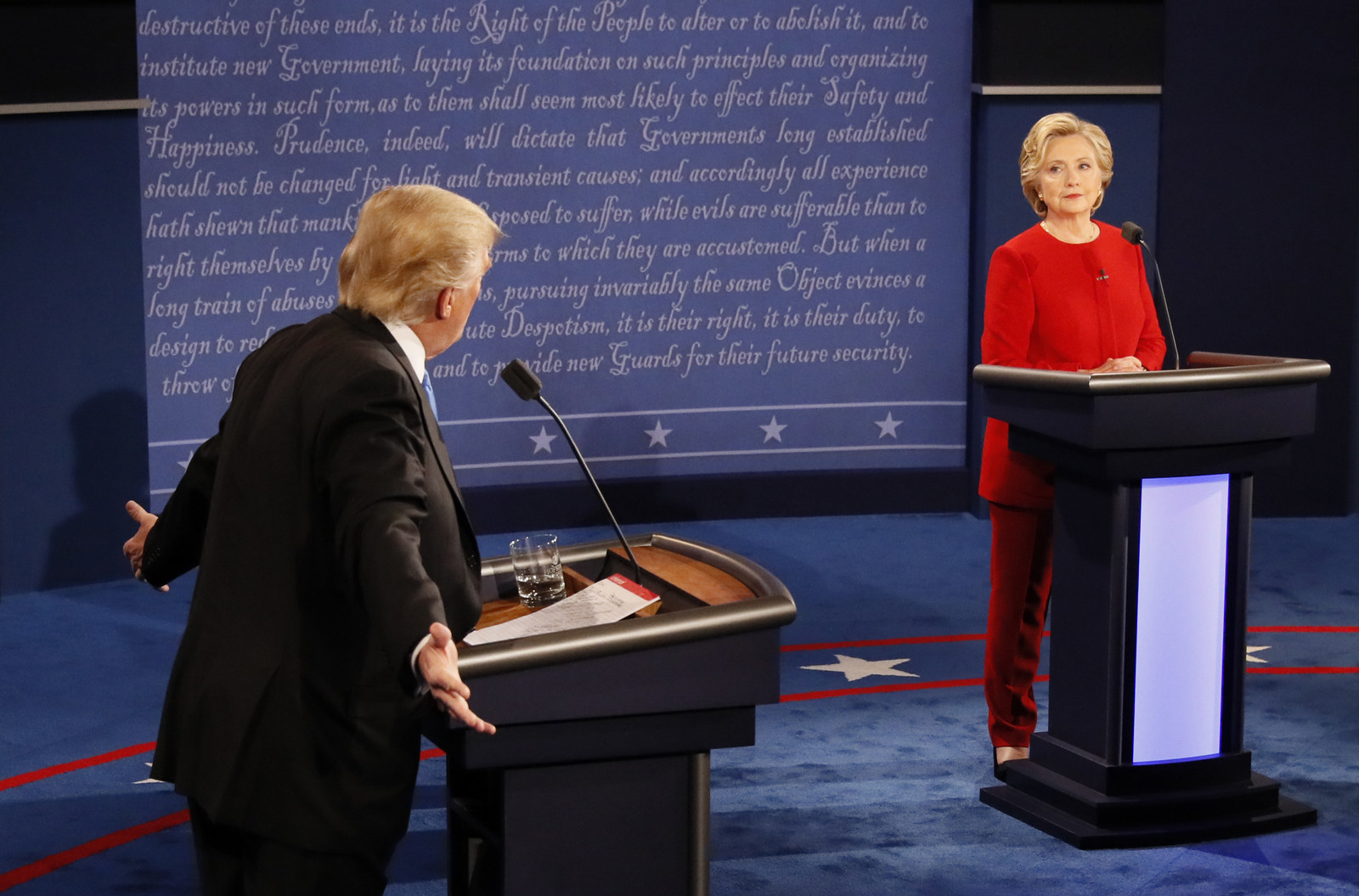 Machado told reporters Tuesday that she still bore emotional scars from Trump's treatment.
"I never had the guts to sue him. I could have," she said. "I was very afraid, I was very young, never had a big team around me, and I never had the guts. I was very afraid of him — I still am.
"Maybe I never said things because I was afraid to be considered as the rebel, fat Miss Universe," she said.

Machado, who says she hasn't spoken with Trump since she handed over the crown to her successor, said she feels honored that Clinton has shared her story with the world.
"I'm very sorry that I'm an inconvenience to Mr. Trump, but this is how things were and I know very well of what he's capable of, and that's why I decided to fight."

"I have a daughter and I want to see her grow up free and smart and with her rights and not have to put up with humiliation from anyone and that's why I'm doing this.
"I believe my story with this man can open eyes," she said.
Conz Preti contributed translations to this report.