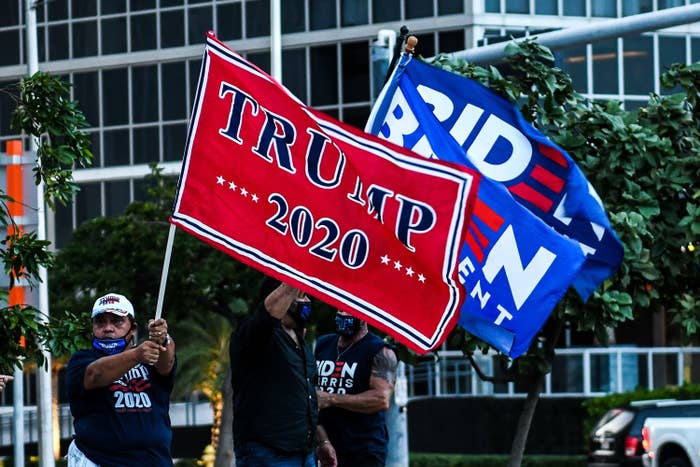 People living in Florida, one of the most hotly contested states in this year's presidential election, now have a few more hours to register to vote.
The Monday evening deadline was extended by officials to Tuesday at 7 p.m. local time after the state government's voter registration website crashed.
In the final hours approaching the Monday deadline, there was an "unprecedented" amount of traffic to RegisterToVoteFlorida.gov. Some 1.1 million requests to access the page per hour were recorded on Monday night, according to Florida Secretary of State Laurel Lee.
Officials are now investigating whether the traffic was the result of interest from unregistered voters or due to something more nefarious, such as a denial-of-service attack, where cybercriminals overwhelm websites with superfluous requests to access it.
"We will work with our state and federal law enforcement partners to ensure this was not a deliberate act against the voting process," Lee said.
Speaking at a press conference on Tuesday, Florida Gov. Ron DeSantis said there had been "an inordinate amount of traffic" to the site.
But he suggested the site may have simply suffered from technical errors.
"You can have the best site in the world and sometimes there's hiccups," he said. "If 500,000 descend at the same time, it creates a bottleneck."
DeSantis said rather than extend the website for a full 24 hours, they had decided to reopen registrations online between noon and 7 p.m. Tuesday, to reflect the time period that users had difficulty accessing it on Monday.
Florida Democrats have called for a 24-hour extension, through to midnight on Tuesday.

"While @GovRonDeSantis has extended the voter registration deadline, the new 7:00 PM deadline forces Floridians to scramble to register, and that's only if they see the news. If you want to register to vote in Florida, you have less than 7 hours to do so," tweeted one high-profile Democrat in the state, Agricultural Commissioner Nikki Fried.
In addition to the website, Floridians can today visit DMVs, county election offices, and tax collector's officers until 7 p.m. to register in person. Paper applications with a postmark of Oct. 6 will also be accepted once received.

Civil rights groups had threatened to sue Florida officials if they failed to extend the deadline, alleging voter suppression.
Kristen Clarke, the president of the Lawyers' Committee for Civil Rights Under Law, welcomed the extension.
"While we believe the state must go further," she wrote on Twitter, "we encourage the public to register NOW as we continue fighting for more time."