A Florida Man Who Killed Nine Ducklings Using A Lawn Mower Is Going To Jail For A Year
Jason Scott Falbo II massacred the nine ducklings while on a ride-on lawn mower — all in front of a horrified family.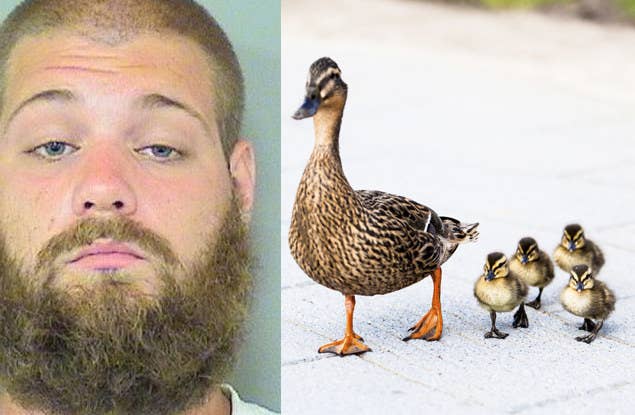 A Florida man who intentionally ran over nine ducklings using a ride-on lawn mower while a local family looked on horrified was sentenced to a year in prison on Thursday after pleading guilty to felony animal cruelty charges.
Jason Scott Falbo II, 24, who also pled guilty to a separate charge of domestic battery against his girlfriend, received three years probation from the Palm Beach County court, but will spend the first year in jail, the Sun Sentinel reported.
On May 2, Falbo was mowing lawns near homes in Wellington when he massacred the birds.
A resident, Boyd Jentzsch, had been feeding a mother duck and her 11 ducklings with his wife and children when Falbo steered towards the animals, taking out several in one swipe and scattering body parts over the lawns.
When the family screamed in horror, Jentzsch told animal control officers that Falbo smiled, reversed back over the birds, and killed more of the ducklings.
"They were in my path, so I just kept mowing," Falbo said, according to the police report.

The mother duck and four ducklings managed to get to the safety of the lake, but two of the young birds later drowned from injuries, the Palm Beach Post reported.
Jentzsch told the Post that the sentence was too lenient.
"They should have just thrown away the keys," he said. "There is no justification for what he's done," Jentzsch said. "Just seeing the look on his face, it told me he was a very violent person inside."
The Sentinel reported that, after his release, Falbo will be banned from owning pets or living with people who keep animals.