A Woman Allegedly Committed A Murder Dressed As A Clown, Then Married The Victim's Husband
A woman answered her front door in 1990 and was shot in the face by a clown. Some 27 years later, police have made an arrest.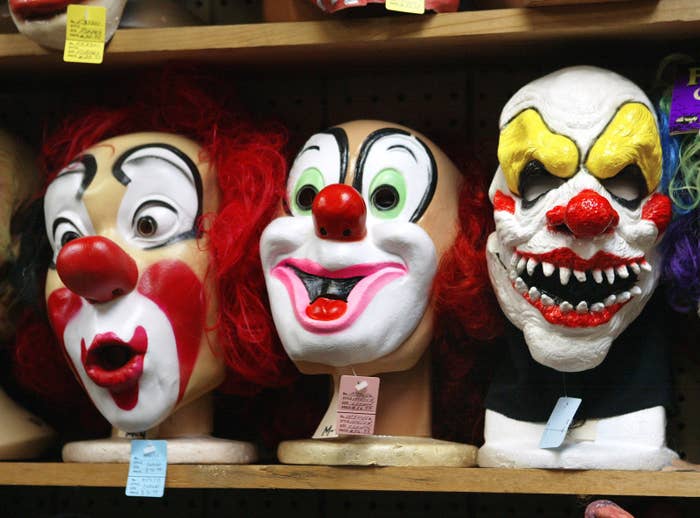 On May 26, 1990, Marlene Warren answered a knock on the door at her home in Palm Beach County, Florida.
At the door, a person wearing white makeup, an orange wig, a red nose, and a clown costume handed her a basket of carnations and two balloons, one of which featured Snow White and the Seven Dwarfs, and another emblazoned with the words "You're the Greatest."
The clown then pulled out a revolver and shot Warren in the face, before calmly walking to a getaway car and driving away.
Warren died two days later in hospital.
The Miami Herald declared the homicide "the crime of the year," but for more than 27 years, no arrests were made — until Tuesday, when police detained 54-year-old Sheila Keen-Warren on charges of first-degree murder.
The shared last name is no coincidence; Sheila Keen-Warren married Marlene Warren's husband in 2002.
Palm Beach County detectives had long suspected Keen and Michael Warren, the dead woman's husband, were having an affair and played some role in the killing.
"We have two suspects, and they are Sheila Keen and Michael Warren," Lt. Steve Newell told media as far back as 1991, on the first anniversary of the death.
Keen and her then-husband repossessed cars for a living, frequently working with the Warrens, who owned a car dealership and car rental firm. Neighbors told police Michael Warren was a frequent visitor to Keen's apartment, the Miami Herald reported in September 1990.

But the detectives' case was based only on circumstantial evidence: A woman matching Keen's description was witnessed buying a clown outfit a few days before the homicide. Clerks also said a woman resembling Keen purchased a bouquet of flowers and some balloons — including the unusual Snow White and the Seven Dwarfs balloon — from a Publix supermarket near her apartment on the day of the crime.

The getaway car, a white Chrysler LeBaron convertible, was also a key part of the initial investigation. Marlene Warren's son, who was 21 years old at the time, witnessed the shooting and chased after the car, but lost track of it. It was later found abandoned in a parking lot.

The vehicle had been stolen from Payless Car Rental some six weeks before the killing. A couple had been trying to return the rental car to Payless, but the company was closed. Looking in the Yellow Pages, they found another local car company with the words "Payless" and "A Bargain Auto Rentals," a business owned by Michael Warren. The couple told detectives that a man who answered the phone at A Bargain Auto Rentals told them to leave the car outside Payless, where it soon disappeared.
When the car was eventually found abandoned after the killing, police discovered orange wig fibers inside of it, as well as long brown hairs similar to Keen's. The murder weapon and clown costume were never recovered.
In 1991, Michael Warren denied having an affair with Keen and told the Miami Herald he could not say whether she killed his wife.
"I don't know who did it," he said.

In 2014, the cold case unit of the Palm Beach County Sheriff's Office reopened the investigation, recontacting witnesses and conducting fresh DNA analysis.
It was then that investigators learned that Sheila Keen had married Michael Warren in 2002, and that the pair were living in Tennessee and operating a restaurant together, the sheriff's office said in a statement.

Authorities presented their case to a grand jury on Aug. 31, successfully obtaining an indictment for first-degree murder against Keen. She was arrested in Virginia on Tuesday and is awaiting extradition to Florida.
A spokesperson for the Palm Beach County Sheriff's Office declined to comment further on the investigation, saying the indictment was under seal.
Detectives investigating the homicide did find evidence to convict Michael Warren of odometer tampering, grand theft, and racketeering in the mid-'90s. He served three years in prison before being released in 1997.
When Warren was first arrested on the odometer-tampering charges in 1991, sheriff's official Lou Sessa told reporters the murder investigation would not be rushed.
"We're in no hurry," Sessa said. "We'd rather take our time and go in with the best case than to rush it. We've only got one shot."