Father Of San Bernardino Shooter Says Son Was "Obsessed With Israel"
The suspected shooter also subscribed to ISIS ideology, his father told an Italian newspaper.
The suspected San Bernardino gunman Syed Rizwan Farook was "obsessed with Israel" and shared the ideology of ISIS leader Abu Bakr al-Baghdadi, according to his father.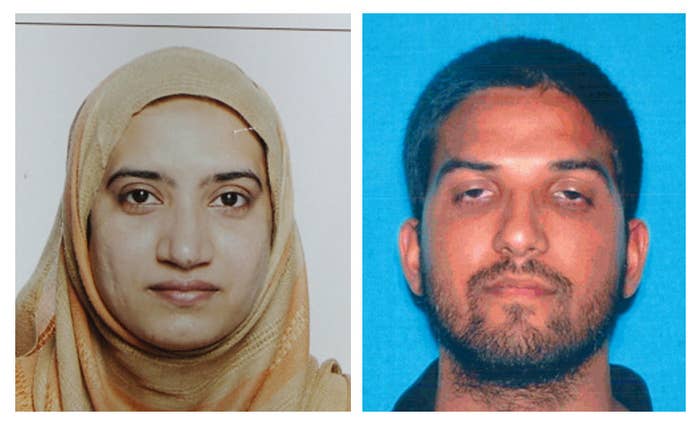 Syed Farook made the comments while speaking to a reporter with Italian newspaper La Stampa at the home of his other son, Syed Raheel Farook, in Corona, California.
Reporter Paolo Mastrolilli told BuzzFeed News he knocked on the door of Syed Raheel's home on Friday night, only to see an older man approach the home from the street while pushing a child in a stroller.
The man confirmed to Mastrololli he was the suspected shooter's father, saying he was in despair over what his son had done.
"[He was] an angel," the man said of Syed Rizwan. "Good, obedient, studious. Maybe a little timid, conservative, and obsessed with Israel."
The man told the newspaper his sons' names were Rizwan and Raheel, but confusion at the hospital led to them both receiving the first name Syed when they were born.
Lawyers representing some of the Farook family did not immediately return a request for comment from BuzzFeed News.
Pictures the reporter shared of the man on Twitter appeared to match a Hajj pilgrimage certificate for a "Syed Farook" the Italian reporter photographed while inside the suspected shooter's apartment with other reporters earlier on Friday.
The man told the newspaper his son "shared the ideology of [ISIS leader Abu-Bakr] al-Baghdadi to create an Islamic state, and was obsessed with Israel."
"I would always tell him: Stay calm, have patience, in two years Israel won't even exist," he told the journalist.
"The geopolitics is changing: Russia, China, even America, no one wants the Jews down there. They'll take them back to Ukraine. What's the point of fighting? We already did that and we lost. You can't beat Israel with armies but with politics."
"But nothing changed, he was obsessed," the man said.
The man also said he had barely seen his son in the past year because of a falling out with his ex-wife, Rafia Farook, the mother of the suspected shooter.
"Rizwan was the mama's boy, and she is very religious like him. They have joined forces against me," he said.
Police suspect Syed Rizwan Farook acted with his wife, Tashfeen Malik, to carry out the rampage which killed 14 people, but the man told the newspaper he had never met his son's wife.
"You know I never saw her? Not even covered in that burqa she wore. I only know that she was born in Pakistan and lived in Saudi Arabia, but I never spoke with her," he said. "She didn't even want to see her in-laws. I told my son that way would destroy our family, but he didn't care."
The man also said he was not sure if his son had contact with terrorists overseas: "These days who can say, with the internet and all this technology?"
Syed Farook told the newspaper he believed his life was now "over" because of what his son had done.
"You break your back to raise a son, and you lose him like this," he said. "How do you recover from a tragedy like this? I'm 67 and my life is over now."
Adam Serwer contributed to this report.