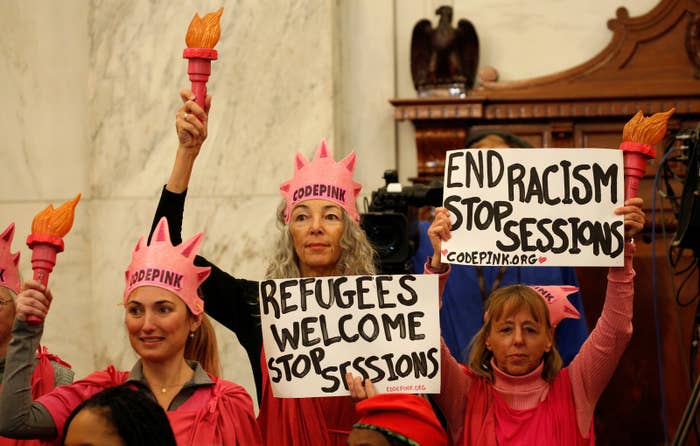 A judge in Washington, DC, on Friday tossed out the conviction of a woman facing 12 months in prison after she laughed during a Senate confirmation hearing for Attorney General Jeff Sessions, and instead ordered a new trial.
Desiree Fairooz, 61, was arrested at the Jan. 10 hearing after she said she laughed involuntarily when Republican Sen. Richard Shelby said that Sessions had a "clear and well-documented" record of "treating all Americans equally under the law."
"Why am I being taken out of here?" she then yelled, video from the hearing showed.
"I was gonna be quiet and now you're gonna have me arrested! For what? For what?" she screamed. "You said something ridiculous. His voting record is evil!"
Fairooz was in the District of Columbia Superior Court on Friday for sentencing after she was convicted by a jury in May of disorderly and disruptive conduct, as well as acting unlawfully on Capitol grounds. She had been facing a possible sentence of up to one year in jail, as well as a $2,000 fine.
However, Chief Judge Robert Morin instead vacated the Code Pink protester's conviction and granted her motion for a new trial, court records show.
The judge tossed out the guilty verdict due to prosecutors arguing in their closing statement that laughter alone was enough to merit a conviction, Fairooz's attorney, Samuel Bogash, told BuzzFeed News.

"What he said was that the laughter alone was legally insufficient to convict someone of disorderly or disruptive behavior on Capitol grounds, or disrupting Congress," Bogash said.
The judge couldn't say whether the jury had based their conviction on Fairooz's laughter alone or her subsequent comments as she was being detained, so he ordered a new trial, according to Bogash.
"He doesn't know whether they convicted her for a legally sufficient reason or a legally insufficient reason," Bogash explained.
Fairooz, however, was disappointed the judge didn't toss out the case altogether.
"She's disappointed she has to do it again," Bogash said. "She would like it to be completely over."
Bogash said he expects prosecutors will attempt to retry the case.
"The Justice Department — or the US Attorney's Office — has made a policy decision to take a much more aggressive approach to protesters than they have in the past," he said.

Bill Miller, a spokesperson for the US Attorney's Office for the District of Columbia, said he could not comment on the case as it was still pending.
A status hearing was scheduled for Sept. 1.
Two other protesters arrested the same day as Fairooz, Lenny Bianchi and Tighe Barry, were sentenced on Friday to suspended terms of 10 days in prison, as well as six months of unsupervised probation.