Craig Stephen Hicks, 46, was charged Tuesday with the murders of three of his Muslim neighbors in Chapel Hill, North Carolina.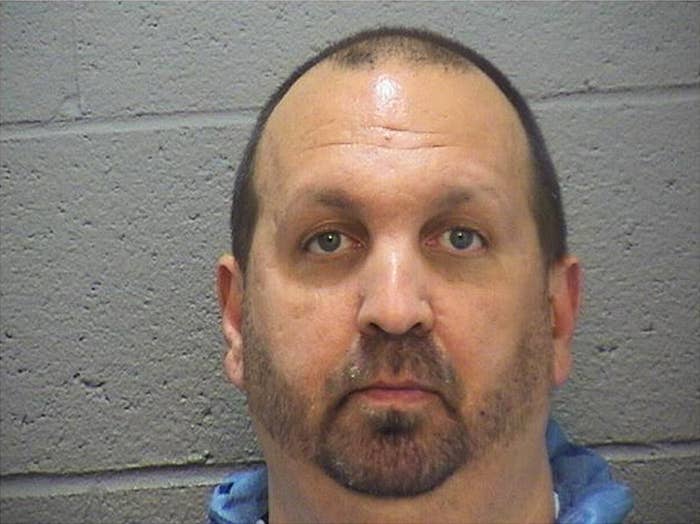 On Wednesday, police said their initial investigation suggested the murders were linked to an ongoing dispute over parking between the neighbors, but they haven't yet ruled out the possibility of a hate crime.
"Our investigators are exploring what could have motivated Mr. Hicks to commit such a senseless and tragic act," police said in a statement. "We understand the concerns about the possibility that this was hate-motivated and we will exhaust every lead to determine if this is the case."
Hicks' Facebook page contains a long list of atheist and anti-religious posts.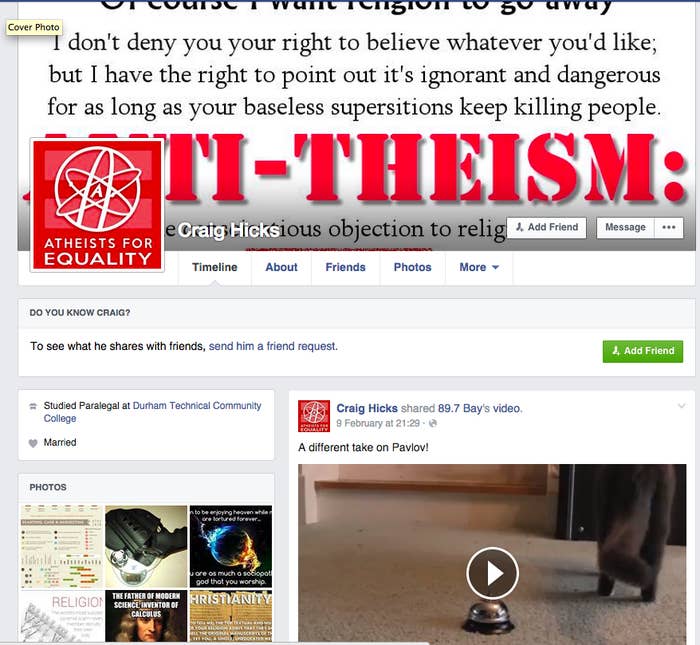 One post he shared on Feb. 8 compared radical Christians to radical Muslims.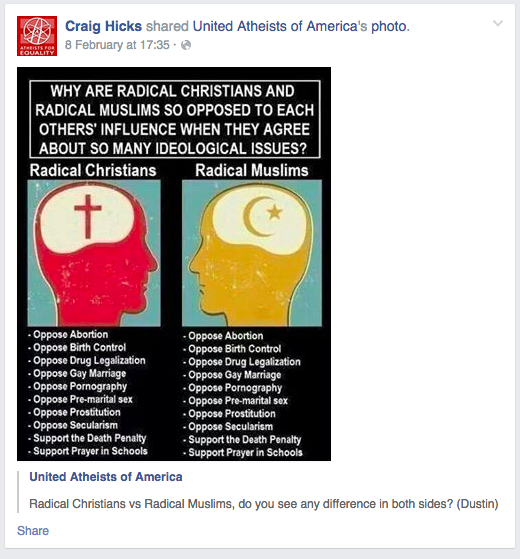 Another shared post mocked the notion of God saving people from death.
Last month, Hicks described himself as a "grumpy old man" after spotting a couple have sex in a vehicle in his parking lot.
Hicks does not appear to have serious criminal record.
The records department of Winchester Police, Virginia, confirmed to BuzzFeed News that a man with the same name was charged and fined with the misdemeanor offense of "dog running at large" on Jan. 2, 1995. Their records showed his date of birth as Aug. 3, 1969, while Chapel Hill police say Hicks was born on Aug. 3, 1968.
On his Facebook page Hicks lists himself as married, says he owns a cat and dog, describes himself as a "patriotic American," and states that he studied as a paralegal at Durham Technical Community College.
He is registered to vote, but is not registered with any party.
He lists himself as a fan of the cable access television show The Atheist Experience, as well as the religious horror film Stigmata.
An Amazon "wish list" that appeared to belong to Hicks had requested a gun concealment belt...

...a battlezone scope and 9-inch knife...
...and a camouflage suit and drone.
In a post on Aug. 19, 2010, debating the so-called "Ground Zero mosque" on XDtalk.com, an account that appeared to belong to Hicks posted that he had known "several dozen Muslims" and believed "that they aren't what most think of them."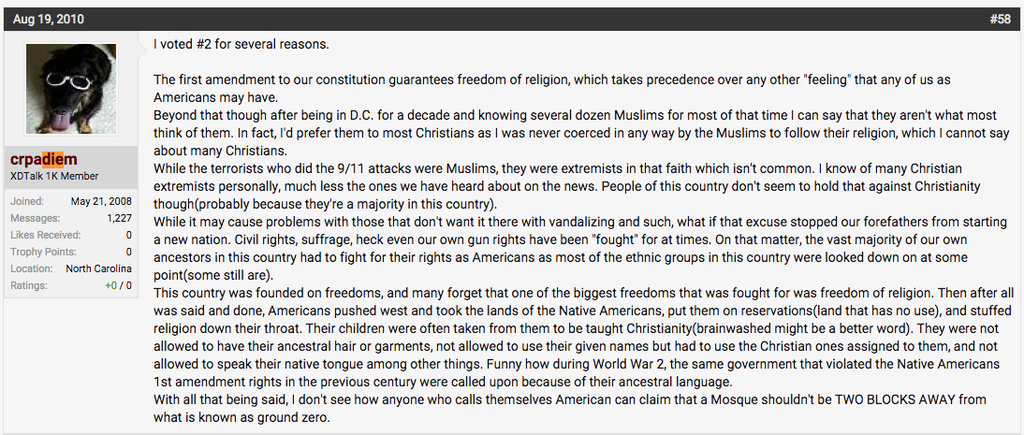 When a user took a poll of the forum, the account that appeared to belong to Hicks voted in favor of a response reading, "I am indifferent about the project itself -- I can see the arguments both for it and against it. But this is a free country, and the developers certainly have a right to express themselves."
The full post reads as follows:
I voted #2 for several reasons.

The first amendment to our constitution guarantees freedom of religion, which takes precedence over any other "feeling" that any of us as Americans may have.
Beyond that though after being in D.C. for a decade and knowing several dozen Muslims for most of that time I can say that they aren't what most think of them. In fact, I'd prefer them to most Christians as I was never coerced in any way by the Muslims to follow their religion, which I cannot say about many Christians.
While the terrorists who did the 9/11 attacks were Muslims, they were extremists in that faith which isn't common. I know of many Christian extremists personally, much less the ones we have heard about on the news. People of this country don't seem to hold that against Christianity though(probably because they're a majority in this country).
While it may cause problems with those that don't want it there with vandalizing and such, what if that excuse stopped our forefathers from starting a new nation. Civil rights, suffrage, heck even our own gun rights have been "fought" for at times. On that matter, the vast majority of our own ancestors in this country had to fight for their rights as Americans as most of the ethnic groups in this country were looked down on at some point(some still are).
This country was founded on freedoms, and many forget that one of the biggest freedoms that was fought for was freedom of religion. Then after all was said and done, Americans pushed west and took the lands of the Native Americans, put them on reservations(land that has no use), and stuffed religion down their throat. Their children were often taken from them to be taught Christianity(brainwashed might be a better word). They were not allowed to have their ancestral hair or garments, not allowed to use their given names but had to use the Christian ones assigned to them, and not allowed to speak their native tongue among other things. Funny how during World War 2, the same government that violated the Native Americans 1st amendment rights in the previous century were called upon because of their ancestral language.
With all that being said, I don't see how anyone who calls themselves American can claim that a Mosque shouldn't be TWO BLOCKS AWAY from what is known as ground zero.
In a profile that appeared to belong to him on RimfireCentral.com, he said he was a NRA member and listed his occupation as "Professional Bum."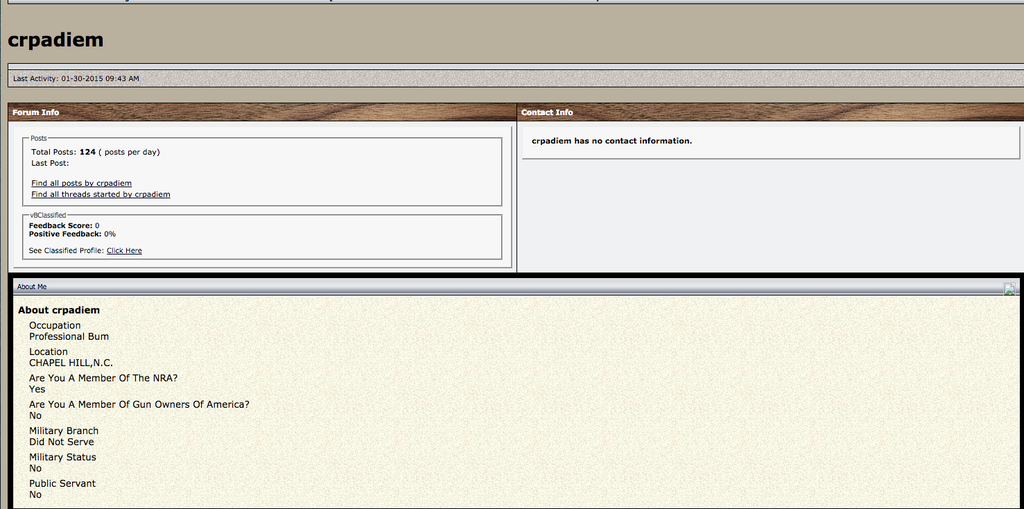 On Jan. 20, Hicks shared a photo of a handgun on scale with a caption reading, "Yes, that is 1 pound 5.1 ounces for my loaded revolver, its holster, and five extra rounds in a speedloader."
On Wednesday, Hick's wife Karen, a nurse with the Durham County Department of Health, told reporters the incident was not a hate crime. She later announced she was divorcing Hicks.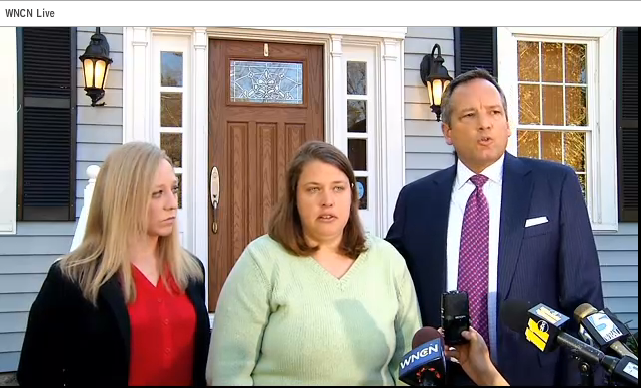 "I can say with absolute belief that this incident had nothing to do with religion of the victims' faith, but it was related to a longstanding parking dispute that my husband had with the neighbors," Karen Hicks said.
She said her husband of seven years treated people with respect. "He often champions on his Facebook page for the rights of individuals. ... He believes everyone is equal - doesn't matter what you look like or who you are or what you believe."
His ex-wife told the Associated Press that "he was obsessed with the shooting-rampage movie Falling Down, and showed "no compassion at all" for other people."
A friend of the victims who used to live in the apartment with them said Hicks would complain about once a month that they were taking up to many parking spaces -- and would often confront them with a gun on his hip.
"He would come over to the door. Knock on the door and then have a gun on his hip saying 'you guys need to not park here,'" said IMad Ahmad, a graduate student in chemistry at UNC-Chapel Hill. "He did it again after they got married."

Both Hicks and his neighbors complained to the property managers, who apparently didn't intervene. "They told us to call the police if the guy came and harassed us again," Ahmad said.

"This man was frustrated day in and day out about not being able to park where he wanted to," said Karen Hicks' attorney, Robert Maitland.
The AP also reported:
A woman who lives near the scene described Hicks as short-tempered. "Anytime that I saw him or saw interaction with him or friends or anyone in the parking lot or myself, he was angry," Samantha Maness said of Hicks. "He was very angry, anytime I saw him."