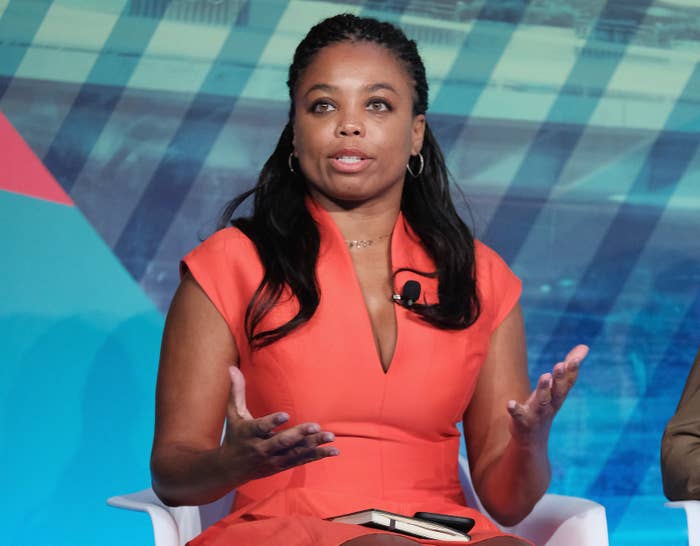 The White House on Friday continued its attack on ESPN for comments made by SportsCenter cohost Jemele Hill on Twitter calling Donald Trump an ignorant bigot and white supremacist, with the president himself saying the network must "apologize for untruths."
At her briefing on Friday, press secretary Sarah Huckabee Sanders said the sports network was being "hypocritical" for not firing Hill for her "political statement."
"I think it is a fireable offense based on the standard that ESPN has set themselves by saying that people that go too far and make political comments have been suspended from their own network. I think that that is a consistency they should probably focus on," Sanders said.
Her comments came after Trump personally waded into the matter in a tweet early on Friday morning:
Asked whether the president would apologize for the blatant falsehoods he helped spread about President Obama's place of birth, Sanders said, "I think the president made plenty of comments on that front."

In fact, Trump has never apologized for helping to lead the birther movement, the conspiracy theory that Obama was not born in the United States.
Hill's tweetstorm on Monday was originally sparked when she condemned musician Kid Rock, who is flirting with running for the US Senate, for his use of the Confederate flag.

But the TV host quickly pivoted to Trump, calling him an "unfit, bigoted, incompetent moron" who had empowered white supremacists.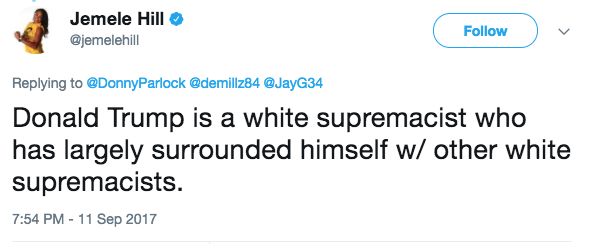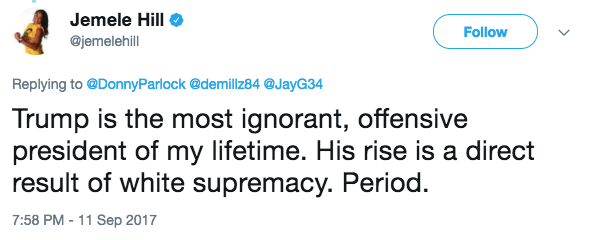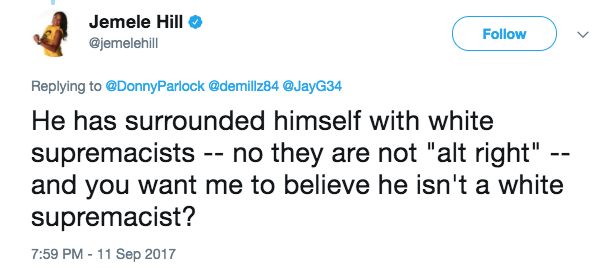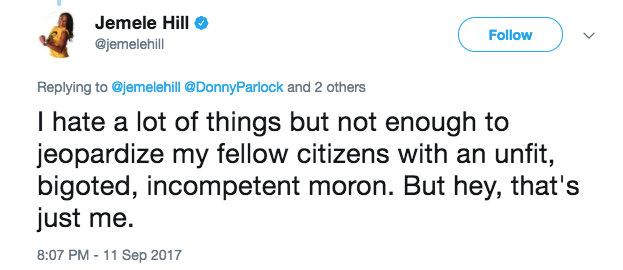 The comments outraged Trump supporters, many of whom noted that ESPN fired analyst and former MLB pitcher Curt Schilling over an anti-transgender Facebook post last year.
In a statement on Tuesday, the network said Hill's views "do not represent the position of ESPN."

"We have addressed this with Jemele and she recognizes her actions were inappropriate," ESPN said.
On Wednesday night, Hill took to Twitter again to say "My comments on Twitter expressed my personal beliefs. My regret is that my comments and the public way I made them painted ESPN in an unfair light."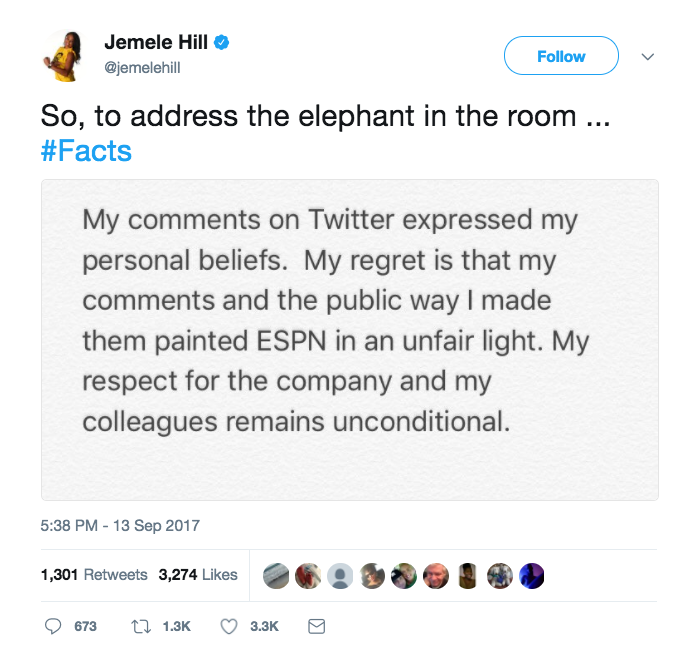 Asked about Hill's comments at a press briefing on Wednesday, Sanders said the tweets were outrageous.
"I'm not sure if [Trump] is aware of the comments," Sanders said, "but I think that's one of the more outrageous comments that anyone could make and certainly something that I think is a fireable offense by ESPN."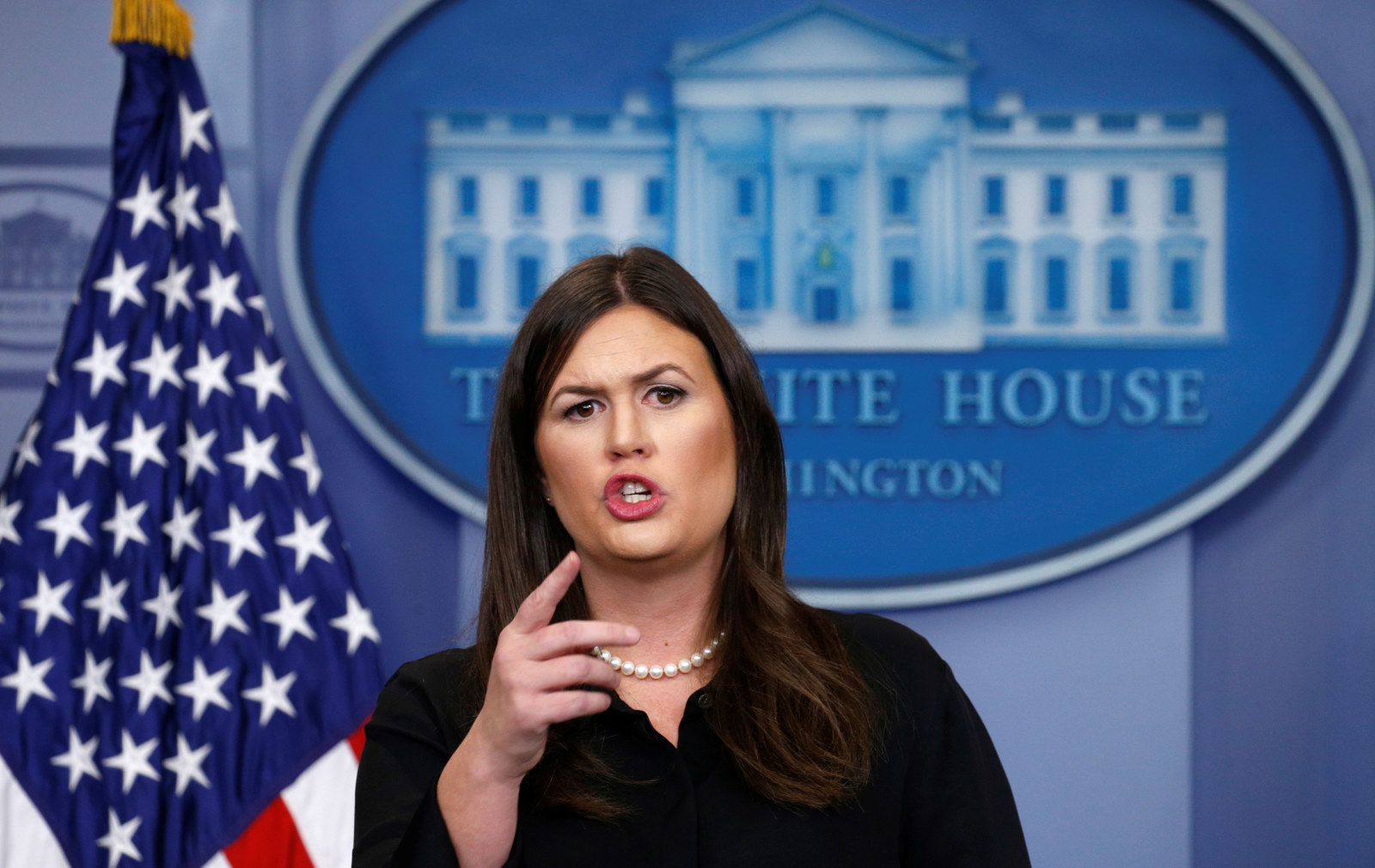 Trump was criticized by both Republicans and Democrats for his handling of the white supremacist march in Charlottesville after he initially blamed the deadly violence "on many sides."
Asked why many influential black Americans have been critical of Trump, Sanders said the president had met with "highly respected leaders in the African-American community."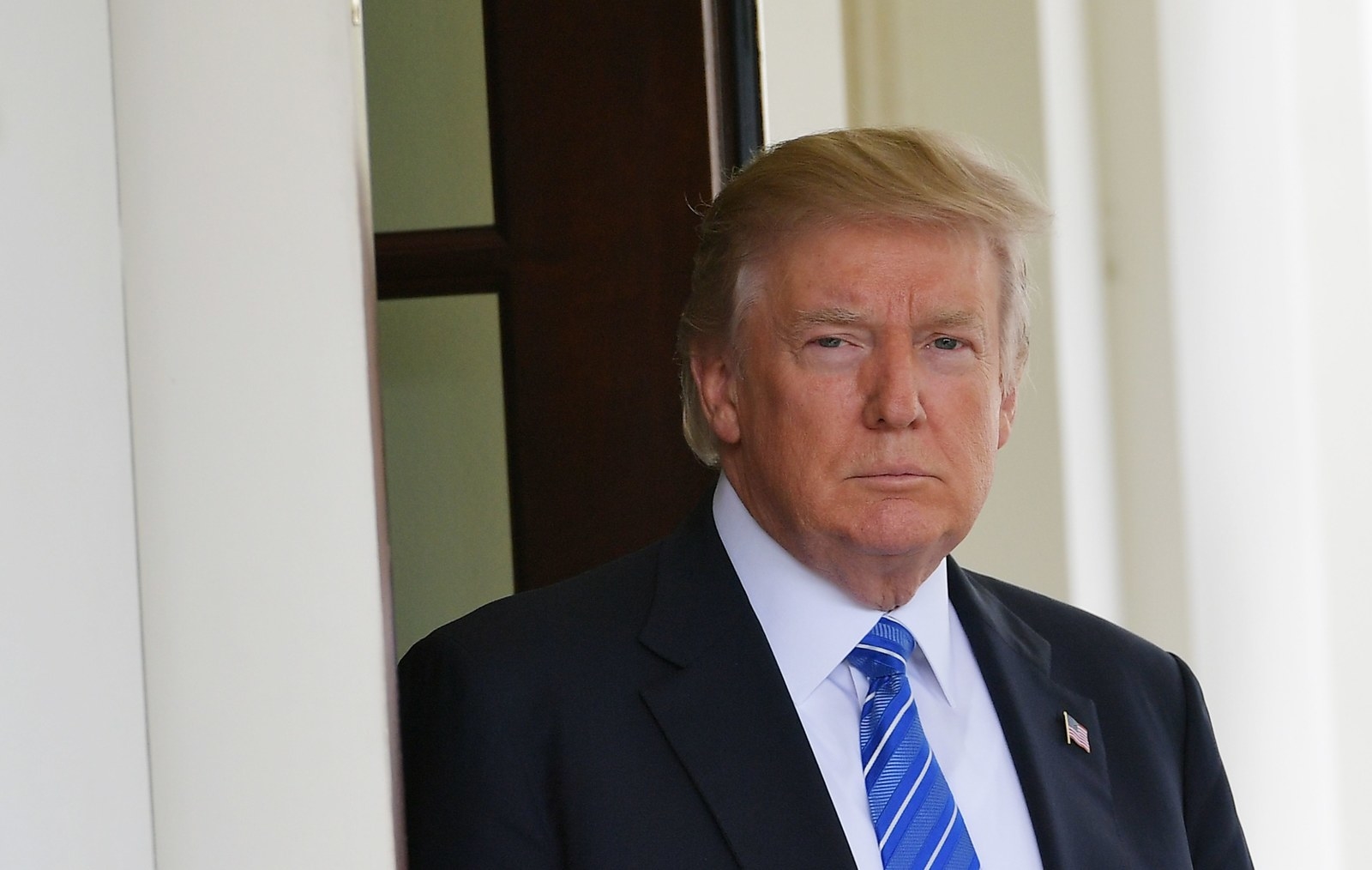 The president did meet Wednesday with Sen. Tim Scott, a black Republican from South Carolina, who said Trump had "compromised" his moral authority through his handling of Charlottesville.
"They talked about [Charlottesville] pretty in-depth," Sanders said of the meeting, "but the focus was primarily on solutions moving forward, and that was what both people came to the meeting wanting to discuss — is what we can do to bring people together, not talk about divisions within the country."
On Thursday, however, Trump again repeated his claim that both sides were at fault in Charlottesville.

I "think especially in light of the advent of Antifa, if you look at what's going on there. You have some pretty bad dudes on the other side also and essentially that's what I said," he told reporters on board Air Force One. "Now because of what's happened since then with Antifa. When you look at really what's happened since Charlottesville, a lot of people are saying and people have actually written, 'Gee, Trump may have a point.'"
When told of Trump's comments, Scott told BuzzFeed News that it's unrealistic to think President Trump would have an immediate "epiphany" regarding race after their meeting.
"He is who he has been and I didn't go in there to change who he was — I wanted to inform and educate a different perspective," Scott said. "I think we accomplished that. To assume that immediately thereafter he's going to have an epiphany is just unrealistic."